Oakland Raiders: Breaking Down Michael Bush's Replacements at RB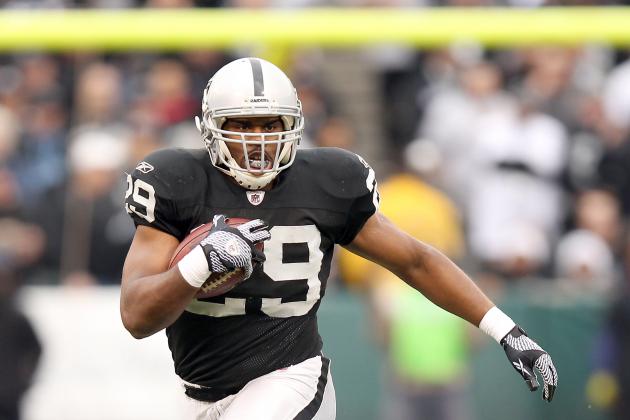 Ezra Shaw/Getty Images
Following Michael Bush's free-agent signing with the Chicago Bears, who will take his place as the backup to RB Darren McFadden?
Michael Bush is a major reason why the Oakland Raiders finished seventh in the NFL in rushing offense with 132 yards per game.

While Darren McFadden nursed his debilitating foot injury, Bush stepped into the starting role with varied success.
After signing a four-year, $14 million contract with the Chicago Bears this offseason, the Raiders are left with little to no insurance in their rushing attack, if the oft-injured McFadden cannot stay out of his street clothes.
There were reports earlier this offseason that Oakland considered signing free-agent running back Cedric Benson. Although, the fact that it took until now for Benson to agree to a contract with the Green Bay Packers indicates that the Raiders might not have had serious interest in the veteran to begin with, according to ESPN.com's Bill Williamson.
With three unproven backs behind Run DMC on the depth chart, and a fullback built for blocking, it is uncertain if any of them are capable of being a viable second option.
Before determining who Bush's best replacement will be, it's important to understand what is lost by his absence.
Begin Slideshow

»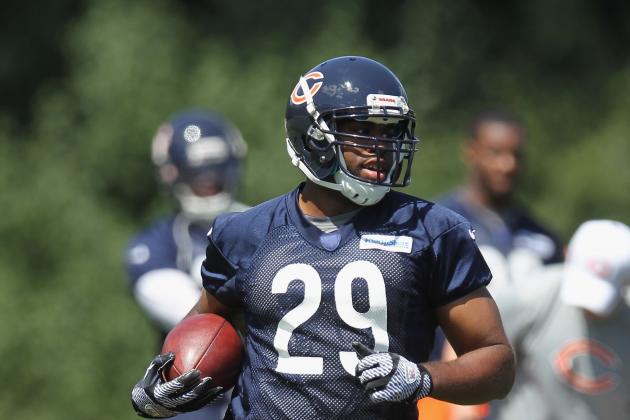 Jonathan Daniel/Getty Images
Michael Bush will have an affect on the Raiders offense, but how deeply?
Bush ran for 977 yards on 256 carries, scoring seven touchdowns along the way. He supplied the brute force against opposing defenders when McFadden was active. When he was able to crash through the line of scrimmage, he could breakaway with deceiving speed.

Although, once defenses began keying on him—as teams began to put less focus on whether or not DMC would come back and focused on stopping Bush—his numbers decreased dramatically.

In Bush's first three starts in 2011, he registered back-to-back 100 yard performances and ran for 121 yards per game. In the final six games of the season, he ran for an average of 63 yards as the Raiders finished the season 2-4 to miss the playoffs.

There were other factors to blame for Oakland's poor end to last season—like a lack of discipline and shoddy defense—but Bush was not productive when they needed him most.

Unlike Arian Foster or Darren Sproles, Bush is not the type of player who will thrive as a backup and flourish into a starter. Of course, Bush has a style of play which is complimentary to a player like Matt Forte, with whom he will play in 2012, and he appears to be comfortable assuming that role for his career, now in its fifth season.

Bush's absence will be felt this season, unless someone else can fill some semblance of his role.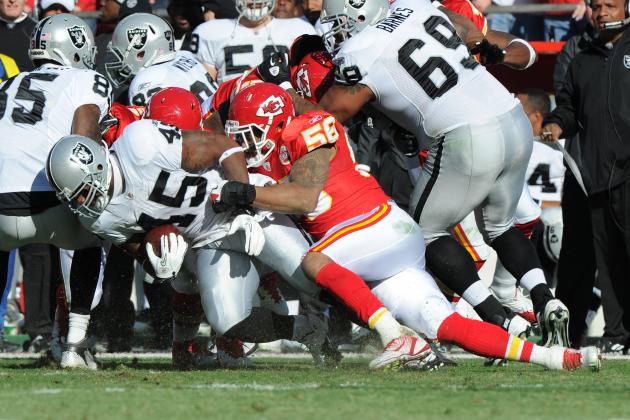 Peter Aiken/Getty Images
Marcel Reece is great in short yardage situations, but won't be able to share the every-down running load with McFadden.
Fullback Marcel Reece is the only Raider running back who has played any significant amount of time in a silver and black uniform besides McFadden.

As you would expect from a fullback, Reece's main contribution is blocking, opening up holes for other members of the backfield. With 17 rushing attempts in 2011, and 47 in his four-year career, it's unlikely that head coach Dennis Allen or Offensive Coordinator Gregg Knapp would choose Reece to bear any more than 20-30 carries this season.

Which is not to say that Reece won't be utilized. His seven career touchdowns in 47 attempts are a good reason to hand off to him in short-yardage situations.

Mike Goodson, who is back at practice on Thursday according to Louis Bien of sbnation.com, after being taken off the practice field in an ambulance on Aug. 7, is going to be considered as a potential second option for Oakland, but his lack of experience is a concern.

The fourth-year back did not carry the ball once last season with the Carolina Panthers after 103 attempts in 16 games played in 2010 and 752 all-purpose yards.

Lonyae Miller is just a rookie. He ran 15 times for 39 yards in the Raiders first preseason game on Monday against the Cowboys, which is to say not much.

According to Levi Damien of silverandblackpride.com, Allen said "I think the zone running scheme is the toughest running scheme in football."

This type of rushing strategy is most conducive to backs whom are able to run north and south, which is why…
Taiwan Jones is the front-runner to be McFadden's backup for the 2012 NFL season.

Jones—who ran between a 4.27 and 4.35 40-yard dash during a private workout at Los Medanos College in 2011—is yet another testament to the late Al Davis' obsession with speedy position players.

In 10 games in 2011, his rookie season, Jones ran 16 times for 73 yards. He caught two passes for 25 yards. That's it.

But his burst of speed in the open field may prove deadly if Oakland's front line can open enough holes for Jones to hit creases and burst into the open field.

Increased playing time could lead to increased statistics in the 2012 season.

Still, none of this matters if McFadden cannot stay healthy.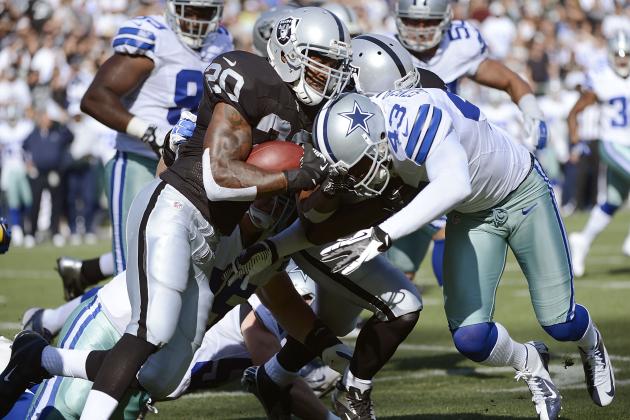 Thearon W. Henderson/Getty Images
McFadden's health is the main concern this season. If he cannot stay healthy, none of his backups stand a chance.
McFadden's injury last year has put doubts in the mind of every fan and fantasy owner.

Entering his fifth season in the NFL, Run DMC has missed at least three games in each of his first four seasons, including the final 10 last season and 19 overall.

Though reports say that McFadden is poised to shake last year's season-ending Lisfranc injury, there is plenty of doubt in the minds of football followers who wonder when the prized back's trend of injuries go from coincidence to characteristic.

If the latter is true, whoever is backing up Run DMC will likely crash and burn in the starting role.