7 Reasons Jurickson Profar Needs to Be a September Call-Up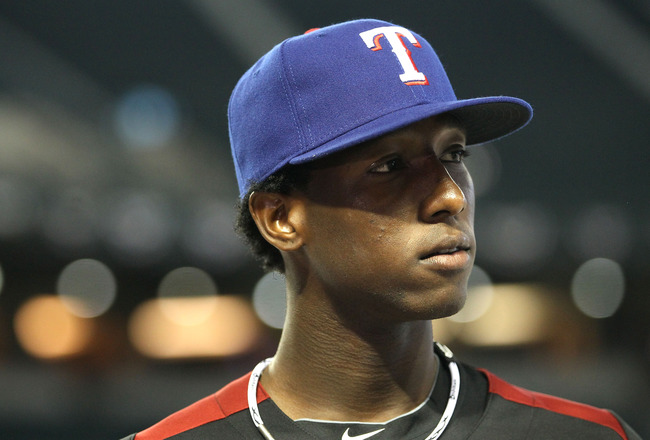 Christian Petersen/Getty Images
In just a few short weeks, every major league team will have the opportunity to expand their roster. This is a time where teams call up fresh faces from the minors, in most cases promising young stars.
The Rangers will have this opportunity as well. The name that is on the tip of everyone's tongue is hotshot prospect Jurickson Profar.
The 19-year-old shortstop is the team's top prospect and one of the top minor league players in all of baseball. He has had a great season in Double-A and deserves consideration for a promotion come September.
Here are seven reasons why a promotion would benefit Profar and the Rangers as well.
Good Experience
Jamie Squire/Getty Images
The experience Profar will get from spending a month in the majors can be very valuable.
He has the chance to observe proven All-Stars like Adrian Beltre, Elvis Andrus and Ian Kinsler. He can witness first hand how these infielders prepare, practice and play the game on a regular basis.
Also, the coaching Profar will receive from guys like Ron Washington and Gary Pettis would be very beneficial. No one is more qualified to teach him the Rangers' style of baseball than these two coaches.
Extra Playing Time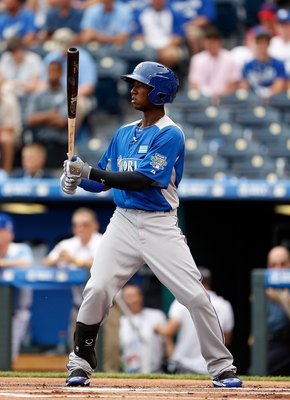 Jamie Squire/Getty Images
The minor league season ends September 3rd, two days after major league teams are allowed to expand their roster.
Essentially, by promoting Profar, the Rangers are giving him extra playing time rather than starting his offseason.
He won't start every game for Texas, but his season still gets to continue.
More time on the field is always beneficial to a young, talented player like Profar. He gets extra at-bats, more time fielding ground balls and other opportunities to improve his game.
Best Option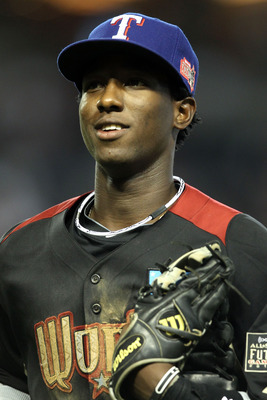 Christian Petersen/Getty Images
Texas sent their former utility player Alberto Gonzalez down to the minors a few days ago. Gonzalez was seldom used anyway, hitting just .241 with four RBI in limited playing time.
Profar is only 19, but he still looks like an improvement over Gonzalez.
There is also the controversial topic of what to do with Michael Young. He has been a hot topic of conversation this year for having the least productive season of his great career.
Young is the team's leader and shouldn't see his playing time cut dramatically. However, the Rangers don't want Profar wasting away on the bench either.
The thing with Profar is that he offers two things that have never been Young's strong suit: speed and pop.
Should he play well enough if promoted, the Rangers have to find a way to get him on the field, even if that means less at-bats for Young.
Speed off the Bench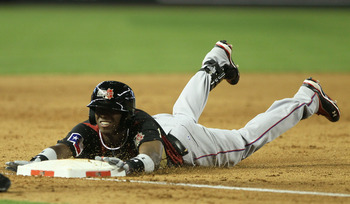 Jeff Gross/Getty Images
The Rangers aren't really a team that lacks speed with the players they sent to the field in their regular lineup. However, it wouldn't hurt to improve it on the bench.
With David Murphy swinging a hot bat, Craig Gentry is the pinch running option right now. Should his playing time increase down the stretch, the team loses that valuable option off the bench.
Profar definitely has above average speed, one more weapon in his set of skills. So, it would be helpful to have him around should the Rangers need a player to swipe a bag or speed on the bases late in the game.
Solid Depth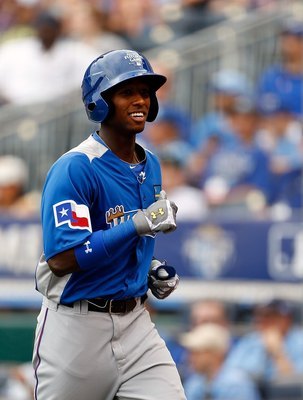 Jamie Squire/Getty Images
Ron Washington likes to give his players plenty of rest during the course of the season. This serves to keep everyone fresh for the stretch run and beyond.
Depth is sometimes an issue when he does this. Washington needs to trust that the backups he puts in the game can still perform and help the Rangers win.
Profar is the last piece to give the team solid depth at all four infield positions. Mike Olt can substitute at third for Adrian Beltre, Profar at shortstop for Elvis Andrus, Michael Young at second for Ian Kinsler and the Rangers can continue the platoon of players at first.
This looks like a lot of good options for Washington to mix around when he is making the lineup card. The issue will be finding playing time for all his talented players, which isn't necessarily a bad problem to have.
Adjustment to New Culture in Texas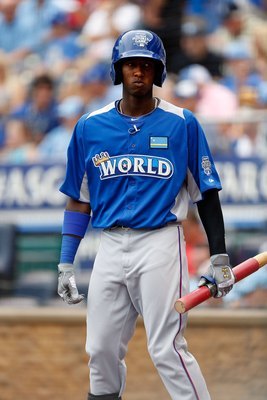 Jamie Squire/Getty Images
Jurickson Profar looks like a player who will be a big part of the Rangers' plans for the future.
The Rangers have a lot of big series coming up, particularly against division foes Oakland and Los Angeles.
So, it should do him a lot of good to experience what the stretch run and chase for a world championship feel like.
No one is questioning his desire to win, but it must be difficult for a young player coming straight from the minors to a big league team with expectations of playing in the World Series every year.
Other players have laid the foundation. It will soon be up to Profar to help carry the torch.
Glimpse into the Future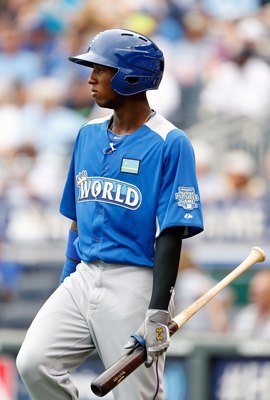 Jamie Squire/Getty Images
This is probably more for the fans than the benefit of the team, but it is still worth noting.
Not many teams can enjoy the success of the present while also glimpsing at the promise that the future holds.
The Rangers can have that luxury this year while chasing a division title, a pennant and a world championship.
Profar can join Mike Olt and possibly Martin Perez and Leonys Martin on the roster late in the season. These are four of the top players in the team's system.
For however brief a time, it would be fun to watch Profar and others showcase their skills down the stretch this season.
Keep Reading

Texas Rangers: Like this team?