Philadelphia 76ers: Post-Trade Roster and Depth Chart Projections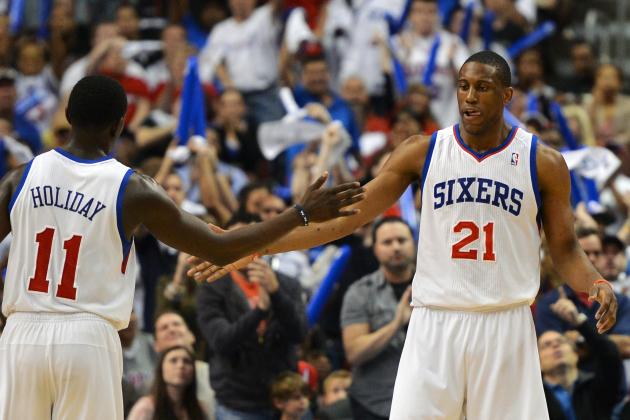 Drew Hallowell/Getty Images

We analysts thought we had the Philadelphia 76ers' rotation figured out earlier this month. Then Rod Thorn and Doug Collins pulled some strings to acquire center Andrew Bynum and shooting guard Jason Richardson while unloading Andre Iguodala, Moe Harkless and Nikola Vucevic.
With Bynum replacing Vucevic as one of the team's two centers, Richardson adding depth, Iguodala gone and Harkless out of the picture, a lot has changed on the Sixers' roster. And by "change," I mean improved. From the center position to backup shooting guard, what Philly gave up is worth it as they try to make a playoff run in 2012-2013.
Training camp and preseason are yet to come, but here are my roster, depth chart and playing time projections for the Sixers' 13-man opening night roster. Enjoy!
Check out more of my work here.
Begin Slideshow

»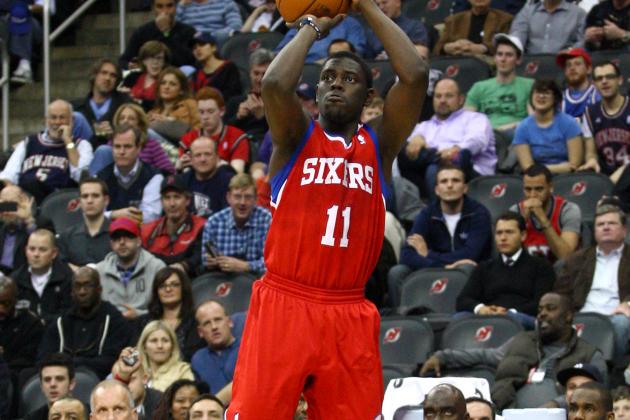 Chris Chambers/Getty Images

Barring a devastating injury or stunning midseason trade, Jrue Holiday is a lock to be Philadelphia's starting point guard.
Before the Sixers acquired Andrew Bynum, it was already thought that Holiday's development would be key to the "success," but with a dominant big man the 22-year old will have to be especially good if the Sixers want to advance in the playoffs.
He's showed flashes of his potential over the past couple seasons, displaying a knack for facilitating as the team's primary ball-handler and scoring on isolations and face-up jump shots. There is no advantage to benching Holiday, a player who could become the future superstar and floor general of a team that is on the rise.
Even Doug Collins—a coach that is notorious for leaning toward veterans—knows that it's now or never for Holiday as the team's point guard.
Projected Playing Time: 32.9 MPG
Drew Hallowell/Getty Images

For similar reasons to Jrue Holiday, Evan Turner must start for the Sixers next season.
Not only is he their most complete player who can play shooting guard, but his status as a former No. 2 overall pick leaves me and a large portion of the fanbase intrigued about whether he can develop into a mainstay for this team.
He showed a knack for getting to the basket with authority and playing good, on-the-ball defense last season. When he's given space in the offense, he can be deadly when he gets the ball close to the rim, not to mention he's an excellent alley-ooper in fast-break situations.
Whether he can establish a consistent jump shot will be extremely important to his future in the league. But it's clear that he deserves a chance to start and feel his way through his third NBA season instead of being restrained by his head coach.
Projecting Playing Time: 31.0 MPG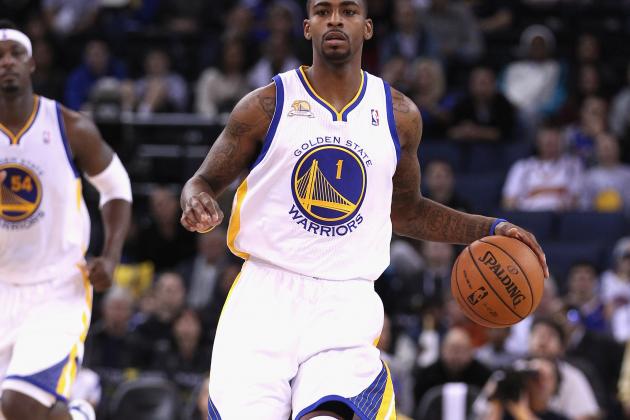 Ezra Shaw/Getty Images
Wright and former/current teammate Kwame Brown.
When the Sixers acquired Dorell Wright earlier in the offseason, it was thought that the 26-year-old would be either a second- or third-stringer, depending on how many minutes Doug Collins planned on giving to Moe Harkless behind Andre Iguodala.
With both gone in the four-team mega-deal and no small forward brought in to take their place, it makes sense that Wright, a sharpshooter with plenty of talent, will take over as the team's starting small forward. He may get fewer minutes in comparison to the other starters, but he's certainly earned a fair amount of playing time with his performance in recent years, especially considering the other two candidates—Evan Turner and Thaddeus Young—will be starting at shooting guard and coming off the bench, respectively.
Wright doesn't have the consistency or defensive presence to play starters' minutes on a Collins-run team, but he can be the Jodie Meeks of last season: A player who starts the game for offensive purposes and sees less playing time as the game goes on in favor of more complete players.
If he can find his league-leading three-point shot from two years ago, minutes will only continue to pile on.
Projected Playing Time: 20.2 MPG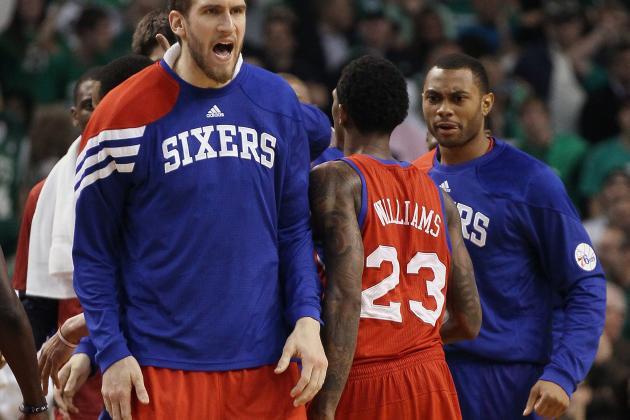 Elsa/Getty Images

Playing Spencer Hawes with Kwame Brown would've been a disaster waiting to happen. With Bynum in the fold, Hawes becomes a valuable asset at power forward, even if his mobility and toughness aren't up to par defensively.
With Bynum, a taller and more forceful presence than Brown, roaming the paint, Hawes will be freer on defense to get out and challenge his man right at the point of the catch instead of waiting to be backed down into the low block. Not only will this give Hawes a chance to use his height and length advantage, but it will prevent him from getting manhandled under the rim like he was so often last season.
Offensively, Hawes will be able to utilize his greatest strengths—shooting and passing—in accordance with Bynum's game. He'll have to do less work around the rim—where he struggles—and instead extend his defender to the point where double-teaming Bynum will require leaving shooters open on the perimeter.
Not only will this help Spencer find his role, but the entire offense can flourish as the paint opens up.
Hawes may have his flaws, but the addition of a top-tier center changes how I feel about having him in the starting lineup over Lavoy Allen.
Projected Playing Time: 28.3 MPG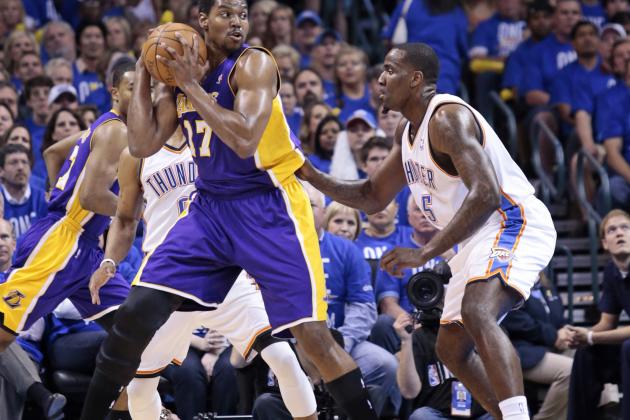 Brett Deering/Getty Images

This has to be the easiest slide of the entire article.
I've already mentioned how much of a difference Bynum will make in the Holiday and Hawes slides; not only does he force teams to collapse in the paint more than any other Sixer in recent memory, but his defensive presence—however shoddy at the moment—will improve as he's relied upon more as a center than as a power forward, where mobility is required.
There is no doubt that Bynum will be the starting center on Day 1. Let's hope the team can re-sign him long term, lure another high-profile free agent to play with him and establish a successful dynasty as has been done by Boston, Los Angeles and Miami over the past couple years.
Projected Playing Time: 34.8 MPG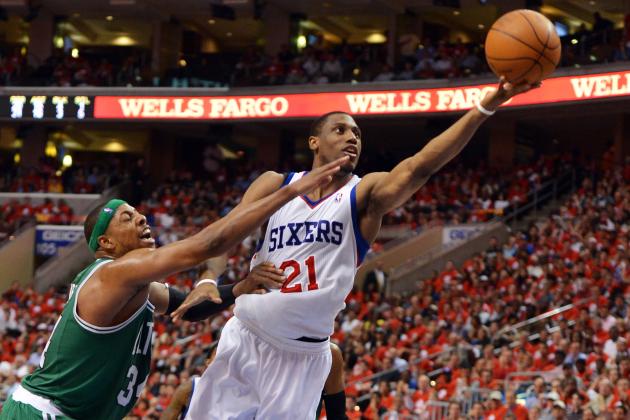 Drew Hallowell/Getty Images

Thaddeus Young is one of the more versatile players on the team, which makes him an excellent candidate to be Philadelphia's first man off the bench in 2012-2013.
Young was the "7th Man" last season behind Lou Williams. But with Williams gone, he is now the most versatile and talented player on the bench. His ability to play the small forward or power forward position makes him extremely valuable. He is able to spell Wright or Hawes early in games and make a difference at whatever position he's asked to play.
He is also the hustle and energy type of player Doug Collins likes to bring in during a lull in intensity, and when he's in the game, he can run the floor, rebound efficiently and score around the rim.
Thad isn't a "favorite" to win Sixth Man of the Year with James Harden and Jason Terry likely playing those roles once again, but I'd say he'll be a consideration when the experts take to the polls.
Projected Playing Time: 26.5 MPG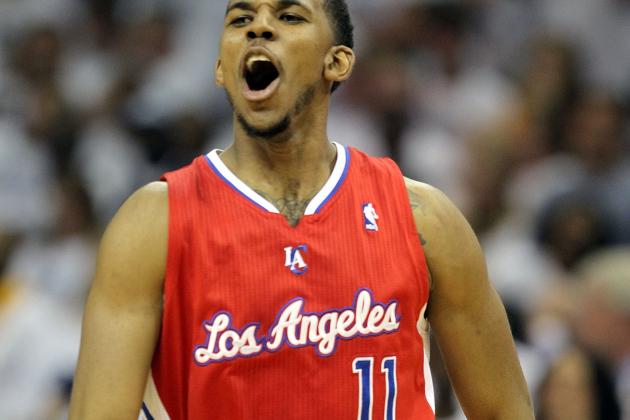 Andy Lyons/Getty Images

Some argue that Nick Young should be the Sixers' starting shooting guard come opening night. But the way I see it, he will do best in a reserve role where his ability to score points will be used in an adroit manner.
Young is more a volume player than a pure scorer, similar to Lou Williams offensively, which means his role will not be as a backup but as a touch-and-go scorer. That's why it makes the most sense for him to be the "7th man", or the second guy off the bench, instead of a traditional backup who comes in to play one position—Young will be asked to play both the point and shooting guard.
He's struggled at times with his mid-range game, but he's shown to be a consistent three-point threat who can string together some extremely important points. He is too large of a defensive liability to be in for more than half of a game, which makes the role of 7th man perfect for his skill set.
Projected Playing Time: 20.9 MPG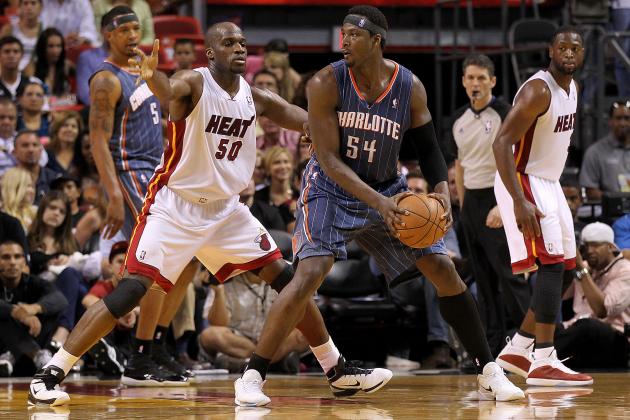 Mike Ehrmann/Getty Images

Without Andrew Bynum in the fold, Kwame Brown was expected to be the Sixers' starting center, with Nik Vucevic coming off the bench as his backup. With the league's second-best center in the fold, however, Brown's role will be severely limited.
He isn't too bad of a post-up defender, which will make him useful against teams who could punish Bynum down low. Bynum has struggled at times to contain more fluid, mobile big men, which might require playing Brown in certain situations as a defensive replacement.
Apart from the odd stretch here or there, Brown won't see a whole lot of playing time as long as Bynum is in Philadelphia.
Projected Playing Time: 11.3 MPG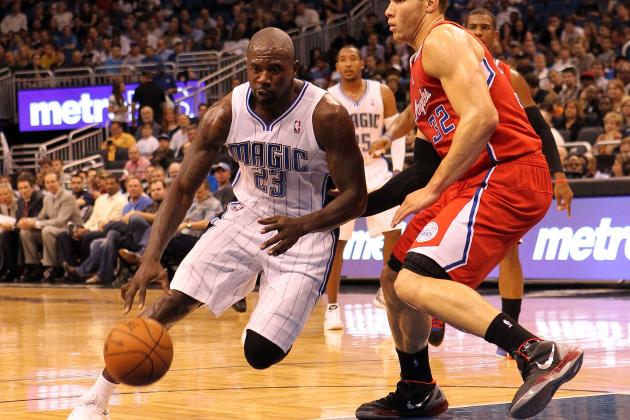 Sam Greenwood/Getty Images

Everyone in Philadelphia is clamoring over the acquisition of Bynum, but too few realize how important Jason Richardson could be to Philadelphia's potential playoff run.
He isn't explosive or young enough to be the team's primary offensive threat as a starter. But when he's in the game at shooting guard, he'll be an interesting offensive option in the half-court and in transition.
The Sixers were among the worst three-point shooting teams (makes-wise) last season, hitting just more than five per game, while Richardson himself drained two or three nearly every contest.
The Sixers' stagnant style of play killed them in Game 7 against Boston, but Richardson's ability to spread the floor will help open things up for drivers and the big men.
With two players—Young and Richardson—who can shoot the three-pointer with consistency, the Sixers can expect to perform much better offensively than in 2011-2012.
Projected Playing Time: 19.0 MPG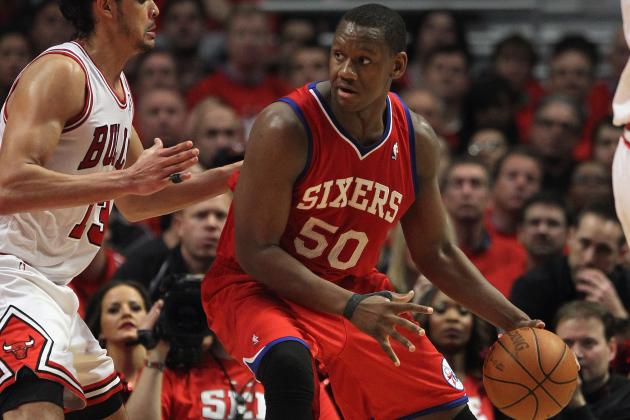 Jonathan Daniel/Getty Images

As he showed during last year's postseason, Lavoy Allen is someone who deserves consistent playing time. He just won't get as much with so many forwards on the roster.
Regular-season playing time won't necessarily translate into postseason playing time for Allen, who'll definitely be needed more when the level of competition offensively increases and a tough defensive presence is needed.
As it stands, Allen can't pass or shoot as well as Spencer Hawes, which makes him a worse partner for star center Andrew Bynum. He will, however, still be used as a defensive specialist on tougher PFs and likely see playing time later in games when Philadelphia needs to protect a lead.
I love what Allen can do, but playing time will be hard to come by during the regular season for the 23-year-old.
Projected Playing Time: 15.6 MPG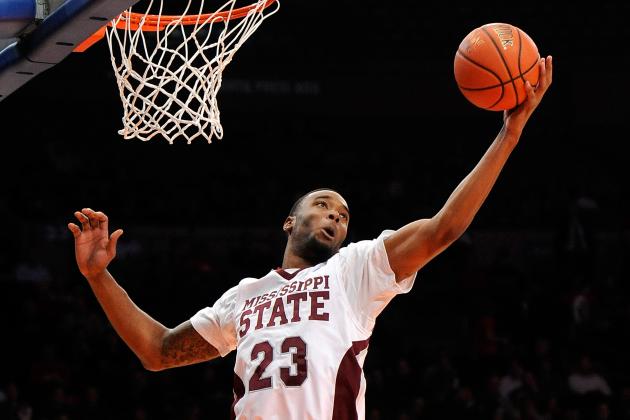 Patrick McDermott/Getty Images

This is where we come to the end of the bench, to players who are either too old or too young to get playing time on a team as deep as Philadelphia.
Moultrie has an impressive post game that could get him buckets here and there against less physical forwards. But for now he still needs to develop his game awareness and defensive polish. He can block shots, but he's struggled against opponents who can get underneath his hands and push him away from the rim.
If the team wasn't poised for a playoff run—if they hadn't traded for Bynum—I would've advocated playing Moultrie 20-25 minutes per game. But for now he just isn't one of their better options at power forward. This will be a learning year for Moultrie as he watches some of the best in the world do their craft.
Projected Playing Time: 12-15 DNPs, 7.9 MPG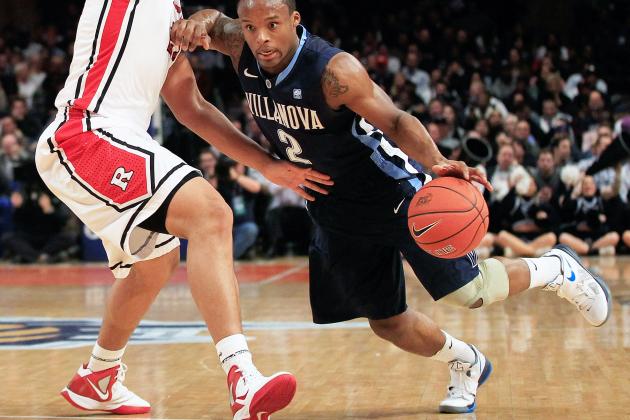 Chris Trotman/Getty Images

By signing Wayns to a one-year guaranteed deal, the front office neither assured him of a professional roster spot nor assigned him straight to the D-League. Of all players on this list, his position as a member of the Philadelphia 76ers is the most unsure at the moment.
In my opinion, however, there is no way Rod Thorn will let Wayns "rot" in the Developmental League, the same thing he was unwilling to let happen to Lavoy Allen last season. And look what happened to Allen! Wayns has plenty of potential, which makes him a strong candidate to make the NBA team.
Of course, he won't see much playing time with four or five guards ahead of him on the depth chart. But it'll still be a good experience for him to practice with and be around guys like Jrue Holiday, Evan Turner and Jason Richardson.
Projected Playing Time: 40-45 DNPs, 6.2 MPG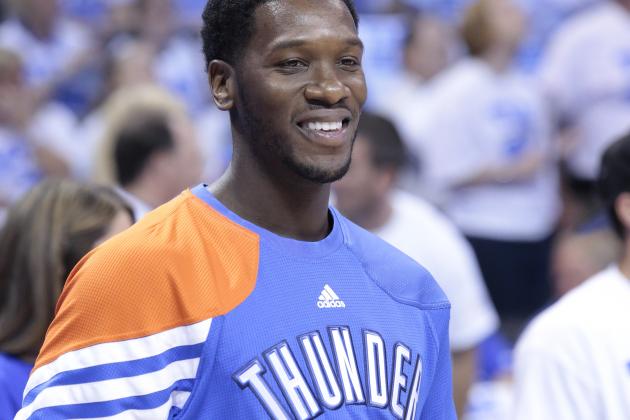 Brett Deering/Getty Images

And now we come to the most important position on the entire roster, the Tony Battie Memorial Chair (established 2011), which will be filled by Royal Ivey, who the Sixers recently signed to the veteran minimum.
The TBMC was established by head coach Doug Collins last season, who sat Battie for 39 of the team's 66 games, even though there was rarely a time the team carried more than 11 players on the active roster.
Ivey was brought in as a precaution in case of a rash of backcourt injuries. His role will mainly be to mentor young point guard Jrue Holiday. Fantasy owners, don't expect much from Ivey in his ninth NBA season.
Projected Minutes Per Game: 55-65 DNPs, 5.8 MPG