PGA Championship 2012 Pairings: Looking at the Notable Saturday Groupings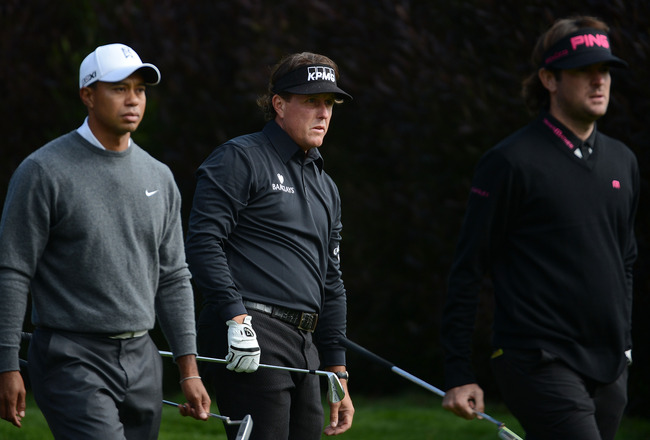 Tiger Woods, Phil Mickelson and Bubba Watson were a bust pairing at the U.S. Open
Harry How/Getty Images
In the pressure cooker that is the third round of a major championship, there's nothing like being paired with a player you are somewhat friendly with; someone who can be a sounding board when things get tough.
The opposite of that—being paired with someone you really don't like—might make for a much quieter round of golf. At the same time, that sort of pairing might provide a great deal of motivation.
The thing about pairings is the players can't control them.
They go out and try to shoot the best score they can, and whatever that number is determines their partner.
Having said all of that, let's take a look at the most interesting twosomes in today's third round of the PGA Championship at the Kiawah Island Resort in South Carolina.
A Dozen Years Later, Woods-Singh Feud Still Simmers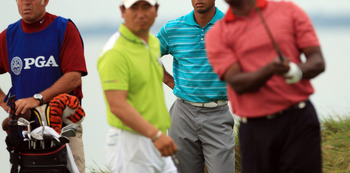 Tiger Woods looks on intently as Vijay Singh hits a shot
Allan Henry-US PRESSWIRE
There's no better place to start than at the top.
Vijay Singh and Tiger Woods have the final pairing of the day and leave the first tee at 3 p.m.
These two went back and forth in a battle for the top spot in the World Golf Rankings and, despite all the blabber to the contrary, Singh was Woods' only real rival.
Add to that the 2000 Presidents Cup when Singh's caddie, Paul Tesori, put a piece of tape on the back of Singh's visor that had the words "Tiger Who?" written on it. That cut it for Woods, who never forgot and to this day is cordial at best to Singh.
It's going to be almost 90 degrees on the Ocean Course today, but it will be frosty between these two.
Schwarzel, Els: Pair of Major Champions Will Have Plenty to Talk About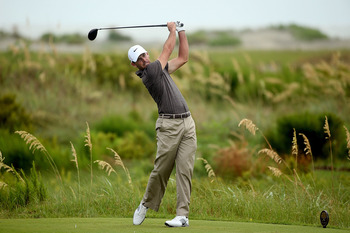 Charl Schwartzel will make a good Saturday partner for Ernie Els
Andrew Redington/Getty Images
The pairing of Ernie Els and Charl Schwartzel might be the most comfortable of them all on Saturday.
Both are natives of South Africa; both have won major titles. Els has four (two U.S. Opens, two Open Championships); Schwartzel, a Masters.
Schwartzel has admitted that Els has been a hero growing up and has tried to be like him.
Els' Open championship last month was the high point of a comeback journey for him, and Schwartzel has been on a similar journey since winning the Masters in 2011.
The pair begin the day seven shots out of the lead, but on the Ocean Course, no lead is truly insurmountable.
Bo Van Pelt, Padraig Harrington Could Use a Kick-Start to Their Seasons
A good third round could set Bo Van Pelt up for his biggest victory.
Andrew Redington/Getty Images
Ireland's Padraig Harrington has won three major championships.
Bo Van Pelt hasn't won any.
Their 12:40 tee time should be a good one for Van Pelt, who can definitely soak up some knowledge from a guy who knows how to play in majors and play links-style golf courses.
Harrington, on the other hand, will get some inspiration from a guy who can play at the level Van Pelt is.
They start the day at two-over par, six shots back.
Joost Luiten, Gonzalo Fernandez-Castano Will Battle Course, Languages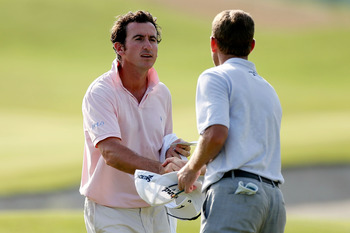 Gonzalo Fernandez-Castano tees it up with Joost Luiten today
Sam Greenwood/Getty Images
Gonzalo Fernandez-Castano has never played in a major championship, but shot rounds of 67 and 78 and finds himself paired today with the tournament's early sensation, Joost Luiten, who was eight-under par with four holes to go in the first round.
How much conversation the two will have is up in the air, but they're only five shots off the lead and they might need to make friends quickly for support when things get tough later in the day.
Expect Phil Mickelson, Graeme McDowell to Be Chatty Today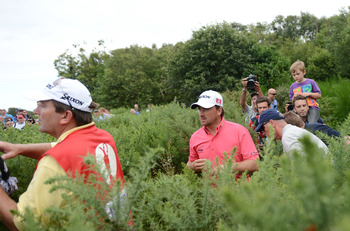 Graeme McDowell isn't shy and neither is Phil Mickelson
Harry How/Getty Images
This is a pairing of a couple players who are smarting as a result of their recent efforts.
While it's been generally accepted that Adam Scott gave away the Open Championship by bogeying the final four holes, Graeme McDowell came away from Royal Lytham & St. Annes feeling like he let a great chance get away.
Phil Mickelson has been lethargic, out of focus and just generally blah for a few months now. He believes he's back on track and thinks he has a shot at a second PGA Championship title.
The two get started at 2:10 and, if they get it going, could set the pace for the leaders.
They'll definitely set the pace in words exchanged.
Aussies Aaron Baddeley, Adam Scott Ready to Go Title Hunting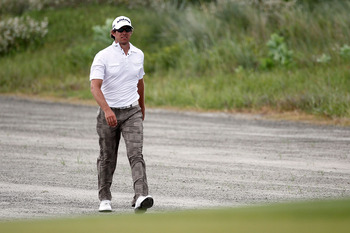 Aaron Baddely will be good company for fellow countryman Adam Scott
Jonathan Ferrey/Getty Images
Call this the comeback pairing.
Aaron Baddeley won once in 2011, but has only three top-10s this year. He earned over $3 million this year, but hasn't been the force he looked like he might be earlier in his career.
Everybody knows the tale of woe associated with Adam Scott, who blew a four-shot lead on the final four holes of the Open Championship and lost to Ernie Els.
Both would consider a strong finish in the PGA Championship a big part of getting back on the kind of track they'd like to be.
Being from the same country ought to make that process a little bit easier today starting at 2:30 p.m.
Martin Laird, John Daly a Pairing of Opposites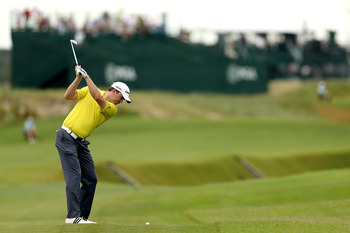 Martin Laird is the opposite of John Daly in a lot of ways, starting with clothing
Ross Kinnaird/Getty Images
Martin Laird is barely in the top 25 in driving distance, is a generally conservative dresser and is rarely quoted anywhere.
John Daly, on the other hand, is 15th in driving distance, belting drives over 300 yards on average. He is the PGA Tour's loudest dresser, to the point of sometimes looking comical. And, of course, Daly never met a microphone he didn't like.
If opposites attract, this 1:10 pairing was made in heaven.
Francesco Molinari and Zach Johnson Are Diminutive but Really Good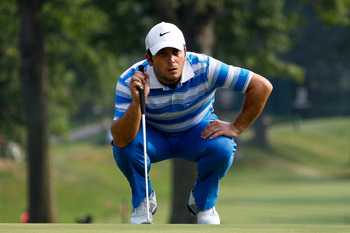 Francesco Molinari, Zack Johnson will be saying "good shot" a lot today
Gregory Shamus/Getty Images
The 13th- (Zack Johnson) and 24th- (Francesco Molinari) ranked players in the World Golf Rankings should make for a ball-striking clinic, assuming the winds off the Atlantic Ocean don't dictate otherwise.
Neither are bombers, but both can get their golf balls around very efficiently and that's what it will take to contend from their 1:40 tee time.
Don't be surprised if they're both further up the board at day's end.
Rory McIlroy Needs a Good Round Today, Will Jamie Donaldson Help or Hurt?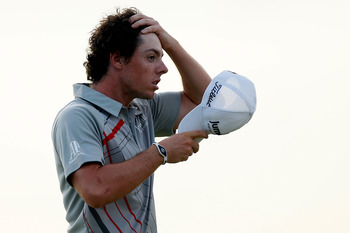 Despite it being a tough day on Friday, McIlroy kept it together and is in the thick of things today
Sam Greenwood/Getty Images
Rory McIlroy hasn't done much since mowing down the U.S. Open field in 2011 at Congressional. He needs to play well in a major and this is his last chance in 2012.
He'll be trying to do that while playing with 36-year-old Jamie Donaldson, a native of Wales, who has played a total of seven events on the PGA Tour.
Most likely, the two know each other at least a bit from the European Tour, but that really won't matter today.
This round will be about McIlroy getting his stuff together and posting a good round to give himself a chance on Sunday.
They get started at 2:40 p.m.
Carl Pettersson, Ian Poulter: Golf's Version of the Odd Couple?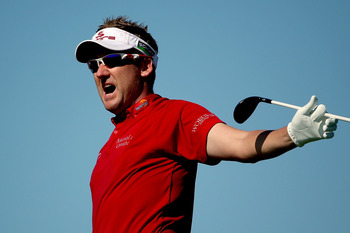 There can't be too many of these today if Ian Poulter is going to keep up with Carl Pettersson in the penultimate group of the day
Andrew Redington/Getty Images
This group, which leaves the first tee at 2:50 p.m. is the wild card group.
Pettersson hasn't done much in the majors this year, while Poulter has a pair of top-10 finishes.
They didn't come into this week on fire, but have been able to battle the conditions on the Ocean Course as well as the nerves.
Pettersson is one of three tied at the top, and Poulter is just a shot back.
Hang onto your hats, they could make this an interesting afternoon.
Keep Reading