Handicapping All 30 MLB Teams' Playoff Odds as They Head Down the Stretch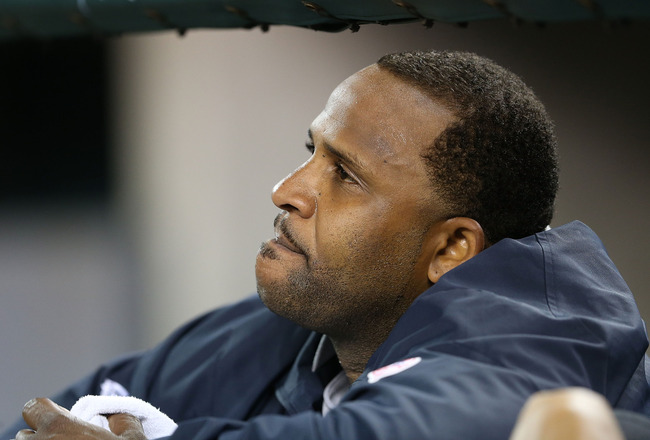 Leon Halip/Getty Images
Can we call it crunch time yet?
I think we can.
With just over six weeks remaining in the regular season, teams are fighting tooth-and-nail for playoff position—both as division winners and for wild-card spots.
There isn't a division in the game that doesn't have a race going on—the Yankees have the largest division lead at six games over the Rays, but that's certainly not an insurmountable number—and we can legitimately call 15 teams contenders at this point.
So who has the best shot at making the playoffs?
To borrow a line from Phish: "Let's get down to the nitty gritty, let's get the show on the road."
Arizona Diamondbacks (57-57)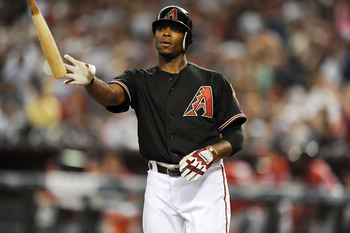 Upton's lack of power has been a major issue in Arizona this season.
Norm Hall/Getty Images
Five games behind the Giants for the NL West lead and 6.5 games out of a wild-card spot, the Diamondbacks' chances of making the playoffs don't look great.
With six games left against the second-place Dodgers, nine left against the Giants and three against the Cardinals (who they have to get past for a shot at a wild-card berth), a hot streak at the right time could propel them back into contention—but that's a big if.
They've lost six of their last 10 games, Justin Upton continues to provide no power in the heart of the lineup, and both Trevor Cahill (4.85 ERA, 1.31 WHIP) and Ian Kennedy (6.30 ERA, 1.90 WHIP) have struggled on the mound this month.
Unfortunately, they simply need too much to go their way for the playoffs to be a realistic goal at this point.
Odds of Making the Playoffs: 20 percent
Atlanta Braves (66-47)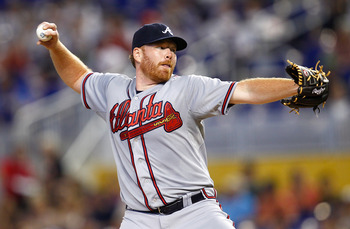 Tommy Hanson is getting closer to returning to action.
Sarah Glenn/Getty Images
I stand corrected. When the Braves acquired Paul Maholm from the Cubs at the trade deadline, I didn't think he would make a major difference in the team's fate. Instead, Maholm has gone out and been the team's best starter, throwing to a 1.69 ERA and 0.69 WHIP while striking out 13 batters in 16 innings of work.
Less than five games behind the Nationals for the NL East lead—a Nationals squad that is going to shut down their ace, Stephen Strasburg, before the end of the season—coupled with the return of ace Tommy Hanson and shortstop Andrelton Simmons in the next few weeks, the Braves have a solid shot at making a run for the division.
While their lead in the wild-card race isn't great—the Dodgers and Cardinals are nipping at their heels—there is no reason not to like the Braves' chances at making the playoffs, especially when you look at the number of injuries they have dealt with and how they still have the second-highest run differential in all of baseball at plus-80.
Odds of Making the Playoffs: 85 percent
Baltimore Orioles (61-53)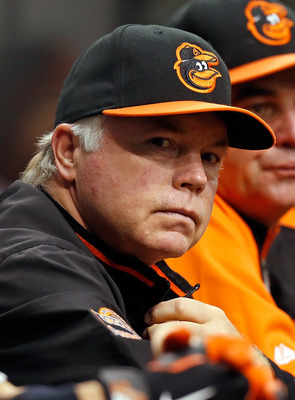 Meet Buck, the best manager in baseball.
J. Meric/Getty Images
Buck Showalter is the best manager in the American League and very well could be the best manager in all of baseball.
No? Show me another man who has done more with less this season. You can't.
With a piecemeal bullpen and a starting rotation that largely consisted of two pitchers all season in Wei-Yi Chen and Jason Hammel, he had the Orioles atop the AL East for more than a month, and they've remained in contention all year long.
It's no coincidence that when Hammel went on the disabled list, the Orioles started to slide just a bit. Chris Tillman has been very good since making his return to the rotation, but that still leaves the O's with only two viable starting pitchers—they need more.
You can't call them out of the race for the division by any means, but the Yankees, for all of their issues, keep winning, and the Rays have started to put things together as well, relegating the Orioles to third place in the AL East.
They have a fairly difficult schedule the rest of the way, with three games against the Rangers and Tigers, four against the White Sox and six against the Rays—including the last series of the season—which could be for one of the two AL wild-card berths.
It all comes down to their starting rotation and whether they have enough to last for the next month-and-a-half. If Hammel is able to return at the beginning of September with little rust and Tillman continues to excel, then they have as good as shot as Tampa does to make the playoffs.
But those are two sizable "ifs," and they're far from sure things.
Odds of Making the Playoffs: 20 percent
Boston Red Sox (56-59)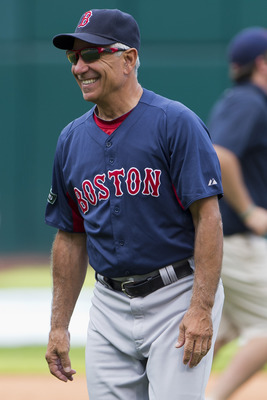 Trash Bobby V all you want, but he's done a solid job running the show all things considered.
Jason Miller/Getty Images
You won't find a more dysfunctional organization in baseball than the Red Sox.
Bobby Valentine was hired as manager but was unable to hire most of his coaches. He now sits with some of his coaches, who are loyal to former skipper Terry Francona, not even speaking to their boss.
The locker room has been a mess since before Valentine arrived, and wholesale changes are needed if there is any shot at creating a harmonious atmosphere.
Yet for all of the issues, Boston sits three games under .500 and only six games out of a wild-card berth.
If they can figure out a way to beat the Angels in the six games remaining between the two teams, that will go a long way towards improving their chances at a wild-card spot—Los Angeles is one of five teams standing in their way.
I don't think they can pull it off the way that the roster is currently constructed, especially given the number of teams that they need to get past. But Bobby V deserves a chance to see what he can do with a revamped ballclub—and a staff of his own coaches—in 2013.
Odds of Making the Playoffs: 10 percent
Chicago Cubs (44-68)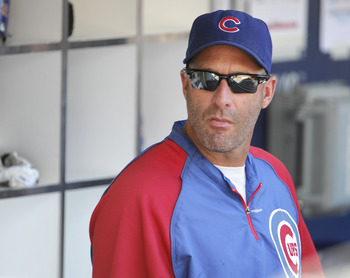 Dale Sveum sure looks like the right man for the job in Chicago.
Denis Poroy/Getty Images
You won't find a Cubs fan alive who thinks this team has a shot at the postseason in 2012, and they'd be right—they don't.
But nobody expects this team to contend over the next few seasons as GM Jed Hoyer, team president Theo Epstein and skipper Dale Sveum put together a roster that can sustain long-term success, something the Cubs haven't had in quite some time.
The future is bright in Chicago—it'll just be a few years before the sun fully emerges from behind the clouds.
Odds of Making the Playoffs: 0 percent
Chicago White Sox (61-51)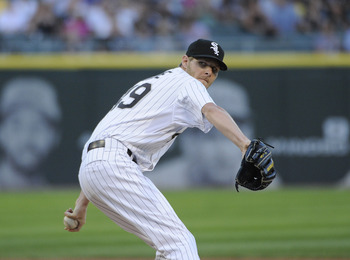 So much for Chris Sale's "dead arm."
David Banks/Getty Images
We give credit where credit is due, and Robin Ventura has done a phenomenal job of managing the White Sox in 2012.
Chris Sale's "dead arm" seems to have come and gone, but the White Sox have essentially been a .500 team since the trade deadline (5-4). They'll need to perform better if they want to reach the playoffs, because other teams have upped their level of performance.
Their lead in the AL Central has all but disappeared, with the Tigers sitting only a game back—and each of the seven games remaining between the two teams has playoff implications.
With the Angels, A's, Orioles and Rays all making a push for a wild-card berth, there may be only one playoff team to come out of the AL Central this season. That being said, it's hard to argue against what the White Sox have done, and to say they don't have as good a shot as the Tigers would simply be disingenuous.
Odds of Making the Playoffs: 65 percent
Cincinnati Reds (68-46)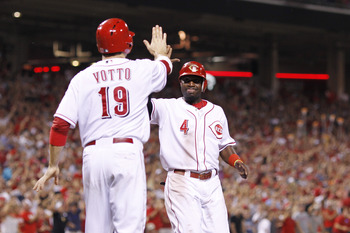 Joey Votto's return will only make them better...and that's a scary proposition.
Joe Robbins/Getty Images
How removing the best player on the team and a perennial MVP candidate from the lineup makes you a better team is one of the great mysteries in the world, but that's exactly what has happened in Cincinnati.
Since Joey Votto went down with a knee injury on July 16, the Reds have gone 17-8, increased their lead over the Pittsburgh Pirates from one game to four and established themselves as the best team in baseball at the moment.
Whether Votto returns at the end of August or the beginning of September is largely irrelevant—he is returning, and he only makes the Reds a better team. That doesn't bode well for the rest of the National League.
Odds of Making the Playoffs: 90 percent
Cleveland Indians (53-61)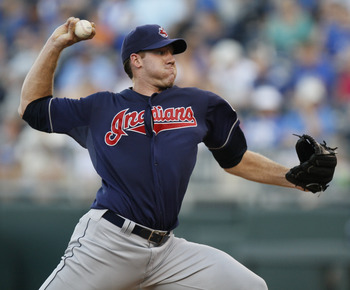 Zach McAllister has been one of the few bright spots in Cleveland's rotation.
Ed Zurga/Getty Images
Nine games behind the White Sox and nearly nine games out of a wild-card berth, the Indians realize that they aren't going to contend in 2012. Ridding themselves of dead weight in Johnny Damon and Derek Lowe was the right call for the future of the team.
Zach McAllister looks like a solid building block in the rotation, and Jason Kipnis is unquestionably one of the bright up-and-coming stars in the game. But changes are coming to the Indians roster this winter, changes that could include dealing away closer Chris Perez and right fielder Shin-Soo Choo.
It would take a colossal hot streak, coupled with a legendary slide by nearly every team in the American League, for them to get into the playoffs this season.
Odds of Making the Playoffs: 2 percent
Colorado Rockies (41-70)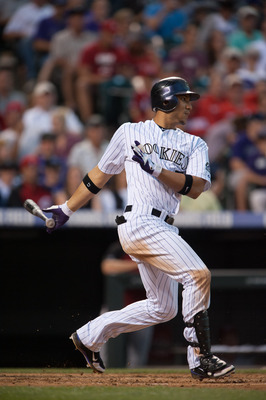 CarGo's talents are going to waste in Colorado.
Dustin Bradford/Getty Images
Ask a Rockies fan about quality starting pitching, and you're likely to hear, "Quality pitching? Never heard of it," in response.
That about sums up the Rockies—not only in 2012, but in virtually every other season.
The team lacks starters who can keep the team in games, making Carlos Gonzalez largely irrelevant in the scheme of things—and that's absurd, because "CarGo" is one of the most complete players in baseball.
Nearly 20 games behind the Giants in the NL West and 21 games out of a wild-card spot, no October baseball will be played in Colorado this season.
Odds of Making the Playoffs: 0 percent
Detroit Tigers (61-53)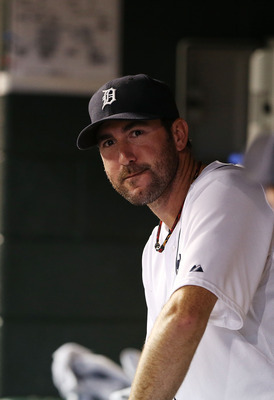 I'm sorry, did you say that we were out of it?
Leon Halip/Getty Images
Just when you thought it was safe to anoint the White Sox the AL Central champions, here come Justin Verlander and the Detroit Tigers.
Verlander and Doug Fister have put forward a repeat of last August, when the duo was virtually un-hittable for the Tigers, posting a combined 1.19 ERA and 32 strikeouts in four August starts. The Tigers have made up considerable ground on not only the White Sox in the division, but the rest of the AL in the wild-card race, going 7-3 since the trade deadline.
Someone woke the sleeping giant that was Prince Fielder, who has crushed the ball in the past 10 games for six extra-base hits (four home runs) and 12 RBI, and Miguel Cabrera continues to produce at a MVP-caliber level.
With seven games left against the White Sox, my gut feeling is that the Tigers will overtake the ChiSox for the division crown. And no, there isn't any scientific formula or mathematical equation I can give you to support my feeling—the proof lies in the pudding, and the Tigers are eating pudding at a frenetic pace.
Odds of Making the Playoffs: 65 percent
Houston Astros (38-77)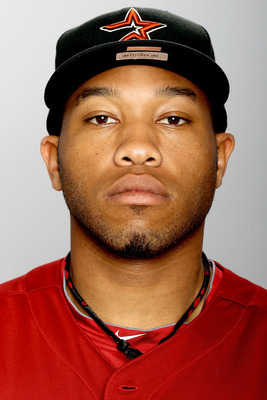 Jonathan Singleton will be fun to watch...in 2014.
Matthew Stockman/Getty Images
It's all about the future in Houston, and they have a number of intriguing prospects down on the farm who could make an impact in the major leagues over the next few seasons—none more intriguing than first baseman Jonathan Singleton.
Acquired from the Phillies as part of the package they received for Roy Oswalt, the 20-year-old Singleton has put together a solid season in Double-A: .277/.388/.473 with 43 extra-base hits (15 homers) and 68 RBI.
The future is still years away in Houston, but there is reason for optimism as GM Jeff Luhnow continues to stockpile pieces to build around.
Odds of Making the Playoffs: 0 percent
Kansas City Royals (49-64)
Eric Hosmer has fallen victim to the "sophomore slump."
Jonathan Daniel/Getty Images
I wouldn't say that the Royals were expected to contend in 2012 as much as they were expected to continue to show improvement and growth—and they've failed to do that.
They have as solid a core of young position players as you can find in the game, with third baseman Mike Moustakas, left fielder Alex Gordon and catcher Salvador Perez leading the way. Designated hitter extraordinaire Billy Butler continues to fly under the radar as one of the better hitters in baseball, and über-prospect Wil Myers should get his first taste of the big leagues in September.
But their pitching staff continues to betray them, with only Luis Mendoza (4.67) having an ERA under 5.00. (Felipe Paulino has been out for months with Tommy John surgery, so he doesn't count.)
The Royals have no chance of making the playoffs without drastic improvements to their starting rotation, and those won't be forthcoming in 2012.
Odds of Making the Playoffs: 0 percent
Los Angeles Angels (60-54)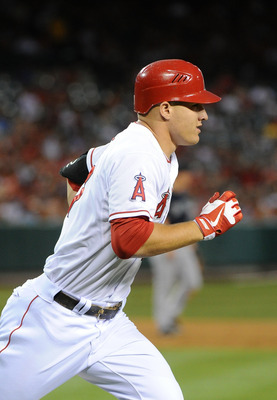 Mike Trout is better than we thought.
Lisa Blumenfeld/Getty Images
With the best player in baseball leading the way, the Angels should be in much better shape than they currently are, going 3-7 since the trade deadline and sitting seven games behind the Rangers for the AL West lead.
For all of their struggles this month, they find themselves less than two games out of a wild-card spot. Zack Greinke, the acquisition many expected would put the Angels over the top, has been dreadful in his last two starts, allowing 10 earned runs over 12 innings of work.
Greinke needs to get himself straightened out if the Angels have any shot at making a playoff run. Jered Weaver is great, and C.J. Wilson is solid, but they cannot do it by themselves.
With seven games left against the A's and six against the Rangers, the Angels need to come out with a winning record against both teams if they have any shot at making the postseason. An improved Greinke will go a long way toward accomplishing that goal.
As for the best player in baseball, Mike Trout has been better than advertised—and he made Bryce Harper, the player he will forever be linked to, look like he's moving in slow motion.
Odds of Making the Playoffs: 45 percent
Los Angeles Dodgers (61-53)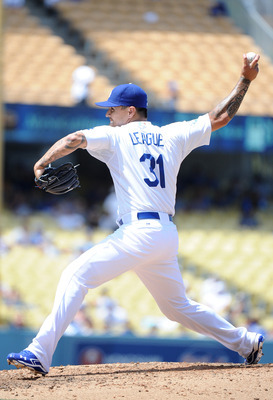 Brandon League has been awful in Dodgers blue.
Lisa Blumenfeld/Getty Images
After acquiring Joe Blanton, Brandon League, Hanley Ramirez and Shane Victorino before the trade deadline, the Dodgers were expected to put some distance between themselves and the Giants in the NL West.
Instead, Blanton and League have been mediocre and awful, respectively, while Ramirez and Victorino have failed to make a big-time impact on offense up to this point.
Only a game behind the Giants and fewer than three out of a wild-card berth, the Dodgers have games remaining against virtually every team standing in their way—including nine against the Giants. They will have to play better baseball than they have of late (5-5 in their last 10 games) to jump over anyone though.
The way the season has gone, there is no reason to expect that their final series of the season—against the Giants at home—will be for anything but the division crown.
Odds of Making the Playoffs: 50 percent
Miami Marlins (52-62)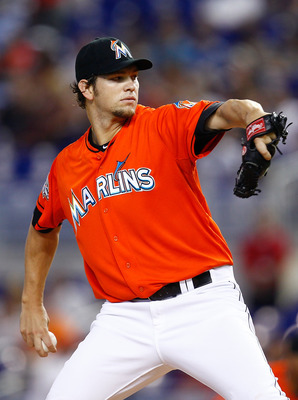 Not trading Josh Johnson could prove to have been a mistake.
Sarah Glenn/Getty Images
The Marlins did the right thing in selling off pieces, including Hanley Ramirez, but they erred in holding onto Josh Johnson.
With no shot at making the playoffs in 2012 and Johnson's injury history, his value is never going to be higher than it was leading up to the trade deadline—and they could have obtained multiple pieces to be used towards contending in 2013 and beyond.
A healthy Giancarlo Stanton in the outfield and a healthy Logan Morrison—perhaps at first base—should get the offense back on track again next season. But as far as 2012 goes, it's a lost season in Miami.
Odds of Making the Playoffs: 0 percent
Milwaukee Brewers (51-61)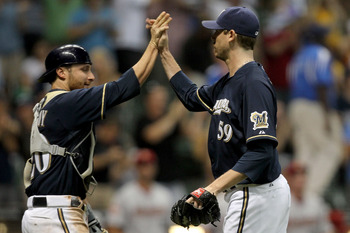 Celebrations have been few and far between for Brewers closer John Axford this season.
Mike McGinnis/Getty Images
The worst bullpen in baseball is why the Brewers find themselves out of playoff contention in the middle of August. With a combined 4.90 ERA and 22 blown saves in 46 chances, it didn't matter what the rest of the team did; the bullpen has done their best to give back any lead that the Brew Crew had as a game progressed.
With nine games remaining against the upstart Pittsburgh Pirates, the Brewers have a chance to play spoiler if they can knock the Bucs off track.
Odds of Making the Playoffs: 0 percent
Minnesota Twins (49-64)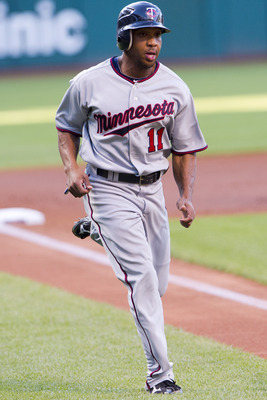 Ben Revere has been a terror on the basepaths.
Jason Miller/Getty Images
While the Twins offense has been solid all season long—and the eventual return of Ben Revere, my preseason pick for the Twins' breakout player, certainly didn't hurt things—their pitching has failed them time and time again.
Scott Diamond has been the lone bright spot in the rotation, and Alex Burnett, Jared Burton and Glen Perkins have been excellent out of the bullpen—but that's where the good news ends on the mound.
The Twins don't have much in the way of major-league-ready reinforcements on the farm, so 2013 figures to play out the same way 2012 did, unless drastic changes are made to the starting rotation.
Odds of Making the Playoffs: 0 percent
New York Mets (54-60)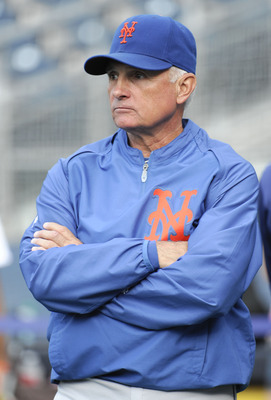 Terry Collins has done what he could with a medicore roster.
Denis Poroy/Getty Images
The Mets bullpen has been atrocious, and other than David Wright, their biggest bats on offense have remained largely silent all season long.
Sure, first baseman Ike Davis has 20 home runs and 61 RBI, but he's also struggled to bat over .200 all season long. The Mets need far more production from a player they counted on to be a big-time player in the middle of their lineup.
R.A. Dickey and David Wright remain in contention for the NL Cy Young and MVP awards, respectively, but that's all the Mets have left to look forward to. Chances are, neither one walks away with the hardware, considering voters' penchant for giving those awards to players on winning teams.
Matt Harvey and Zack Wheeler give hope for the future, but they will be helpless to change things in Flushing unless Fred and Jeff Wilpon allow Sandy Alderson to start adding pieces—pieces that you can't find in the bargain bin.
Odds of Making the Playoffs: 0 percent
New York Yankees (67-46)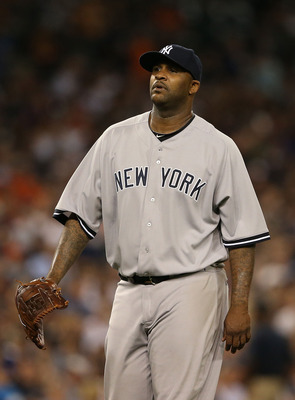 Sabathia's elbow is a concern.
Leon Halip/Getty Images
The Yankees can downplay CC Sabathia's sore left elbow all they want, but it has to be a serious concern—and without Sabathia leading the rotation, they have some serious problems.
To their credit, the team keeps on winning—and it would take a collapse of epic proportion for them to not make the postseason in 2012. Their six-game lead over the Rays and Orioles in the AL East is still a daunting number for anyone to overcome, and even if they were to lose the division race, they'd be a virtual lock to clinch a wild-card berth.
That being said, injuries to Sabathia and Andy Pettitte have robbed the team of their two best starting pitchers. Should Sabathia's elbow continue to be an issue or if Pettitte is unable to get back on the mound before the end of September, their chances for making a deep playoff run are markedly lower.
Odds of Making the Playoffs: 95 percent
Oakland A's (61-52)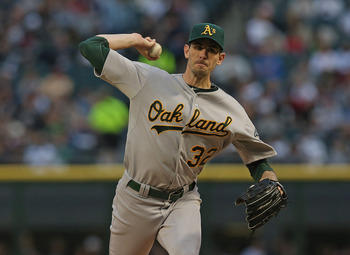 Brandon McCarthy was a bust before reaching the A's.
Jonathan Daniel/Getty Images
Last week, roughly 100 B/R writers got together in New York City to meet each other, have a few beers and, of course, talk sports. At one point, I turned to my esteemed colleague Pete Schauer and said, "How in the world are the A's doing it?"
Like me, Pete wasn't quite sure.
In a division with the high-profile and big-spending Angels and Rangers, the A's are generally an afterthought. Yet here we are heading into the home stretch, and they are right in the thick of it all.
It's always been about pitching under Billy Beane (see Danny Haren, Tim Hudson, Mark Mulder and Barry Zito for examples). A's starters have combined for a 3.81 ERA—second best in the American League and seventh best in all of baseball.
They don't have the easiest schedule remaining, with seven games against the Angels and Rangers and three against the Yankees—but to bet against Oakland making the playoffs in 2012 would be foolish. All they do is continue to surprise people.
Odds of Making the Playoffs: 55 percent
Philadelphia Phillies (51-62)
Domonic Brown is finally getting his shot.
Brian Garfinkel/Getty Images
The Phillies made moves at the deadline that were more retooling than rebuilding—and it was the right direction for GM Ruben Amaro Jr. to take. With Roy Halladay, Ryan Howard, Cliff Lee and Chase Utley not getting any younger, the window of opportunity to contend for a World Series title is beginning to close.
Now free of a crowded outfield, prospect Domonic Brown is getting a chance to prove that he can be just as productive as Hunter Pence. If he's able to do so, the Phillies are in better shape for 2013 than they were two weeks ago.
Odds of Making the Playoffs: 0 percent
Pittsburgh Pirates (63-50)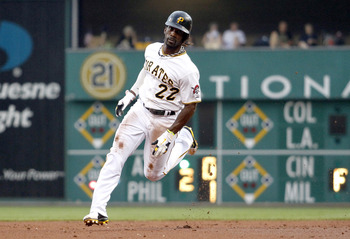 Meet Mr. McCutchen, your 2012 NL MVP.
Justin K. Aller/Getty Images
With a chance to end 20 years of futility, the Pirates went out and added quality pieces at the deadline to bolster their playoff chances. While Wandy Rodriguez has struggled in his three starts in a Pirates uniform, the veteran is a quality arm who can provide quality innings and should improve.
They find themselves in second place in the NL Central, nearly five games behind the super-hot Reds, but they have almost a two-game lead in the wild-card race. With multiple games remaining against the Braves, Dodgers and Reds, the Pirates hold their postseason fortunes in their own hands.
If they continue to play at a high level, they'll get in. Stumble against the opponents within striking distance, and they could find themselves on the outside looking in.
Me, I'm betting on the Bucs.
Odds of Making the Playoffs: 55 percent
San Diego Padres (51-64)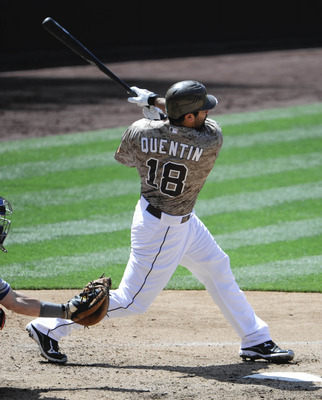 Extending Carlos Quentin gives the Padres hope for the future.
Denis Poroy/Getty Images
Now that the O'Malley family is set to take control of the team, the Padres can look towards the future with some optimism.
They wasted little time in allowing GM Josh Byrnes to extend right fielder Carlos Quentin and closer Huston Street, and next on the agenda should be to bring in the fences in spacious Petco Park.
While the Padres pitching staff (namely Edinson Volquez) is likely opposed to the idea, moving in the fences will allow their offense to truly get going and atone for any mistakes that their pitchers might make.
It's all about the future in San Diego, and with a solid core of Yonder Alonso, Yasmani Grandal, Jedd Gyorko, Chase Headley and Quentin, the Padres' future looks bright.
Odds of Making the Playoffs: 0 percent
San Francisco Giants (62-52)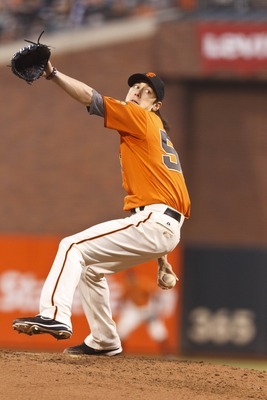 Has Lincecum finally tutned the corner?
Jason O. Watson/Getty Images
It's taken all season, but it seems as if Tim Lincecum has finally gotten himself back on track. Over his last three starts, Lincecum has posted a 2.25 ERA, holding opposing batters to a .246/.321/.333 batting line.
Adding a quality Lincecum to a rotation that already includes standouts Ryan Vogelsong, Madison Bumgarner and Matt Cain puts the Giants in excellent shape to not only hold off the Dodgers for the NL West title, but to make a serious run at representing the National League in the World Series.
Odds of Making the Playoffs: 75 percent
Seattle Mariners (52-63)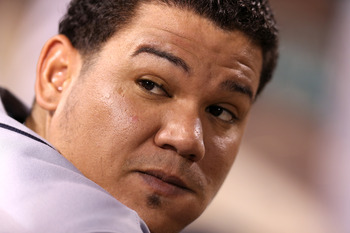 Make no doubt about it—Felix is still the king.
Stephen Dunn/Getty Images
With no playoff aspirations in 2012, the Mariners have moved pieces with an eye towards the future.
That being said, they still hold the most valuable trade chip that any team possesses in Felix Hernandez, though the chance of them cashing the chip in remains slim to none.
With a trio of stud pitchers making their way through the minor leagues in Danny Hultzen, James Paxton and Taijuan Walker, the Mariners have no issues on the mound. Adding pieces to an offense that includes Dustin Ackley, Jesus Montero and Kyle Seager is integral for them moving forward.
Odds of Making the Playoffs: 0 percent
St. Louis Cardinals (62-52)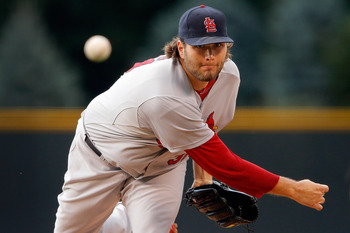 Lance Lynn has been an integral part of the rotation.
Doug Pensinger/Getty Images
Who in their right mind would have thought that the Cardinals wouldn't miss a beat without Albert Pujols sitting in the middle of their lineup?
That's exactly what they've done in 2012, with Matt Holliday having an MVP-caliber season and Yadier Molina, David Freese and Carlos Beltran all producing at a high level. Unsung players like Matt Carpenter, John Jay and Skip Schumaker have all been key contributors on offense as well, leading to a solid Cardinals' attack.
Their starting pitchers have been outstanding, posting the third-lowest ERA in baseball at 3.53 (tied with the Giants). Kyle Lohse and Lance Lynn are having career years, and veterans Jake Westbrook and Adam Wainwright have gotten on track, giving the Cardinals virtually no weak spots in their rotation.
History has taught us that you simply cannot count the Cardinals out, no matter how many games they are behind the division leader and how late in the season it is.
To bet against the Cardinals making the playoffs is the definition of insanity—though they do have some formidable teams to get by in order to do so.
Odds of Making the Playoffs: 60 percent
Tampa Bay Rays (61-52)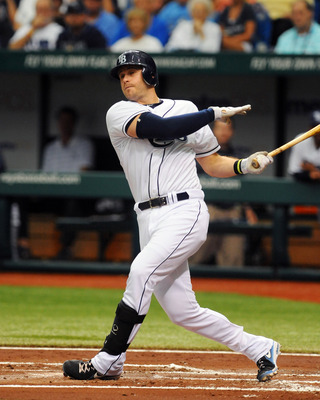 Longoria could be the bat that gets the Rays back into October baseball.
Al Messerschmidt/Getty Images
It's no secret that the Rays have one of the best pitching staffs in baseball—their 3.54 ERA leads all teams in the American League. It's also no secret that they have been an offensively-challenged team for most of the season, but they've recently added a huge piece to the puzzle.
The return of third baseman Evan Longoria to the fold gives the Rays what they have desperately needed—an All-Star bat in the middle of their lineup.
Winners of five consecutive games since his return and having lost only two of their past 10 games, the Rays are getting hot at the right time. With the Yankees banged up and the Tigers surging, Tampa Bay can ill afford to go into an offensive slump right now.
It's ridiculous to expect them to continue to play undefeated baseball, but if they can maintain a high level of play, there is no reason that they couldn't find themselves in the wild-card game at the end of the season.
Odds of Making the Playoffs: 55 percent
Texas Rangers (66-46)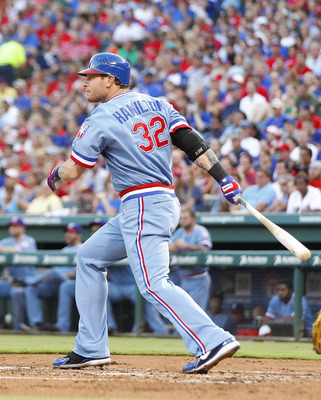 It looks like someone woke Josh Hamilton up.
Rick Yeatts/Getty Images
Just when you thought the Rangers were in trouble, someone went and woke up a sleeping giant. After two months of ineptitude, Josh Hamilton has come back to life, posting a .295/.340/.523 batting line with two home runs and 12 RBI in 10 games this month.
While their starting pitching has struggled—Rangers starters have posted a 5.87 ERA in August—they have the offensive firepower to overcome virtually any deficit, as evidenced by their 7-3 record over the past 10 games.
With a near-six-game lead over the A's in the AL West, the Rangers may not be the prohibitive favorite to reach the World Series as they were earlier this season, but they'll be playing baseball in October.
Odds of Making the Playoffs: 95 percent
Toronto Blue Jays (53-60)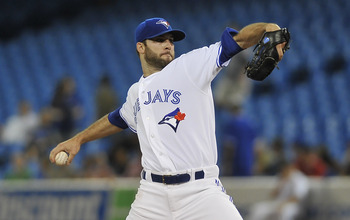 Brandon Morrow's return will be too little, too late for the Jays.
Brad White/Getty Images
Only the Braves could stake a claim to having lost as many pieces of their starting rotation to injury as the Blue Jays, and even then I think the Blue Jays get the edge. Aside from Ricky Romero, not one member of their Opening Day rotation is healthy and pitching as we speak.
Between the number of starting pitchers on the shelf and the loss of their closer, Sergio Santos, early in the season, the Jays have been behind the proverbial eight-ball all year long.
With a potent offense, a healthy pitching staff makes them a legitimate playoff contender in 2013. It would take a near miracle for them to make it this season.
Odds of Making the Playoffs: 5 percent
Washington Nationals (71-43)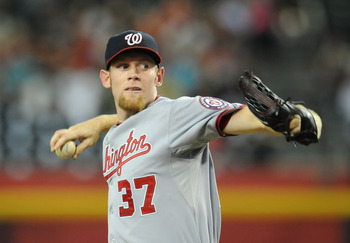 No Strasburg hurts their chances in the playoffs—obviously.
Norm Hall/Getty Images
With the best record in baseball, the Nationals did nothing at the trade deadline simply because they didn't need to. They are a virtual lock to make the playoffs at this point, and while shutting down ace Stephen Strasburg unquestionably hurts their chances to advance in the postseason, you cannot count this team out.
Gio Gonzalez, Edwin Jackson and Jordan Zimmermann are all excellent starting pitchers, and the trio has the ability to shut down any offense in the game over the course of a short series.
A World Series appearance isn't in the cards for 2012, but there isn't a team in baseball in better shape to contend for a World Series championship over the next decade than the Nats.
(Edit: To clarify, since something has apparently been lost in translation: Without Stephen Strasburg in the rotation combined with Bryce Harper's struggles, I do not believe the team can make it to the World Series in 2012.
For those who think I've "disrespected the club" in some way, shape or form, I'll repeat myself: there isn't a team in baseball in better shape to contend for a World Series championship over the next decade than the Nats.)
Odds of Making the Playoffs: 95 percent
Keep Reading