AFC South Friday Tweetbag: What Does Andrew Luck Need?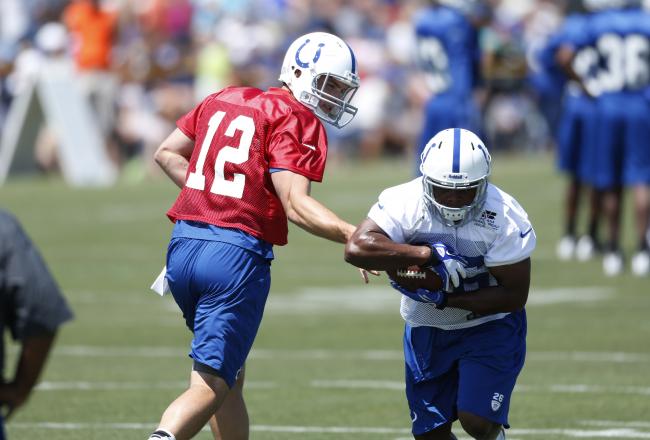 How is this not a good thing for Luck?
Joe Robbins/Getty Images
Welcome to the Tweetbag! As always, you can tweet, email or send your questions to me in the comments section of the articles. Be sure to use the hashtag #tweetbag!
Q: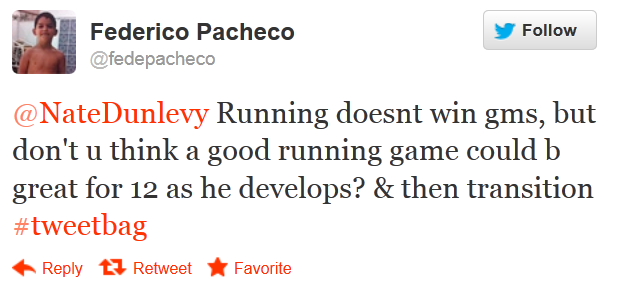 A: I've never understood people's fascination with the running game.
First, building an elite running game requires organizational commitment. You have to invest in a certain kind of lineman, running backs, tight ends, and even an offensive coordinator bent that way.
It's not something a smart team does on a whim. Building a running game may be effective if a franchise fields a championship defense with a less effective or young quarterback. It's not a recipe for a dynasty, but rather a flash in the pan team.
The Colts don't have the kind of defense that can sustain a run game. They are going to give up 28-plus points a game this year. Either they just run the ball as a means of surrendering each week, or they'll be running it for about a quarter before they are forced to throw.
The Colts haven't shown any inclination to run this preseason, and that's a good thing. If the defense was better, it might make sense. By the time the D is ready, Luck will be an elite quarterback, and it would be idiocy to build a run game.
Q: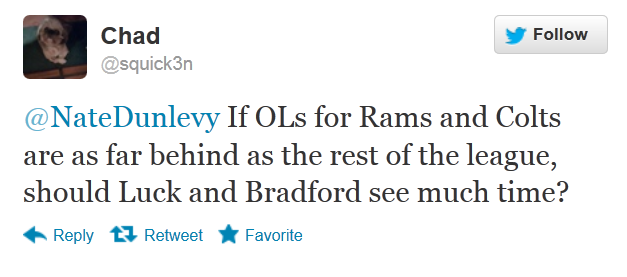 A: The answer for Bradford is different than the answer for Luck.
Luck needs to learn on the fly. The Colts aren't winning six games this year with or without him, and the line isn't likely to improve dramatically. In fact, running plays against a toothless Rams defense in the preseason is about as safe as Luck will get all year.
The Colts don't want him to get hurt, but he won't be at any greater risk Sunday than during the rest of the year. The entire season is nothing but an extended 2013 preseason anyway.
Bradford has already had a major surgery. The Rams have slightly higher hopes than the Colts do, so it might make more sense for them to sit Bradford more. He's not a rookie, and won't necessarily get any benefit from playing in a preseason game.
Q: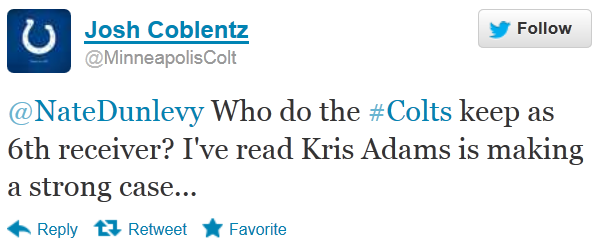 A: The Colts are already likely to carry four tight ends. The odds are good they carry three running backs. There's no way they are also going to carry six wideouts.
Adams has made some plays, but I don't think he's any more than practice squad material at best. In fact, the only way he makes the team is if Donnie Avery doesn't. Given Avery's past production, that wouldn't be a bad move for the Colts.

Q:

A: I asked around this week if there had been any updates on Josh Chapman's progress, and no one seems to know when he's coming back.
He had expressed hope he'd be ready for camp during OTAs, but he's on the NFI list and hasn't practiced.
The current thought right now is that he might open the season on the PUP list, but the team hasn't confirmed anything of the sort.
That's a long way of saying I have no idea, but I have tried to find out.
Q: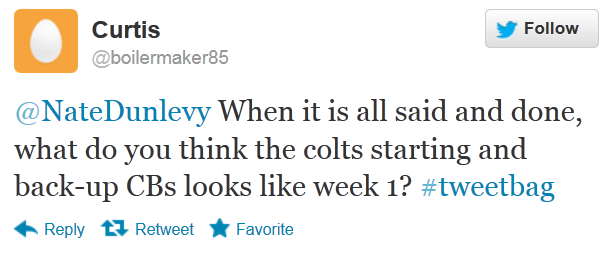 A: Other than Powers, I expect the Colts to field Cassius Vaughn and then Justin King, in some combination, as the second and third corners. When you start running down the names Indy has in the secondary, you realize quickly why this will be an absolutely brutal defensive team.
Q:

A: I absolutely think he will. I've written on Robert Griffin III before. I think he's going to be a fine player if he stays healthy.
I think he's a smart guy and a fine quarterback. I see nothing but great things for him. The only thing that can derail his career is taking off from the pocket too often and taking too many punishing hits.
This article is
What is the duplicate article?
Why is this article offensive?
Where is this article plagiarized from?
Why is this article poorly edited?