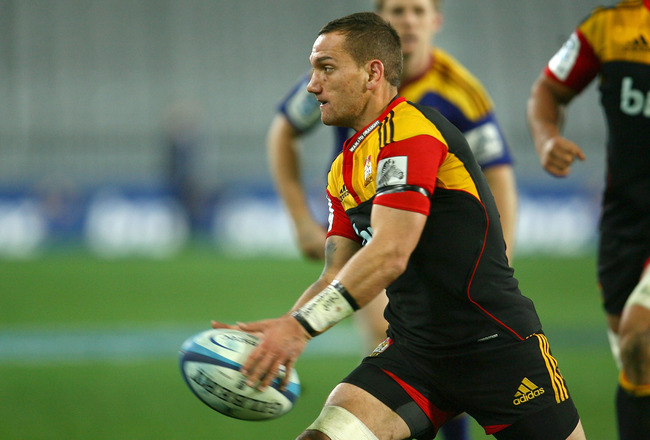 Teaukura Moetaua/Getty Images
Another Super Rugby season has come to an end, with the Chiefs emerging as victors in a rather one-sided final after a highly competitive season. It was a season that produced some great rugby— nine teams were still in the running for the top six heading into the final rounds.
Many new stars emerged, while plenty of other established stars flourished. So before we move on to the new Rugby Championship, lets take a moment to look back at the standouts from 2012.
Rookie of the Year: Marcel Coetzee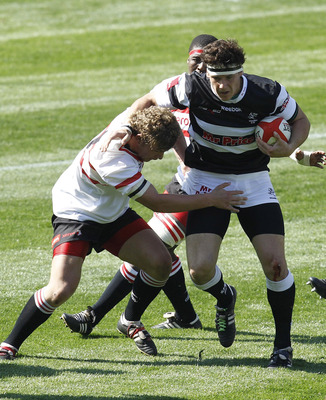 Gallo Images/Getty Images
There were multiple first-year players who put their hands up for this award in 2012. But it's hard to go past the Sharks flanker Marcel Coetzee, who emerged as one of the top players in the competition.
The Sharks loose forward trio was always going to be a tough one to break into, with Keegan Daniel, Ryan Kankowski and Willem Alberts all favourites to occupy the three jerseys. That Coetzee was able to break into the group and prove himself undroppable perhaps is the best indicator of the impact that he made.
He is a strong ball runner who has good ball skills and works well as a link man for the backs. His tackling is strong, and he is effective enough at the breakdown.
He was chosen to represent the Springboks after just a handful of Super Rugby games, displacing Heinrich Brussow. We all know what a great player that man is, but there were few who would disagree with the inclusion of Coetzee, further showing the success of his rookie season.
Honourable Mentions: Siya Kolisi, Eben Etzebeth, TJ Perenara, Brodie Retallick, Johan Goosen.
Most Improved Player: Julian Savea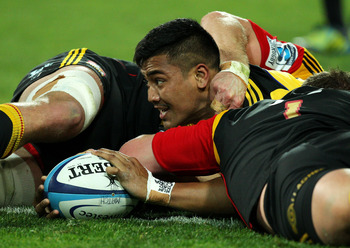 Hagen Hopkins/Getty Images
2012 saw Julian Savea deliver on the promise he had made as a member of the Baby Blacks in 2010 when he proved to be one of the most devastating attacking weapons in the competition.
Throughout 2011 he struggled, looked uncomfortable under the high ball and at times lost on defence. He showed promise on attack but never really truly delivered in the way that many had hoped.
What a difference a year can make. He showed himself to have improved out of sight on defence, capable of making the odd big hit, while also looking much more comfortable under the high ball. When in space he was the most dangerous player in the competition, combining speed, size and strength to find his way to the line on nine occasions.
His form was rewarded with an All Black call-up, where he made his dream debut, having touched down three times in his first game. Comparisons have been made with the great Jonah Lomu. This may be a bit of a stretch, but if he keeps progressing, he may well be a very good player for a very long time.
Honourable Mentions: Andre Taylor, Luke Romano.
Comeback Player of the Year: Tamati Ellison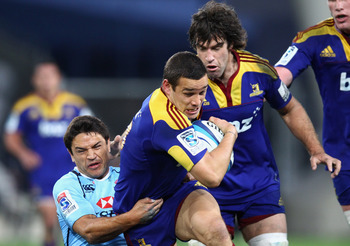 Phil Walter/Getty Images
After a stint in Japan, Tamati Ellison returned to New Zealand to play for the rejuvenated Highlanders. Many questioned how good he would be, as many players have struggled to reach the heights of their former selves upon returning to New Zealand from a stint overseas.
Ellison, though, was outstanding for the Highlanders—consistently good all season, strong on defence and capable of sparking something on attack with his hard running and distribution skills. He was a key part of the Highlanders' success in 2012, which has seen one of the lowest finishers in 2010 become a genuine playoff contender in the space of two seasons.
Upon his departure from New Zealand in early 2010, Ellison was just beginning his All Black career and seemed to be on the verge of becoming a top player. Although there may have been a delay in this, if he can keep playing the way that he is, he may very well do this after being included in the All Blacks squad once more for 2012.
South African Player of the Year: Bismarck du Plessis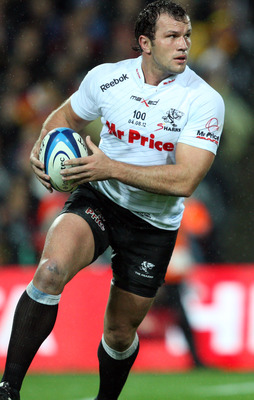 Gallo Images/Getty Images
He's not the flashiest player around, but he sure is effective. Bismarck du Plessis was a tower of strength for the Sharks in 2012 as he spearheaded their run into the playoffs and then their late season surge, which propelled them all the way to the final.
He is a hard worker, excelling at the contact areas and was valuable in getting his team on the front foot. His line-out throwing was also amongst the best in the competition and ensured that the Sharks won most of their own balls.
Honourable Mentions: Jean de Villiers, Siya Kolisi, Eben Etzebeth, JP Pietersen, Marcel Coetzee, Tendai Mtawarira.
Australian Player of the Year: Will Genia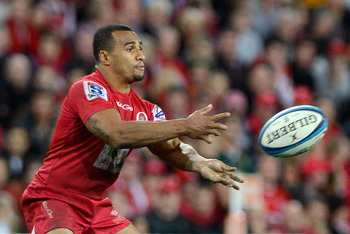 Bradley Kanaris/Getty Images
It took Will Genia half the competition to get going, and consequently, whether or not he should win this award was a tough decision to make. But while such was his form in the second half of the season, it was hard not to acknowledge his work, and given the lack of depth in this year's Australian Conference, Genia walks away with the spoils.
He seemed to explode mid-season, when he showed the form we all know that he is capable of and led the Reds to a second consecutive Australian Conference Championship from a seemingly impossible place.
His ability to snipe around the fringes is outstanding and automatically draws defences in, while his pass is also as good as any in the competition, giving his backs good balls to work with. To go with this, his kicking game has improved immeasurably and he continues to develop an intelligence that has turned him into the best halfback in world rugby.
Honourable Mentions: Michael Hooper, David Pocock.
MVP: Aaron Cruden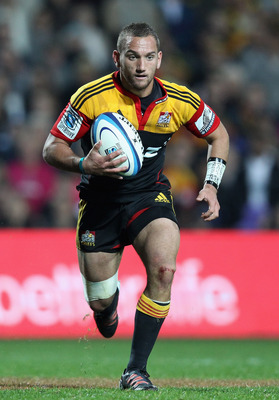 Phil Walter/Getty Images
The MVP and New Zealand Player of the Year goes to Aaron Cruden, after an outstanding season with the championship winning Chiefs. He has come a long way from the player who struggled for confidence after being thrust into the big time in his first year out of age grade rugby in 2010. Then he was a player who struggled for confidence, his kicking looked decidedly average, and he struggled at the contact areas.
He began to gain confidence in 2011, and after a strong showing in the latter stages of the Rugby World Cup and after a move north to the Chiefs, many expected big things from him in 2012.
But few could have predicted what was to come, as Cruden flourished under Coach Dave Rennie, kicking accurately and mesmerising defences with his ability to run and put his outsides away.
Talk began as to whether or not he was now the top fly-half in New Zealand and whether he should wear the No. 10 for the All Blacks. Perhaps this was premature, as he will have to continue to perform this way to truly surpass Daniel Carter. But that having the old-master in the No. 10 jersey is no longer a foregone conclusion is possibly the most telling factor in just how good Aaron Cruden was in the 2012 Super 15.
Keep Reading