10 Observations from Washington Redskins Preseason Opener
Rick Stewart/Getty Images

Football is finally back and one of the most anticipated storylines of the year has finally come to be. Robert Griffin III began his NFL career in style against the Buffalo Bills Thursday with a 7-6 win.
Griffin looked sharp, but he had a lot of help. Pierre Garcon and Trent Williams fueled the offense to the only touchdown of the night while the defense kept the Bills shut down for the game.
There's a lot to take away from this game, so let's start with ten quick notes from the Redskins' preseason opener in Buffalo.
Begin Slideshow

»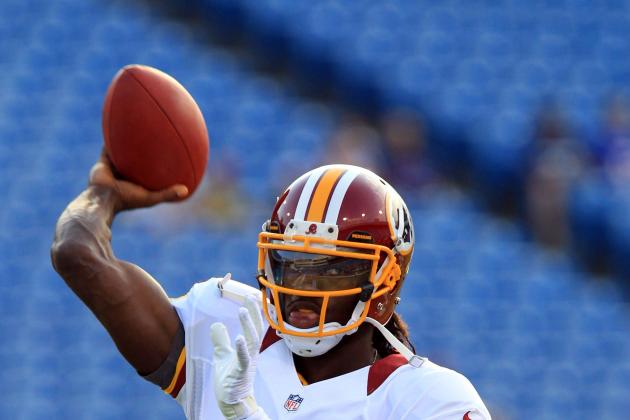 Kevin Hoffman-US PRESSWIRE
RGIII looked sharp in his NFL debut.
While it may be a bit premature to declare Robert Griffin III the next John Elway, the rookie quarterback looked sharp in 14 snaps against the Bills.
After two three-and-outs to start the game, Griffin started to get into a good rhythm. Under duress, Griffin was able to sidearm an incomplete pass to avoid a sack, and then completed a pass to Pierre Garcon over the middle for an 18 yard gain on the next play.
That would continue as Griffin again found Garcon over the middle a few plays later for another first down. After a few good runs by Royster, Griffin got it once again to Garcon in the flat on a wide receiver screen who took it 20 yards for the score.
The most impressive part of RGIII's performance was his poise in the pocket. Even with an offensive line missing three starters, Griffin hung in the pocket and made his reads without staring down receivers. His passes were all crisp and accurate, especially when compared to those of Rex Grossman later in the game.
"I felt like I played extremely well in the limited time that I had, got in a good rhythm there, offensive line protected me," Griffin said to Comcast Sportsnet after his touchdown drive.
Griffin played without any noticeable mistakes and was clearly the best quarterback on the field. Time will tell how he holds up during an entire game, but for now things look promising.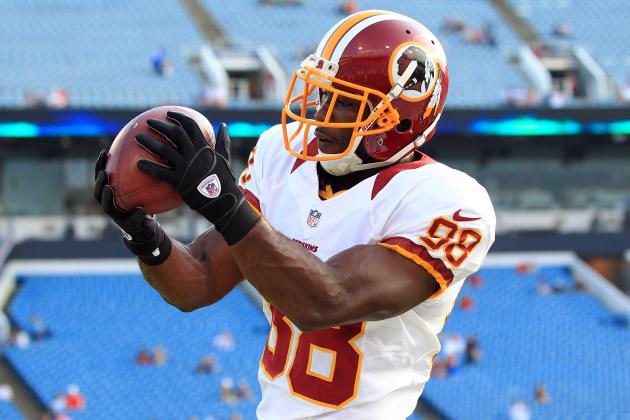 Kevin Hoffman-US PRESSWIRE

Garcon caught three passes for 58 yards and a touchdown, all on the Redskins first scoring drive of the season. All three catches went for over 10 yards.
So far it would appear that Garcon plays fearlessly. He went over the middle twice without hesitating, and lowered his shoulder into contact every time he touched the ball. That kind of physicality is just what the Redskins have been missing at receiver, and why they signed Garcon in the first place.
Mike Shanahan said after last season that they needed play-making receivers who could get yards after the catch. Garcon did just that Thursday, and looks to be the favorite target of RGIII.
With Garcon playing like a true top receiver, Griffin should have a much easier time this season even with a shaky offensive line.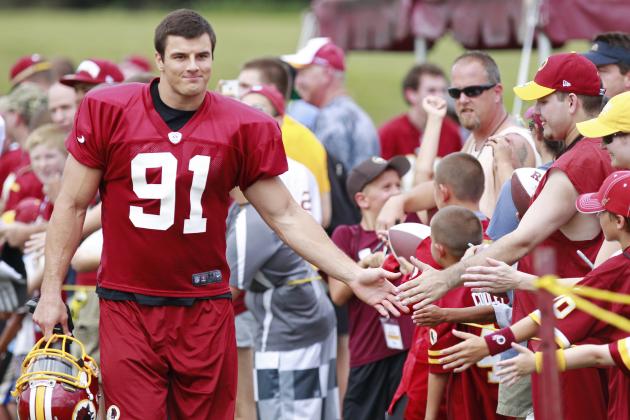 Geoff Burke-US PRESSWIRE
Ryan Kerrigan doesn't look like a rookie anymore in his second year.
The Bills' offensive line was first in the NFL at sacks allowed last season. That's an encouraging fact for Redskin's defense, who recorded a sack on the very first play and were able to bring pressure the whole game.
Ryan Kerrigan recorded the first sack, but Orakpo was there to collapse the pocket and force Ryan Fitzpatrick into trouble. Fitzpatrick was never able to get going offensively aside from a few passes to Steve Johnson because the Redskins brought pressure on almost every play.
Washington's defense is based around the ability to pressure the quarterback into making mistakes. Both Kerrigan and Orakpo were able to get to Fitzpatrick often, which should be a theme this year for the defense. If the outside linebackers can get to the quarterback, the defense will succeed.
That plan appeared to work on Thursday night.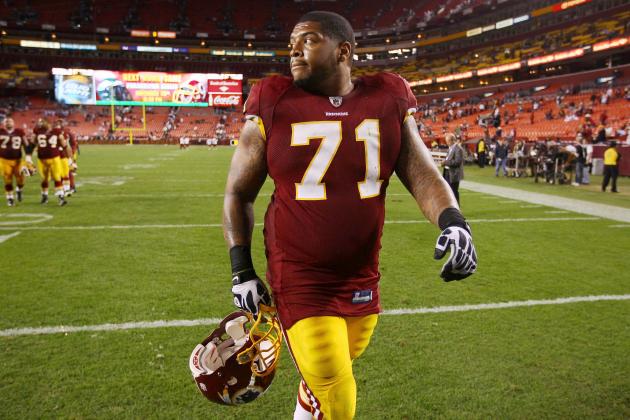 Win McNamee/Getty Images
Trent Williams looked strong against the bills.
The Redskins faced a lot of problems with the offensive line coming into the first preseason game. With three injured starters and Mario Williams lining up on the other side of the ball, there were plenty of reasons to be concerned.
But rookie Adam Gettis stepped up in his debut with a few nice plays in the first quarter. On a 12-yard run by Evan Royster, Gettis got to the second level and sealed off a linebacker to allow Royster to pick up the first down. Then later on the Garcon touchdown, Gettis got off another nice block.
Trent Williams looked sharp in training camp and that continued against the Bills. On the touchdown play, Williams carried two defenders out of the play at once and really made Garcon's run possible.
Williams also shut Mario Williams down on the outside and gave Griffin enough time in the pocket to make the plays he did. Williams is the cornerstone to the offense and if he keeps it up, things look good.
Tyler Polombus was good in run blocking and played above expectations in place of injured Jammal Brown.
The patchwork line made some mistakes, but generally held up against a solid Bills defense. That kind of play should be enough to let Griffin succeed this year, and if Kory Lichtensteiger and Jammal Brown get healthy, things could actually work out well for the offensive line.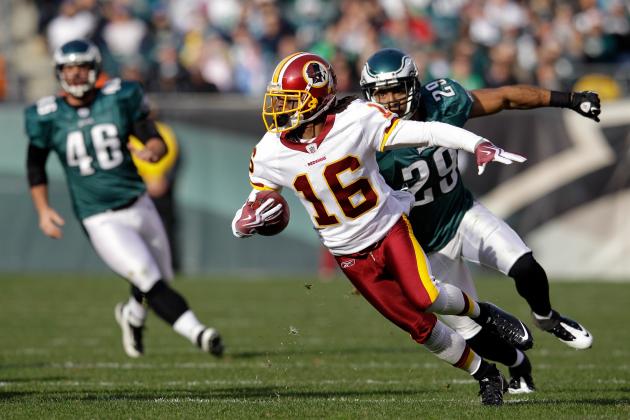 Rob Carr/Getty Images
Brandon Banks has speed, but needs to be more physical as a receiver.
Brandon Banks faced an uphill battle to make the team after a disappointing year as a return specialist last year. Mike Shanahan came out and told Banks that he needed to make the team as a receiver, not just as a return man.
While he didn't get any return opportunities against the Bills, he was targeted often with the second team unit but couldn't make the most of his chances.
On his first play, Banks slipped on his route and almost caused an interception. The fall came right as he was making his break, and it would not be the only time on the day that he slipped while making cuts. But that wasn't the end of his problems.
Too often Banks would allow defenders to run through him to make a play on the ball. As a smaller receiver, Banks still has to make plays on the ball while he's open and use his body to block-out receivers. He looked over matched in the secondary, despite being the most targeted receiver of the day.
Granted, a lot of the problems Banks faced were due to poorly thrown passes from Rex Grossman, but he had plenty of moments where he just couldn't get it done.
It's too soon to tell whether Banks can contribute as a receiver or not, but he will need to show a lot more in the next three games if he wants a spot on the team. Especially with Aldrick Robinson recording a few good catches in the second half.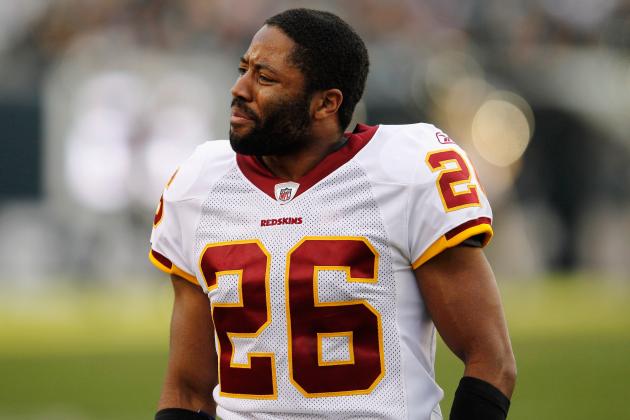 Rob Carr/Getty Images

Last year Josh Wilson was perhaps the most solid corner on the team throughout the season. That trend seems to have carried over to this season as Wilson was the best in coverage on the night.
In his limited action Wilson had two pass break-ups that ended drives and was never beat in coverage. With DeAngelo Hall as more of a ball-hawk then a coverage guy, the Redskins need Wilson around for plays like those.
Behind Hall and Wilson is an open competition at the next three spots with plenty of young competition, so Wilson will have to set the example as the veteran cover corner. Thursday night was a good start to becoming that veteran leader.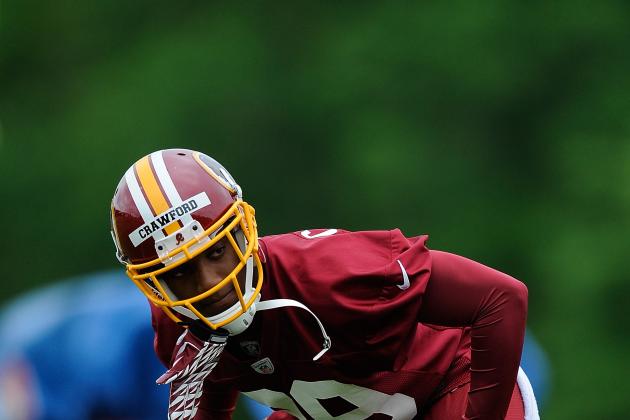 Patrick McDermott/Getty Images
Richard Crawford did well at cornerback and in the return game against the Bills.
Richard Crawford had the only interception of the night in a game where no one in the Redskin secondary seemed able to catch. On that play, Tyler Thigpen under threw his receiver and Crawford made a good adjustment to make the play.
Other than that, Crawford was pretty solid in coverage and showed good ball skills. He was going up against lesser talent but in training camp he repeatedly went up against Garcon and Santana Moss with some success.
Aside from his duties at cornerback, Crawford had a few nice punt returns later in the game. If he can take over return duties it would likely spell the end for Brandon Banks, who so far hasn't shown enough as a receiver to warrant a roster spot.
Even if Banks makes the roster, the Redskins are thin enough at cornerback so that Crawford should have a spot.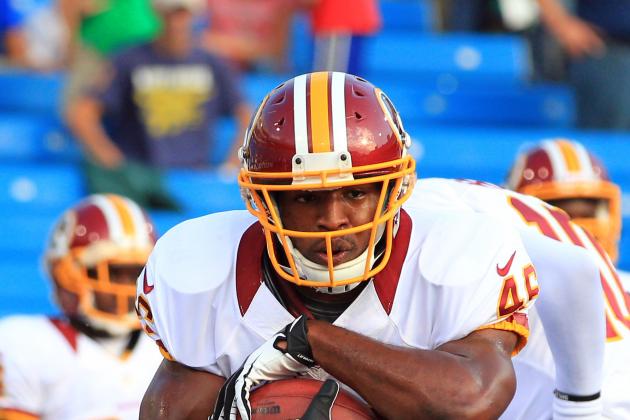 Kevin Hoffman-US PRESSWIRE
Alfred Morris ran well with the third string on Thursday.
When Alfred Morris was drafted in the sixth round of the 2012 draft many Redskins fans were confused. With Roy Helu, Evan Royster and Tim Hightower available, it didn't seem like a precious draft pick should be spent on the position.
Now with the injury concerns surrounding Hightower and Helu the choice seems smarter, especially with the way Morris played against Buffalo.
Morris is a bruiser who has good between-the-tackles running skills. He showcased that ability with a few broken tackles and gains in short-yardage situations. He's not going to be a game-breaker who can rip off an 80-yard touchdown run, but he can get it done in the trenches which is important.
He needs to work on his pass protection, but the rookie running back does have talent. He will most likely spend his first season on the practice squad but it is possible to see him seeing the field at some point in the future.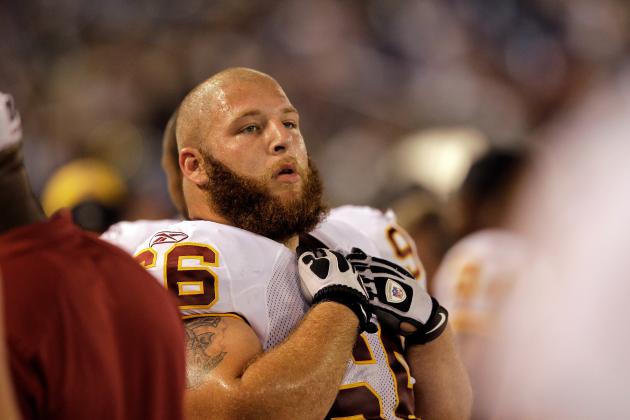 Rob Carr/Getty Images
Chris Neild needs to step it up if he wants to keep his spot over Chris Baker.
Chris Baker impressed coaches during training camp and looked to be the better option over 2011 seventh-round pick Chris Neild.
That trend continued as Baker was able to get into the backfield often and get a lot of pressure on Vince Young. On several plays, Baker collapsed the pocket and forced Young to scramble outside. While Young is a very mobile quarterback, a slower passer might have been sacked on some of those occasions.
Neild was in the game earlier, but wasn't as disruptive in the backfield. He'll need to step it up a notch in the next few games and show that he can get to the quarterback as well.
The Redskins could keep both Neild and Baker on the roster, but there's no guarantee. Neild played well in last year's season opener, but then disappeared as the season wore on. If Baker continues to play well, it could easily spell the end of Neild's tenure in Washington.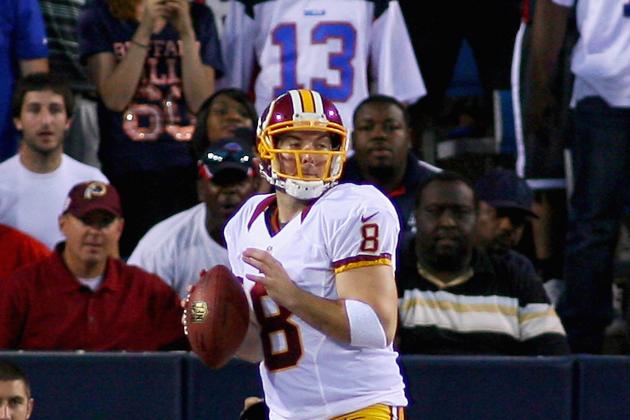 Rick Stewart/Getty Images
Rex Grossman struggled against Buffalo's second-string.
Redskins fans have yet another reason to be thankful for RGIII. Rex Grossman looked absolutely lost against a backup defense.
His throws were often inaccurate and off-target, with only two completed passes for 22 yards. At this point Grossman is only around because he knows the offense. He has the capabilities to come in for a game or two, but his days of playing a full season are well behind him.
Kirk Cousins played a little better than Grossman, but still isn't ready to take over the backup spot. With a few more preseason games he might be there, but he's still missing the confidence and grasp of the offense that Grossman has.
Grossman is better than he played today, but it was still a sobering reminder of just how bad the Redskins were under center last year. There was a night and day difference between the offense under Griffin and the offense under Grossman that should have Mike Shanahan and company feeling pretty good about the decision to trade up for the Baylor prospect.