8 Phillies Players Fighting for a Regular Spot in the 2013 Lineup or Rotation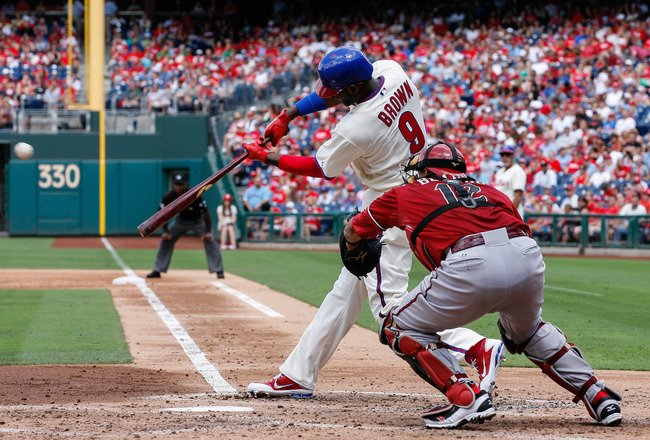 Brian Garfinkel/Getty Images
The Philadelphia Phillies have already lost more games this season than they did all of last season, which has led to the team having openings for any player who wants to make sure that a season like this doesn't become an annual occurrence.
Well, trading away two-thirds of their starting outfield and a member of their starting rotation inside of a week may also have had something to do with these openings being created.
So, who fills them in 2013?
Barring a trade of Cliff Lee, the starting rotation has one opening. With the right side of the infield locked in, and Jimmy Rollins and Carlos Ruiz (if his option is exercised) penciled in at shortstop and catcher, respectively, just one potential opening at third base remains.
As for the outfield, all three positions, as of now, could be had if players step up their performances between now and the end of the season.
Players such as Ty Wigginton, Kevin Frandsen, Michael Martinez and Laynce Nix can provide depth off the bench and make a spot-start if needed, but are unlikely to be in contention to become regular starters next season.
The Phils can always sign free agents to fill needs in the lineup and rotation, but until then, players currently on the roster and in Triple-A have an opportunity to have their say in the decision.
Here are eight players who are fighting for a regular spot in the 2013 lineup or rotation.
Domonic Brown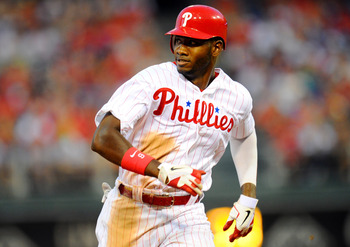 Dale Zanine-US PRESSWIRE
Brown could alleviate a lot of headaches for the Phillies if he plays well following his recent call-up.
Between trading Shane Victorino and Hunter Pence at the trade deadline, and receiving inconsistency from John Mayberry, Jr. so far, the Phils could be looking for three new starters in their outfield during the offseason.
Brown will have a great opportunity to win one of those spots.
Following his call-up, an article by Jake Kaplan on the Phillies' website contained a quote from Charlie Manuel in which the manager said that he might try Brown at all three outfield positions.
In nine games this season, Brown is batting .286 with eight hits and just two strikeouts in 28 at-bats. His .286 batting average is well above his .241 career average, and closer to what was once envisioned when he was a top-prospect in the Phils' minor league system.
Brown had gotten at least one hit in six of the seven games he played in at Triple-A prior to being called up, raising his average to .286.
If Brown makes the most of his playing time, he'll win one of the Phils' outfield spots for 2013, and save the team a lot of money when it comes to filling needs through free agency.
John Mayberry, Jr.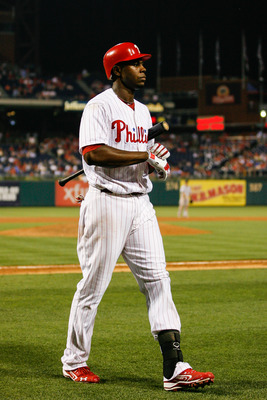 Brian Garfinkel/Getty Images
Mayberry has had all season to lock down the starting left field spot.
Batting .232 through 101 games hasn't helped.
However, Mayberry is another player who may now benefit from the Phils having openings in their outfield, rather than limited spots.
Mayberry has nine home runs and 26 RBI in 271 at-bats this season, after batting .273 with 15 home runs and 49 RBI last season. But the biggest difference may come in his strikeout totals. With 75 strikeouts so far this season, Mayberry has already eclipsed his total of 55 from last season.
Mayberry has batted .242 since the All-Star break, and is coming off a July that saw him bat .271.
However, his .211 average in 128 at-bats as a left fielder will need some major improvement down the stretch if he is to become a regular in the lineup in 2013.
Similar to Brown, Mayberry could save the Phils a lot of money by improving and not forcing the team to find a new starter in left field.
To do so, he will need to greatly step up his performances for the rest of the season.
Erik Kratz
Greg Fiume/Getty Images
Once Carlos Ruiz's $5 million option is exercised, Kratz will then be competing with Brian Schneider to become the team's backup at catcher.
If Kratz even comes close to maintaining his .371 average through 17 games this season, which includes a .462 average during the past week, he should have a spot on the Phils' 25-man roster next season.
That's where things could get interesting.
A recent article by Matt Gelb on Philly.com talks about Chooch potentially seeing time at third base next season. General manager Ruben Amaro, Jr. is quoted in the article on potentially seeing the All-Star at third base.
"I don't think he could do it every day," Amaro said, "but it could give him a spell from behind the plate and put him at third base from time to time. He takes ground balls every day. We've kicked it around. It's not an idea that's that far off-base.

"It's difficult to think he could do that on an everyday basis. His value obviously is behind the plate because of what he can do. But, I mean, listen, sometimes you have to keep an open mind."
So if Ruiz does see time at third base, Kratz would be behind the plate.
If Ruiz is given the game off, Kratz would be behind the plate.
Although he still wouldn't be a regular, Kratz can still fight to receive much more playing time than he has gotten this season, and be in the lineup a few times each week.
Nate Schierholtz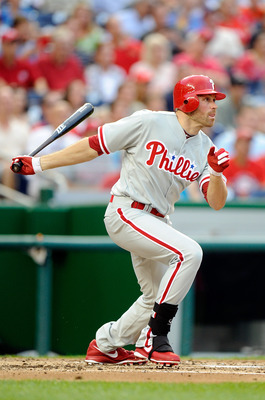 Greg Fiume/Getty Images
Schierholtz, acquired in the trade that sent Pence to the San Francisco Giants, could find himself in a similar situation to the one he just left if he doesn't win a starting outfield spot with the Phillies.
Schierholtz had started 37 games with the Giants in right field, and has now appeared in eight games with the Phils.
In 85 games total this season, Schierholtz is batting .255 with six home runs and 18 RBI. However, he is just one season removed from batting .278 with 41 RBI.
Schierholtz is batting .318 since joining the Phillies, and he will need to maintain a high average in order to remain in the team's lineup in 2013.
The 28-year-old, who is a .271 career hitter, will be able to use the rest of the season to try to prove that, with consistent playing time, he can post numbers that keep him in the starting lineup.
Just like with Brown and Mayberry, the Phillies could be hoping that they don't have to spend big on a free agent acquisition if Schierholtz wins a starting outfield spot.
Kyle Kendrick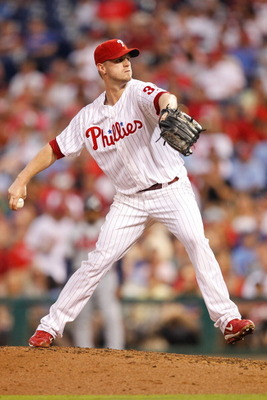 Brian Garfinkel/Getty Images
Kendrick's ERA is 4.86, which includes a 6.96 ERA for the month of June.
Until the Phillies either promote a player from the minor leagues or acquire another starting pitcher, the final spot in the rotation seemingly goes to Kendrick.
Based off his recent six-earned run, three-walk performance, he's not putting up much of a fight to keep it.
Prior to his spot-start on August 3, Kendrick hadn't given up an earned run since June 28, while pitching primarily out of the bullpen.
Relief may be the role he's best suited for, as well as what most Phillies fans will feel once he is taken out of the starting rotation.
Tyler Cloyd
Image from http://www.milb.com
Speaking of players the Phillies could promote to fill a spot in the starting rotation, Cloyd may make for a great candidate to fight for a chance at next season's 25-man roster.
In 22 starts this season between Double-A and Triple-A, Cloyd is 14-1 with 96 strikeouts and a 1.91 ERA in 141.1 innings.
Although he did not begin the season with a great deal of hype, Cloyd has put himself in position to receive consideration for a call-up should the Phils make a move.
And the team has taken notice.
In an article by Paul Hagen of MLB.com, both Amaro and Manuel are quoted on Cloyd's future.
"He's on the radar screen," Amaro said. "Obviously, he's pitched very well for us. He just needs to keep pitching well and stay on the radar screen."

Added Manuel: "I'm sure sooner or later, from what they say about the kid, we're going to see him. From what I hear of him, he cuts his fastball. If you're looking at him to light the radar gun up, you're not going to see that evidently. I've been checking on him. At the same time, he's going to get a shot eventually."
If Kendrick is moved back to the bullpen, the Phils would have an open rotation spot now, and that doesn't include another open spot if a trade is made in the offseason.
If Cloyd is called up he will be competing to become a regular in the starting rotation in 2013.
Freddy Galvis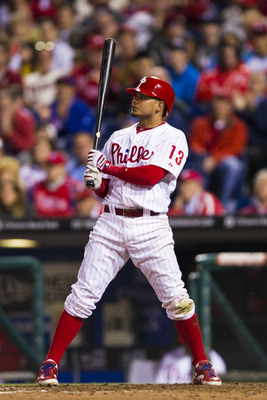 Howard Smith-US PRESSWIRE
Galvis has had an eventful rookie season for a player who has only played in 58 games.
Galvis' rookie season saw him go on the disabled list with an injured back and be suspended for 50 games after testing positive for a banned substance, all after he was asked to switch positions to fill in for the injured Chase Utley.
But, as long as Utley is healthy, where will Galvis play for the Phillies next season?
Galvis entered spring training as a shortstop and left as a second baseman. Would the Phillies have him switch positions one more time?
Placido Polanco has a $1-million buyout in his contract for next season. If the Phillies choose this option rather than the $5.5-million mutual option, they'll be looking for a third baseman during the offseason.
Will Galvis be an option?
If the Phillies decide to spend big on free agent acquisitions for their outfield and bullpen, having an internal player to fill a need would be a great convenience.
Would the Phillies have Galvis play third base during the offseason and spring training?
Once again, the Phils may have to keep an open mind.
Juan Pierre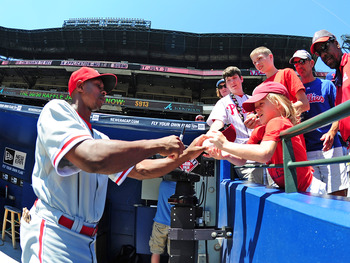 Scott Cunningham/Getty Images
Pierre has been a pleasant surprise for the Phillies this season.
After being signed just prior to the start of spring training, Pierre has gone on to bat .312 with 87 hits and 27 stolen bases in 90 games this season.
He's also playing on a one-year, $800,000 contract.
And according to a recent article by Bob Brookover on Philly.com, the Phillies may be interested in re-signing him.
"We still haven't figured out everything we're going to do in 2013," Amaro said. "We have a lot of questions to answer. But Juan is kind of the perfect guy to have on your club. He's professional, he's prepared, and he can do a lot of positive things for your club. We'll see what happens, but I love the guy."
Anytime a general manager says the word "perfect" when talking about a player, it catches your attention.
Pierre's 15 strikeouts in 279 at-bats this season is also an attention grabber.
If Pierre has an interest in re-signing with the Phillies, he will be in competition the rest of the way to become a regular next season rather than a late-offseason addition.
Keep Reading

Philadelphia Phillies: Like this team?