With the tennis competition at the 30th Olympics in the rear-view mirror, the 2012 season is entering the homestretch. Three of the four majors have been contested, and the only remaining portion of the season is the hard-court circuit. Every remaining WTA Tour event, including the Fed Cup final between Serbia and the Czech Republic, will be contested on a hard court.
With that in mind, let's take a look back at the dominant storylines of 2012, as well as what they project going forward.
Changing of the Guard
When 2012 began, Caroline Wozniacki continued to hold the No. 1 ranking in the world, a spot she had held at the end of 2010 and for virtually all of 2011, save for one week when Kim Clijsters was atop the rankings. Wozniacki had reached the top spot without winning a Grand Slam, as she had won six titles and reached the semifinals of both the Australian and U.S. Open.
But this year, Wozniacki's stay at the top would be a short one. After losing to Clijsters in the quarterfinals of the Australian Open, she would abdicate the No. 1 ranking to Victoria Azarenka, who thrashed Maria Sharapova to win the title, 6-3, 6-0.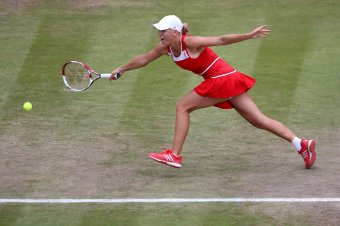 Clive Brunskill/Getty Images
Vika, Invincible?
Azarenka's Australian Open triumph was her 12th straight victory to open the season, as she had won a warm-up tournament at Sydney before conquering the field in Melbourne. Next up for her was the Doha tournament, and Azarenka tore through the field there, not losing a set and routing Samantha Stosur in the final, 6-1, 6-2.
Her run of dominance continued at Indian Wells, where, after outlasting Mona Barthel in a third-set tiebreaker in her first match, she ripped through the field again, soundly defeating Sharapova 6-2, 6-3 to win the title.
Entering the Miami tournament, Azarenka was 23-0 on the season, a streak that extended to 26-0 as she faced Marion Bartoli in the quarterfinals. It was here that the unbeaten streak would end, as Bartoli turned back Azarenka, 6-3, 6-3.
For a player who couldn't lose early in 2012, the losses suddenly began to mount. In Stuttgart, Sharapova turned the tables on Azarenka, defeating her 6-1, 6-4 for the title. In Madrid, she made a run to the final, only to be stopped by Serena Williams, 6-1, 6-3. Before her Round of 16 match in Rome against Dominika Cibulkova, she withdrew, citing a bum shoulder.
At the French Open, Azarenka nearly crashed out in the first round, falling behind 6-7 and break points to go down 0-5 against Alberta Brianti before she came charging back, taking the last two sets 6-4, 6-2. But her recent poor form was a portent of things to come, as Cibulkova upset her 6-2, 7-6 (4) in the fourth round.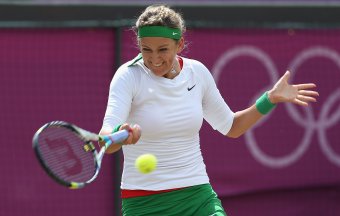 Elsa/Getty Images
When Sharapova defeated Petra Kvitova in the semifinals, she re-claimed the No. 1 ranking and backed up her rise to the top with a victory over Sara Errani in the final, completing the Career Slam.
Maria Back on Top
In July 2004, then 17-year-old Sharapova captivated millions with her run at Wimbledon, where she trounced No. 1 Serena Williams to win the title. Now, some eight years later, with major shoulder surgery in her rear-view mirror, Sharapova had completed the Career Slam, having won each major one time, and she now sat atop the WTA rankings for the first time since 2008, before her surgery.
She had been the most consistent player on tour in 2012, behind the now-slumping Azarenka, so most figured she would have a good run as the No. 1 player.
As it turned out, her reign at the top wouldn't even last a month. In the fourth round at Wimbledon, she was defeated by Sabine Lisicki, 6-4, 6-3. Agnieszka Radwanska had a chance at becoming the fourth different player to hold the No. 1 ranking, but her loss to Serena Williams in the final made Azarenka No. 1 again.
Azarenka Is No. 1 But Serena Is Dominant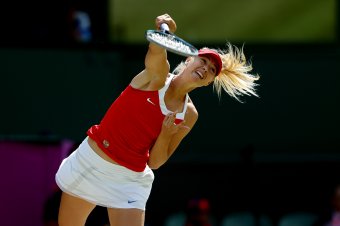 Clive Brunskill/Getty Images
After middling hard-court results to begin the season (a fourth-round loss to Ekaterina Makarova at the Australian Open and a quarterfinals loss to Caroline Wozniacki in Miami), Serena found another gear when the clay season started, taking home titles in Charleston and Madrid and making a run in Rome before a lower back injury forced her to withdraw.
However, in late May, Williams' career appeared to be at a crossroads. She was a heavy favorite to win her first French Open title in 10 years, but she suffered a shocking loss to Virginie Razzano in the first round, 4-6, 7-6 (5), 6-3. What made the loss even more devastating was that she held a 5-1 lead in the second-set tiebreaker and was two points from victory. Even more stunning was the fact that it was the first time she had lost in the first round of a Grand Slam in her career.
However, the loss to Razzano steeled her, as it turned out to be the last time she would lose in over two months. At Wimbledon, she fought through some early-round hiccups to advance to the quarterfinals, where she took out defending champion Kvitova and then turned back Azarenka in the semifinals before topping Radwanska in three sets to win the title.
Not one week later, Serena was back in the winner's circle again, repeating as Stanford champion. Then it was on to the Olympics, where she dropped an amazing 17 games in six matches, obliterating Sharapova to win the gold medal, 6-0, 6-1.
As it stands right now, Williams is a dominant force on tour and the player to beat, despite being ranked No. 4 (trailing Azarenka, Sharapova, and Radwanska, all of whom she has defeated in the last month). Serena is a staggering 44-3 on tour this season and has won five titles. She is a heavy favorite to win her fourth U.S. Open, and her first since 2008.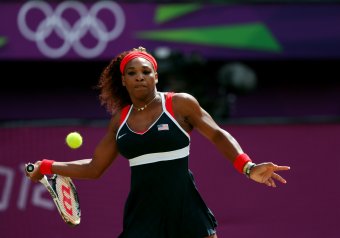 Clive Brunskill/Getty Images
Conclusion
It's been a topsy-turvy year on the WTA, with three different players holding the No. 1 ranking, and "dominant player" status changing hands multiple times. Right now, Williams is far and away the player to beat on tour, but at her age (30), she's susceptible to having a bad tournament. Just take a look back at her loss to Razzano, which nobody saw coming.
However, at her best, nobody on tour can approach Serena, as shown at the latest Olympics. Williams tore through the field there, defeating five players who were once or currently ranked in the top two in the world. If she maintains that form, she's impossible to beat.
Less than three months remain in the WTA season, which, for the top players, ends in late October at the year-end championships in Istanbul, Turkey. Will additional storylines be written? Or will Serena ride her current, dominant form into 2013?