Tiger Woods: A Timeline of Tiger's Dominance at the PGA Championship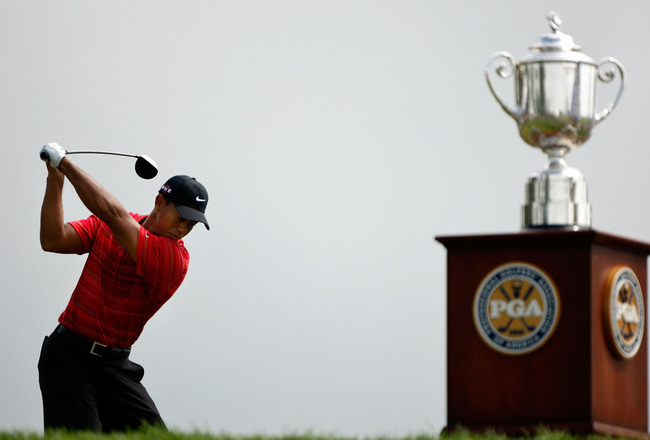 Streeter Lecka/Getty Images
What would a golf major be without extensive coverage of Tiger Woods? And what would extensive coverage of Tiger Woods be without a brief look back at his greatness?
The PGA Championship is tied with he Masters as Tiger's most successful major; he's won them both four times. His first win at the PGA Championship, golf's final major of the season, came in 1999 when a young Eldrick Tont Woods was only 23-years-old. This was his second major victory and the win that really got the Tiger Express chugging.
This year's PGA Championship will kick off on Thursday at Kiawah Island Golf Resort in Kiawah, South Carolina. Tiger is coming off a strong performance at this past weekend's WGC-Bridgestone Invitational; he finished tied for eighth at four-under par. Kiawah could treat him kindly, yet many other players will tee off full of momentum and confidence. One of those players is the young Keegan Bradley, the defending PGA Champion who also just won this past weekend's event.
But enough about the present; there will be plenty of time to analyze that as the week goes on. Let's take a trip down memory lane and look at some past moments of Tiger's dominance.
1999: "The Wheels (Really) Get Rolling"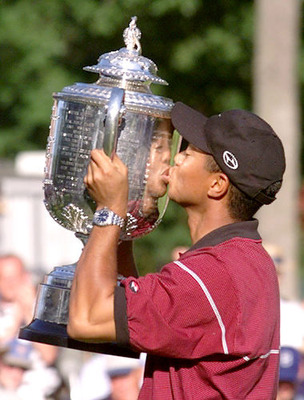 The 1999 PGA Championship began on Thursday, August 12, at Medinah Country Club in Medinah, Illinois.
At the time, Tiger Woods was one of the games best young players, but many were wondering when his next major victory would come, having not won one since his 1997 Masters victory.
1999, for all intents and purposes, was a moment when golf was desperately searching for a new superstar. The 1990s did not provide golf with a superstar that we saw in decades past. Nick Faldo was unquestionably the star of the 90s, yet his achievements did not come closing to matching the success that Jack Nicklaus had in the 70s or that Tom Watson had in the 80s.
It's really, in very many ways, surrealistic to think about golf pre-Tiger. Majors victories were always thought to be scattered, and winning one every three or four seasons was considered successful. Tiger's emergence set a new precedent; winning three majors in a year was an achievable feat, and winning two was certainly within the realm of possibility. Tiger changed things, and it all began (for real) at the 1999 PGA Championship.
Tiger finished Thursday with a respectable score of two-under, which put him in a 13-way-tie for tenth place. His real surge came on Friday, when he shot a 67 and soared to third place, behind Jay Haas and Canadian Mike Weir. Tiger shot a 64 on Saturday to share the lead with Weir, and despite only shooting a par-72 on Sunday, he finished one shot better than Spaniard Sergio García to win his second major.
The battle that Woods engaged in with García was the first of many instances where Woods persevered in one-on-one contests. He has always seemed to have an ability to oust his individual opponents, get under their skin and find some way to shoot better than them, even if that meant neither of them shot great.
After lifting the Wanamaker Trophy on August 15, 1999, Woods would go onto win the 2000 U.S. Open, Open Championship and...
2000: "The First Repeat"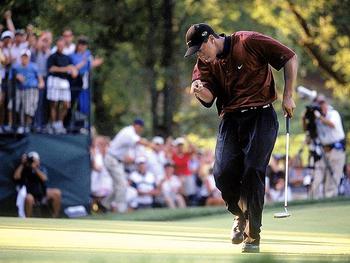 The 2000 PGA Championship. It was held at Valhalla Golf Club in Louisville, Kentucky, and golf was now longer searching for their superstar.
Tiger arrived in Kentucky for the final major of the first year of the new millennium with the momentum of a runaway train. He was the hands down favorite, he was the talk of the sports world and he was as hot as a chili pepper.
Tiger had already won the U.S. Open and Open Championship in 2000. A win at the 2000 PGA Championship would make Tiger the only golfer other than the late Ben Hogan to win three majors in the same calender year.
Louisville, Kentucky treated its guests to fantastic weather for the long weekend. Sunny skies and warm air made for a lovely atmosphere and easy golf. By the end of Thursday, Tiger held the lead with Scott Dunlap at a very low six-under. By the end of Sunday, Tiger once again shared the lead; he was 18-under par, as was the relatively unknown Bob May. This meant one thing: three-hole playoff.
Bob May had the ability to throw water on a Tiger Woods that was on fire. He had the ability to make a name for himself, despite not winning on the PGA Tour in six years of playing. He had the ability to hoist the Wanamaker Trophy.
But we all know how this ends, and Tiger's birdie-par-par in the three-hole playoff was good enough to get under May's skin and secure his fifth major victory, his third of 2000, and his second PGA Championship.
2001-2005: "Not Quite Enough Good Shots"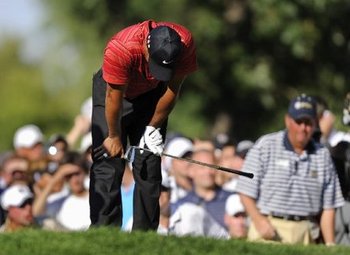 After Tiger's 2002 U.S. Open victory, he saw a slump in his career, at least in terms of major victories. He would not win another major until the 2005 Master's, and his performance in the PGA Championships during this span reflected that he was not quite himself.
Aside from an exciting second place finish in 2002, Tiger was never truly in the hunt in any of the PGA Championships.
The 2002 PGA Championship, while not a victory for Woods, was a unique and memorable Tiger moment.
Woods started the final round four strokes under par, and five strokes behind leader Justin Leonard. Eventual champion Rich Beem teed off at six-under. Woods was shooting a one-under for the day until the 15th hole. Then, in unprecedented Tiger Woods fashion, he birdied the final four holes of the day and surged to a nine-under finish for the tournament.
Rich Beem had enough of a cushion to secure his victory, but the performance reminded all golfers who have the rare opportunity to lead Tiger in tournament to never, ever feel safe.
2006: "Back in the 'Swing' of Things"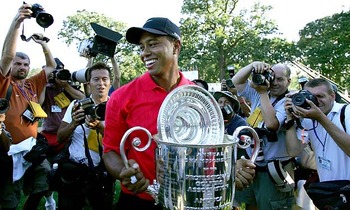 The 2006 PGA Championship brought the PGA Tour back to Medinah, Illinois, where seven years prior, Tiger Woods had won his first PGA Championship.
The world of golf had been completely reinvented in those seven years. A fresh new crop of young golfers were making names for themselves on the tour, and the rivalry between Tiger Woods and Phil Mickelson had become one of the greatest and most exciting in history.
By 2006, Tiger was so much more than a young kid with potential too. He was the world's richest athlete, one of the most successful golfers of all time, a family man, a philanthropist and coming off a win at the 2006 Open Championship.
Many would call the era between 2005-2008 as the peak of Tiger's life, both on and off the golf course. It was the moment were his greatness was untested, unquestionable and, at the time, untouchable.
Tiger won the 2006 PGA Championship in a landslide. It was actually more than just a landslide, it was one of the best four rounds of golf ever played in a tournament. Tiger shot only three bogeys in four days in route to a score of 18-under for the tournament. The second place finisher, Shaun Michael, was nowhere close, finishing five shots back at 13-under.
There was no photo finish, but when Tiger lifted his third Wanamaker Trophy, he was on top of the world.
2007: "The Second Repeat"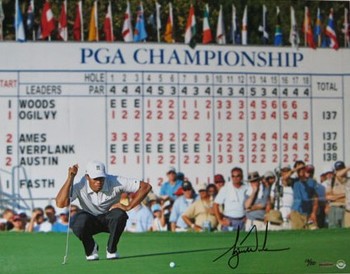 As far as most golf writers, players and fans remember, the 2007 PGA Championship at Southern Hills Country Club in Tulsa, Oklahoma was defined by one aspect—heat.
Temperatures were in the high 90s, and there were more than a few hours when the thermometer was registering in the triple-digits.
The first day was fairly uneventful. Graeme Storm, a relatively unknown English golfer, led the field with a score of five-under. Tiger shot one over. Everyone just talked about how hot it was and subsequently tried to stay cool.
Friday is when things got exciting, and historic. Tiger shot a 63, tying the record for the lowest single round at a major championship. Just like that, Tiger was atop the field and six-under for the tournament. From there, he never looked back. He bettered his score to seven-under on Saturday and finished on Sunday with eight-under. He only beat second-place finisher Woody Austin by two strokes, yet the tournament was never up for grabs.
This victory was significant for Tiger and for the world of golf in a few ways. It marked the end of another era of dominance for Tiger, and marked his last victory before suffering a multitude of physical and personal setbacks. One of the greatest falls from grace would succeed this victory, and the 2007 PGA Championship, for all intents and purposes, represented one of the final moments for Tiger on planet grace.
2008-Present: "Falling Down and Getting Back Up"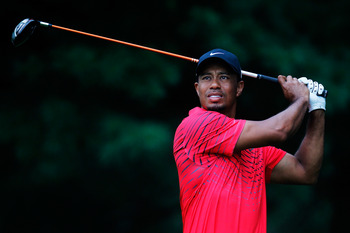 Gregory Shamus/Getty Images
If one were writing a history book on the life and career of Tiger Woods, the era from 2008 to the present would be volatile, confusing and disheartening.
Tiger didn't compete in the 2008 PGA Championship due to an ailing knee. This knee injury would plague him for some time.
In the 2009 PGA Championship, Tiger completed a career first, but not one that he likes to remember. It was the first time that he lost a major championship after holding the lead after 54 holes.
In 2010, Tiger finished tied for 28th, and last year, in 2011, he missed the cut.
While the PGA Championship has not been kind to Tiger, he's shown strength and perseverance despite having the entire world witness the collapse of his family. The fact that Tiger has stayed competitive to the degree that he has is simply remarkable, and through 2012 so far, we have seen the best Tiger that we have seen in years. He seems healthy, happy and refreshed. He's playing like his old self, he's atop the FedEx Cup standings and he's coming off a great showing at the Open Championship three weeks ago.
Going into the 2012 PGA Championship, it appears that it could be a fifth Wanamaker Trophy for Tiger. It appears he might be back, for good this time.
The Vegas oddsmaker have set their lines; Tiger is the favorite at 6.5 to 1.
Keep Reading