Usain Bolt London 2012 Fastest Man: Is the NFL in His Future?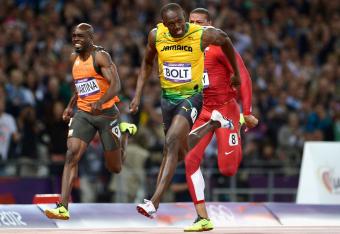 Pascal Le Segretain/Getty Images
Usain Bolt, London 2012 Olympic Champion and fastest man in the world, could he be headed to the NFL? He says he s bored and wants a new event. Could that possibly be a gig in the NFL?
He already makes 20 million a year in endorsements. The question is, can the NFL add to his career and goal of being a legend?
The Jamaican sprinter has won four Olympic gold medals and five world championship medals and is currently competing in the 2012 Olympic Games in London.
As reported by msn.foxsports.com, Bolt has just won the gold in London in a time of 9.63. Fellow Jamaican Yohan Blake came in second.
Now what? Is there a chance that the current world-record holder in the 100-meter and the 200-meter distances will appear in the 2016 Olympics? At 29, Bolt would seem to be over the hill for a sprinter looking to medal.
However, his chances in changing to a different sport might tell a different story.
If Bolt's name were to come up in the 2013 mock NFL draft, would anyone be interested? The London 2012 games are providing an interesting backdrop for those who like to speculate.
Bolt is a superb athlete with a 6'5" frame packing 210 pounds. He is reminiscent of New York Jet's rookie Stephen Hill, who, at 6'4" and 215 pounds, tied for first overall for receivers at this year's NFL Scouting Combine. Hill, from Georgia Tech, was drafted by the Jets in the second round (43rd overall) of the 2012 NFL draft.
Bolt's size also reminds one of NFL Hall of Fame wide receivers James Lofton (6'3", 193 lbs), Art Monk (6'3", 210 lbs) and Charley Taylor (6'3", 210 lbs).
Would NFL teams be interested in Drafting Bolt?
Bolt would not be the first Olympian to give professional football a try. Others who participated in both the NFL and the Olympics include:
1) Bob Hayes—gold medalist in the 100-meter dash at the 1964 Games in Tokyo. Hayes played for the Dallas Cowboys (1965-1974) and the San Francisco 49ers (1975).
2) James Jett—a member of the gold-medal-winning 4x100-meter relay team at the 1992 Barcelona Olympics. He played for the Raiders (1993-2002).
3) Renaldo Nehemiah—member of the 1980 U.S. team (110-meter hurdles) that did not participate in the Moscow Games. "Skeets" played for the San Francisco 49ers (1982-1984).
4) Jim Thorpe—gold medalist in the pentathlon and decathlon at the 1912 Games in Stockholm. Thorpe played with several teams in the NFL in the 1920s.
5) Ollie Matson—silver medalist in 4x400-meter relay and bronze medalist in 400-meter dash at the 1952 Helsinki Games. Over a 15-year career (1952-1966), Matson played with the Cardinals, Rams, Lions and Eagles.
6) Ron Brown—gold medalist in the 4x100-meter relay at the 1984 Los Angeles Olympics. Brown played with the Rams (1984-1989, 1991) and the Raiders (1990).
7) Willie Gault—member of the 1980 U.S. 4x100-meter relay team. Gault played for the Chicago Bears and the Los Angeles Raiders during an 11-year NFL career.
So, it begs the question...what if?
What if Bolt were to decide after the London Olympics that he had enough of poverty in Jamaica and wanted to take a run at being a champion in another sport?
For those participating in and observing the 2013 NFL draft, Bolt would be an interesting name to throw into the mix. Who wouldn't want to be able to throw to the fastest man on earth who also happens to be 6'5"?
I am sure a number of NFL QBs would like to have that kind of target.
This article is
What is the duplicate article?
Why is this article offensive?
Where is this article plagiarized from?
Why is this article poorly edited?