Brazil vs. South Korea: Is There Any Chance of an Upset in Olympic Semifinal?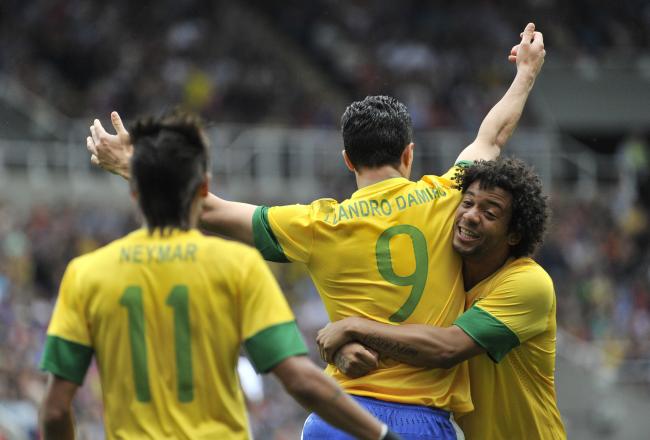 Francis Bompard/Getty Images
The gold medal favorites for the 2012 London Olympics—Brazil—will take on Asian powerhouse South Korea in the semifinals of the men's football competition for a place in the gold medal match.
The South Americans, despite never winning the Olympic tournament before, entered the competition as strong favorites to win the gold medal—a position seemingly made even stronger by the shock elimination of both Spain and Uruguay in the group stages.
Simply put, the gold medal's is Brazil's to lose.
So do they have any chance of losing it? Do South Korea stand any chance of an upset in their Olympic semifinal encounter, or are they just another also-ran in this year's competition?
You'd want to argue yes and no.
Yes, this is Brazil's tournament to lose and should their squad find their groove against the Asian nation, it would take a brave soul to predict anything other than a victory for Brazil.
Their midfield and their attack is so strong, so deep and so talented that most defenses do not stand a chance against their creativity and skill.
Neymar, Leandro Damiao, Oscar and Lucas are all superstars in their own right and so, combined, it's natural to assume that they will be a very good football team.
Which is exactly what we've seen throughout the group stages—Brazil have not dropped a single point and have scored more goals than any other team in the tournament.
To put into perspective, Brazil have netted 12 goals so far this tournament—Japan, South Korea and Mexico have netted 13 goals between them, and that's including the four goals that Mexico just put past Senegal in the quarterfinals.
Their attack is that dominant and that strong that they are the clear favorites for the gold medal and deservedly so. They should beat South Korea and they should beat their opponent. They should win the gold medal at the 2012 London Olympics.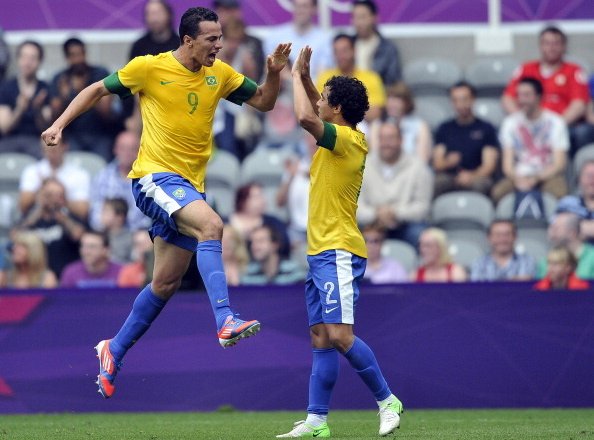 Francis Bompard/Getty Images
But "should" is such a pointless word—especially coming from a people that once thought the world was flat and that Andy Carroll was worth £35 million. Brazil should win the gold medal, but that's no reason to suggest that they automatically will.
After all, the 2012 London Olympics has provided its fair share of surprises so far, such as the shock elimination of Spain and Uruguay before the knockout stages. Mexico were pushed by Senegal, and Great Britain lost on penalties—okay, that last one wasn't a surprise.
Keep in mind also that this is a Brazilian team that, despite their potency in attack and dominance throughout midfield, isn't putting teams away like they should be doing.
In fact, teams are fighting their way back into matches and keep the score close—even when they have no right to do so.
Egypt were down by three goals at halftime, yet fought their way back to 3-2. Honduras also lost by the same scoreline, despite the fact they only had nine players by the end of the match.
Brazil are leaking goals at the back and once given a strong attacking opponent who can force turnovers throughout midfield, they could well find themselves in a tight encounter. Again.
Having said that, this is Brazil's game to lose.
They are the stronger of the two teams—perhaps the Dream Team of men's football, if you like—and should win comfortably in this one. I expect them to progress through to the gold medal match and I expect them to do so at the expense of South Korea.
Just don't be amazed if it's closer than you thought.
After all, miracles do happen.
What chance do South Korea stand against Brazil?
Comment below or hit me up on Twitter: Follow @dantalintyre
This article is
What is the duplicate article?
Why is this article offensive?
Where is this article plagiarized from?
Why is this article poorly edited?