Serena Williams: What Olympic Gold Means for Her All-Time Tennis Legacy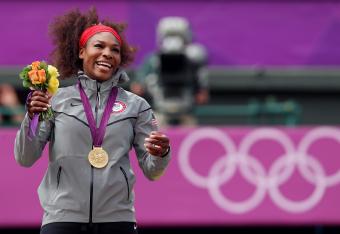 Clive Brunskill/Getty Images
Serena Williams did not even look phased when she had the gold medal point on her racket. She had dominated Maria Sharapova the entire match, winning the first set 6-0, and about to win the second 6-1. She had just aced the point before and was up 40-15, serving for gold. She threw the ball in the air and launched it across the court.
That's when she knew, that's when everyone knew, that Serena Williams was for the first time in her career, a singles gold medalist.
From the first day of the tournament to the last, Williams was absolutely untouchable, unbreakable. She didn't drop a single set and only lost a total of 17 games throughout the entire Olympic draw. It was the Serena of old that came out to London, back on the surface where she just won the Wimbledon title, she showed the world that even at age 31, she still has some amazing tennis left in her.
With the gold medal, Serena becomes only the second woman ever to complete what is known as the career golden slam. She has five titles from the Australian Open, one from Roland Garros at the French Open, another five from Wimbledon, and three from the U.S. Open. Now adding to that, she has a singles gold medal, once again from Wimbledon, the place that has seen so much of her career success.
On top of completing the singles career golden slam, Serena now becomes the only tennis player in history to have won both the golden slam in singles and doubles, a truly remarkable feat that really is a testament to what she has been to tennis throughout her career.
Williams, who owns 13 grand slam doubles titles and two gold medals, will be looking for another as she and sister Venus prepare to play in the doubles final at the 2012 London Olympics. They have already advanced to the semifinals and will meet Nadia Petrova and Maria Kirilenko. In the doubles tournament, Serena and Venus have also not dropped a set, as they are showing all of the form they had coming off of their fifth Wimbledon title in 2012.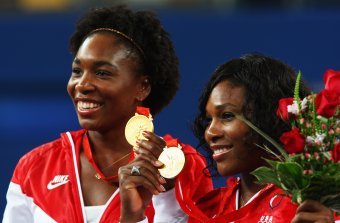 Clive Brunskill/Getty Images
Now that Serena and Venus both have three golds to their names, if they do win the doubles gold in London, they will simultaneously become the winningest tennis Olympians of all-time. Alone it is a spectacular feat, but to share it will be even better for these two, who once sat No.1 and 2, respectively, in the tennis world.
Serena's gold and the points that she will gain from it on the ATP World Tour Rankings, will move her out of fourth in the world and she could even go as high as No. 2. If she continues playing at the high level she is however, this resurgence will continue and it will only be a matter of time before she regains the world No. 1.
With 14 singles titles, Williams is ranked sixth on the all-time list. With three gold medals, however, and adding to it the 13 doubles titles, Serena has to be considered as one of the best female tennis players of all time.
Completing the golden slam will certainly go a long way in this category of greatest of all-time and even though she is 10 majors short of Margaret Court, eight short of Steffi Graf, and four short of both Chris Evert and Martina Navratilova, she no doubt has had one of the best all-around and illustrious careers of any woman to ever play the game.
The gold medal now around her neck just makes this legacy all the better and with her showing she still has years left to play, there could be more majors in her future to further cement her place in tennis history as one of the best to ever play the game.
This article is
What is the duplicate article?
Why is this article offensive?
Where is this article plagiarized from?
Why is this article poorly edited?