10 Prospects the Phillies Will Be Very Happy Not to Have Traded at the Deadline
Image from http://www.lehighvalleylive.com

Recent non-waiver trade deadline deals by the Philadelphia Phillies have consisted of a big name acquisition coming to the team in exchange for multiple prospects, including some that were considered to be among the best in the Phils minor league system.
Yesterday's trade deadline deals, however, were certainly a break from what had become typical mid-season trades for the Phillies.
Rather than sending three or four prospects in exchange for an addition to the starting rotation or a missing lineup piece, the Phils were on the other end of big moves.
Acquiring minor league talent may help the Phillies long-term, but what could help the team more is their decision not to trade any of their current prospects in another mid-season trade.
Whether they provide optimism for the team's chances in future seasons, or whether they become trade chips in offseason deals, the Phils' prospects can have a large role with the team going forward.
Here are 10 prospects the Phillies will be very happy not to have traded at the deadline.
Jesse Biddle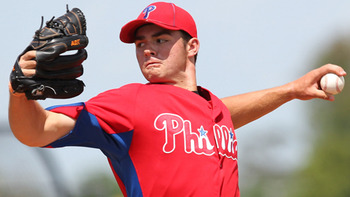 Image from http://www.milb.com
Biddle may be the Phillies' top prospect by the end of the season.
The Germantown native was named to the Florida State League Mid-Season All-Star team after settling down in the month of May following a rough start to the season. Biddle went on to post a 2-0 record in six starts with 32 strikeouts and a 1.36 ERA for the month.
In 20 starts at the High-A level this season, Biddle has gone 6-4 with 107 strikeouts and a 3.45 ERA.
The 2010 first round draft pick now has a 3.22 ERA between Low-A and High-A ball during the past two seasons.
An article by Paul Hagen on the Phillies' website talks about Biddle's adjustment this season to help him pitch deeper into games by lowering his pitch count. The article also contains a quote from Biddle's Single-A manager that points to his changeup as being crucial for him.
Biddle's current walk total is lower than his mark last season, and he may soon eclipse his previous minor league high for strikeouts in a season.
Recent struggles by Trevor May mean that Biddle, a 20-year-old, 6'4" left-hander, could eventually become the Phillies' highest ranked prospect.
It likely would have taken another big name mid-season acquisition for the Phillies to trade Biddle, but now that the deadline has passed, the Phils will be glad that he is still in their minor leagues.
Lisalverto Bonilla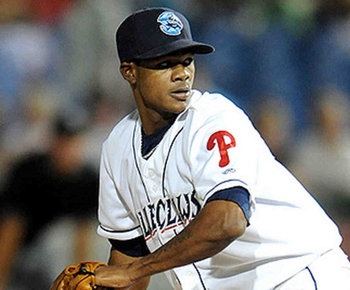 Image from http://articles.philly.com
One of the Phillies' Future Game selections this year, Bonilla has continued to lower his ERA for the second consecutive season.
This is the first season that Bonilla has pitched exclusively out of the bullpen, and the results have led to his first promotion to Double-A.
After beginning the season at Single-A and going 1-1 with 18 strikeouts to four walks while posting a 1.35 ERA, Bonilla has continued his success at Double-A. In 21 games at the level, the right-hander has gone 2-1 with 46 strikeouts and a 1.64 ERA.
Combined between the two levels, Bonilla has held opponents to a .191 batting average.
Although he is currently on the disabled list, Bonilla has not allowed an earned run since May.
Bonilla's pitching repertoire, which includes a fastball, changeup and slider has helped him to strike out over 60 batters for the second consecutive season.
With the Phillies seemingly in need of bullpen improvements, Bonilla is a player to watch as he continues to progress through the minor leagues.
Trevor May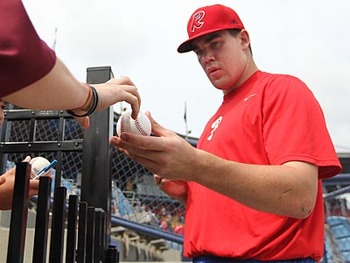 Image from http://www.philly.com
May's first month of the season saw him go 5-0 with a 2.40 ERA, while holding opponents to a .196 batting average.
Since then, things have gotten rough. May's ERA for the next three months of this season went from 6.57, to 6.30 to 5.68.
However, May is still considered one of the Phillies' best prospects in a minor league system that has taken a hit at recent trade deadlines.
In 21 starts at Double-A this season, the 6'5" right-hander has gone 8-8 with 109 strikeouts and a 5.15 ERA.
May could be on track to have his lowest strikeout total in a season since 2010. However, he has still struck out 499 batters combined during the past three seasons.
The promotion to Double-A, after getting off to a great start, will soon see the 2008 fourth round draft pick have his highest walk total since 2010, as well.
With a fastball that can reach the mid-90's, a changeup and a curveball, May is still one of the Phillies best starting pitching prospects.
Cesar Hernandez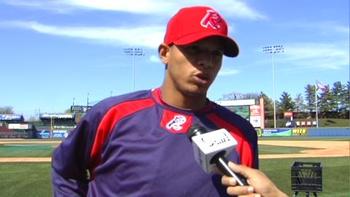 Image from http://www.philly.com
In a minor league system that is lacking a great deal of high ranking position players, Hernandez has made a case this season to be one of the Phillies' best.
After batting .268 in 119 games at Single-A last season, Hernandez has found more success at Double-A this season.
In 102 games, Hernandez is batting .302 with 26 doubles and 51 RBI. His batting average includes a .339 average against left-handers.
This season is not the first time that Hernandez has batted over .300, as he has done it in two prior seasons as well.
The switch-hitting second baseman was named as an Eastern League Mid-Season All-Star after batting .309 leading up to the game.
At 22 years old, Hernandez still has work to do as he continues to progress through the minor leagues.
However, in a pitching heavy minor league system, Hernandez is establishing himself as one of the Phils' best position players.
At least for the time being, keeping Hernandez through the trade deadline should make the Phillies very happy.
Jonathan Pettibone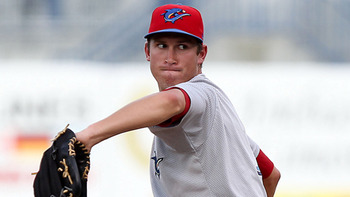 Image from http://www.milb.com
Pettibone's recent promotion means that he is now just one step away from the major leagues.
How big that step is, however, remains to be seen.
Pettibone was recently promoted to Triple-A after going 9-7 with 81 strikeouts and a 3.30 ERA at Double-A.
Pettibone has continued his progression through the Phils system each season since being drafted in the third round in the 2008 draft.
The 22-year-old right-hander lowered his ERA in each season from 2009-2011. Last season at Single-A, Pettibone finished with a 2.96 ERA.
Pettibone has a fastball that he throws in the low-90's, a changeup and a curveball, and has never walked more than 41 batters in a season.
But what makes Pettibone's promotion interesting is that the Phillies are going to have at least one, and possibly two openings in their starting rotation next season. Will Pettibone have an opportunity to fill one of those spots?
Just in case, the Phillies will be glad they held on to him rather than including him in a deal at the trade deadline.
Larry Greene, Jr.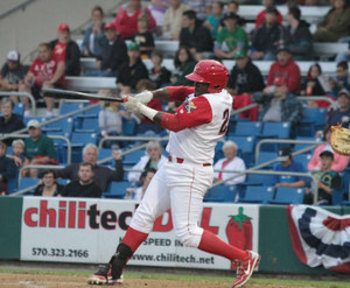 Image from http://articles.philly.com
Greene may have the most potential among Phillies minor league position players.
So far, his first season of playing professionally has been a solid one. In 41 games in the short-season New York-Penn League, Greene is batting .272 with 40 hits and 20 RBI.
Although he has a ways to go in his progression, Greene has at least started his trip to the major leagues after being drafted by the Phils with the team's first pick in last year's draft.
Greene's two home runs this season isn't the same amount that he is expected to hit as he continues to develop, while his batting average may be higher than what was expected at this point in the season.
Greene has struck out 45 times in 147 at-bats, however.
The outfielder has a long ways to go before reaching the major leagues, but his power potential will be something that makes the Phillies happy they didn't trade him.
Tyler Cloyd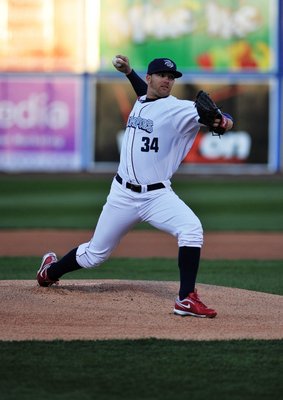 Image from http://www.lehighvalleylive.com
Cloyd's prospect status has shot up this season following sensational performances at both Double-A and Triple-A.
At Double-A, a 1.80 ERA and 3-0 record to go with 20 strikeouts and just three walks was enough for Cloyd to be called-up to Triple-A once again after just four starts.
At Triple-A, the right-hander has gone 10-1 with 73 strikeouts and a 1.98 ERA.
On the season, Cloyd has gone 13-1 with a 1.94 ERA, while holding opponents to a .218 batting average.
Cloyd has improved on his 2.77 ERA between Single-A and Double-A last season.
The 2008 18th round draft pick had a 1.64 ERA in June and a 1.65 ERA in July.
Cloyd may have a chance to be called-up to the major leagues this season. But with Joe Blanton set to become a free agent, Cloyd could still have a chance to crack the Phillies' starting rotation at some point.
Whether this season or next, the Phillies could have a reason for keeping Cloyd instead of including him in a trade.
Carlos Tocci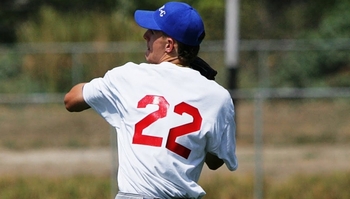 Image from http://philaphans.com/?attachment_id=72727
It's still far too early to project how good Tocci can be, or how long it will take him to progress through the Phillies' minor league system.
However, what's more certain is the fact that Tocci is batting .320 in 22 games in the Gulf Coast League as a 16-year-old.
Tocci signed with the Phillies last year and had yet to make his professional debut prior to appearing in the Gulf Coast League.
Tocci's athleticism and speed may be what convinced the Phillies to sign him for over $700,000 last year. He has currently stolen five bases in 22 games. Tocci also has 16 hits in those 22 games.
At 16, predicting Tocci's path to the major leagues is as unpredictable as it was trying to determine which players the Phillies were going to move at this year's trade deadline.
However, the potential for the young right-handed outfielder is something that the Phillies could be intrigued with enough not to include him in any deals.
Adam Morgan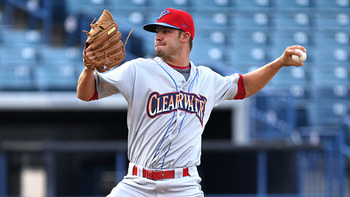 Image from http://www.milb.com
Morgan may be 4-9 this season, but few other aspects of his first full season in the minor leagues leave doubt as to his potential.
Morgan currently has more strikeouts in High-A ball than Biddle, and together the two rank first and second, respectively, in the Florida State League in that category. Morgan's ERA also ranks second in the league.
In 20 games this season, the 2011 third round pick is 4-9 with 133 strikeouts and a 3.05 ERA. He's also walked just 27 batters in 118.0 innings.
Morgan has given up two earned runs or less in his last six starts, and has held opponents to a .219 batting average on the season.
Morgan made 11 starts in the New York-Penn League last season, posting a 2.01 ERA while holding opponents to a .206 average.
The left-hander, at 22 years old, gives the Phillies another young, talented starter in Single-A who could one day contribute at the major league level.
And the Phils will be happy that his path to the major leagues goes through their farm system rather than another team's.
Justin De Fratus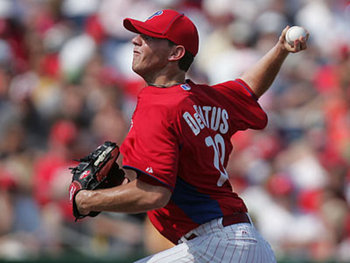 Image from http://articles.philly.com
De Fratus' season took awhile to get going thanks to an elbow injury, otherwise there's a strong chance he would have been called-up to the major leagues by now.
Now that he has returned from the disabled list, De Fratus still has a chance to reach the major leagues just as he did last season.
In just six games at Triple-A this season, De Fratus has six strikeouts while having yet to walk a batter, and has posted a 2.70 ERA.
Last season saw the right-hander reach the big leagues in September after having a 2.99 ERA between Double-A and Triple-A.
Since he began pitching exclusively out of the bullpen, De Fratus has yet to have an ERA over 3.00 for a season.
De Fratus has a fastball and a slider, and has not walked a batter in 10.2 innings this season.
The Phillies have seemingly been looking for a reliever who can bridge the gap to closer Jonathan Papelbon all season. This means that, if healthy, De Fratus would have had a great chance to have been called-up by now.
With the Phillies still looking for the right bullpen pieces, De Fratus' name may come up either this season or next.
Keep Reading

Philadelphia Phillies: Like this team?