MLB Trade Deadline 2012: Post-Deadline Expectations for Philadelphia Phillies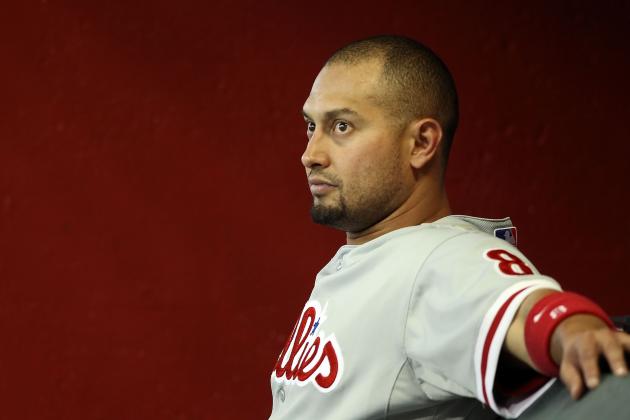 Christian Petersen/Getty Images
Former Phillie Shane Victorino
The MLB trade deadline has come and gone, and the Philadelphia Phillies are already looking toward 2013.
After buying big in recent years, Ruben Amaro Jr. and the Phillies were forced to sell this summer. That's the cost of doing business when your $173 million roster sits in last place in the NL East with a 45-57 record.
Going into the last two months of the regular season, the Phillies have many more questions than answers. With some familiar faces out the door and the organization searching for some signs of life moving forward, there is much to watch in Philadelphia even if the playoffs are out of the picture.
As the Phillies prepare for next season, here are the team's expectations for the remainder of 2012.
Begin Slideshow

»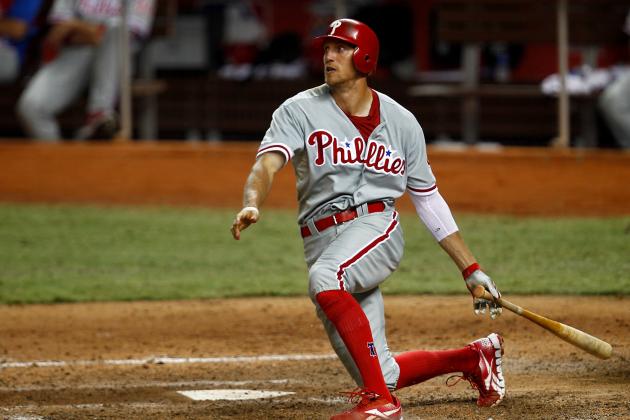 Sarah Glenn/Getty Images
Former Phillie Hunter Pence
Let's start with the Phillies' deadline deals.
Amaro waved the white flag on the 2012 season, shipping away Philadelphia's two best outfielders.
Shane Victorino was traded to the Dodgers for a pair of prospects, and Hunter Pence was sent to San Francisco for a package including Nate Schierholtz and a couple of minor leaguers.
Though both have seen better days, Victorino and Pence were two of the brightest spots in a disappointing Phillies offense.
Schierholtz, the lone major league player coming back to Philly, is nothing more than a stopgap. With an outfield consisting of Schierholtz, Juan Pierre and a question mark, the Phillies do not have the look of a team concerned about its current production.
So what will the Phillies look for from the rest of their season?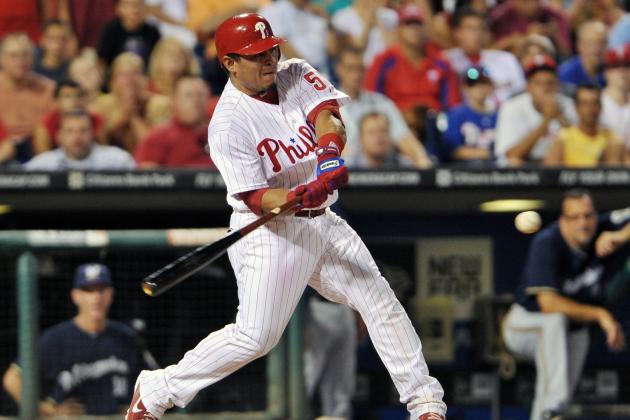 Drew Hallowell/Getty Images
Carlos Ruiz
Outside of Carlos Ruiz, the Phillies offense is a disappointing bunch.
In his first All-Star season, Ruiz has been the only Phillie to have a batting average over .310, an OPS over .890 or an offensive WAR over 1.5.
Plus, now that Pence and Victorino are gone, no other Phillie has double-digit homers or more than 36 RBI.
The Phillies will need their offense to bounce back in the final months, if only to evaluate who is and who is not expendable heading into the offseason.
Right now, only Ruiz and Pierre are pulling their weight—everyone else needs to step their game up, or they might not have a lineup spot come 2013.
But amid the team's offensive slump, the spotlight will shine brightest on one guy in particular.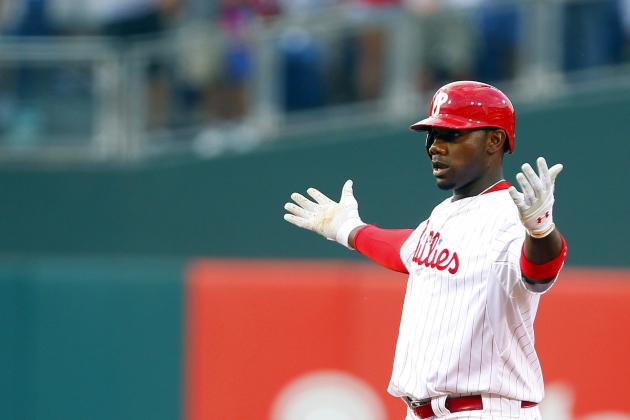 Rich Schultz/Getty Images
Ryan Howard
Ryan Howard is back. Now it's time to see what he can do.
The supposed cornerstone of the Phillies offense has not performed as such this season.
Howard did not play until July after tearing his Achilles late in the 2011 season. In 56 at-bats thus far, he is batting .213 with four home runs, nine RBI and a .787 OPS.
Howard must up his offensive efficiency over the remainder of the season, and he must remain healthy.
His five-year, $125 million contract extension kicked in this season, and Philadelphia cannot afford such a financial albatross.
Getting an ineffective Howard off the books would be next to impossible. Rather, the Phillies would have to focus all of their attention to developing minor league talent to improve the offense, because this level of spending is unsustainable.
However, the front office will retain the leeway to surround Howard with complementary pieces if he can bounce back. His production down the stretch could determine whether Philadelphia will rebuild or reload this offseason.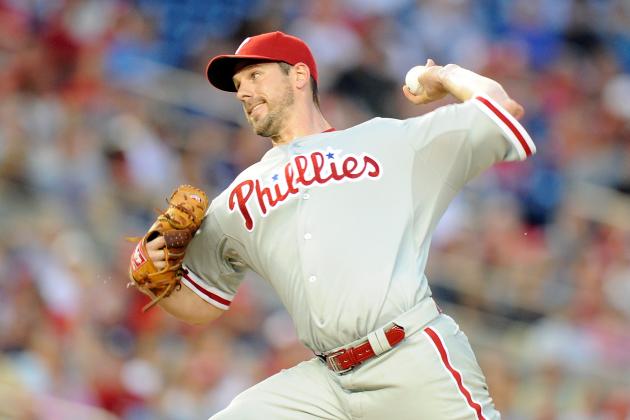 Greg Fiume/Getty Images
Cliff Lee
It comes as a surprise that the Phillies' starting rotation remains completely intact.
Both Cliff Lee and Joe Blanton were rumored to be on the move at the deadline.
Lee was linked to the Texas Rangers, among others, while the Orioles were reportedly interested in Blanton.
Ultimately, neither was moved, though that does not necessarily mean either is a part of Philadelphia's long-term plans.
Blanton is in the final year of his three-year, $24 million contract. With Lee, Roy Halladay, Cole Hamels and Vance Worley in town, he will have to convince management he is worth the money to be a fifth starter.
As for Lee, his performance down the stretch will inform suitors when they make another round of offers this winter. He was still on the block this summer with very similar numbers to Hamels, an All-Star with a fancy new contract.
Unless he proves himself to be truly indispensable in the next two months, Lee could still be on the block come winter.
After all, with all the money poorly invested in the lineup, the expensive starting pitcher might not be worth it, effectiveness be damned.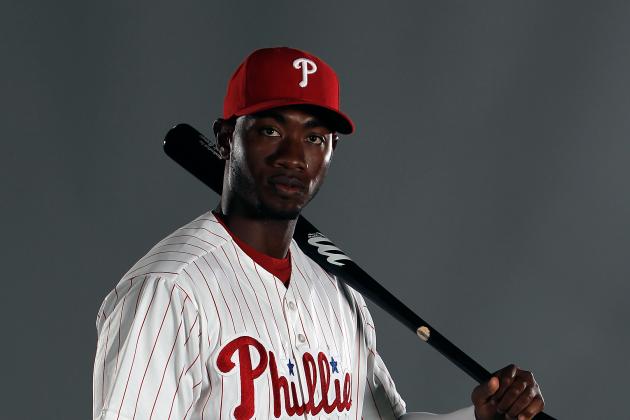 Jonathan Ferrey/Getty Images
Domonic Brown
With this season lost, the Phillies will start to give their prospects some playing time.
Domonic Brown has already gotten the call up from AAA Lehigh Valley.
Though his .767 OPS this season is less than satisfactory for a top prospect, he is also the Phillies' best long-term option in the outfield.
After Baseball America ranked Brown as the team's top prospect for three consecutive years, the Phillies ought to give him all the reps they can.
Two other guys who could see some time are Tyson Gillies and Phillippe Aumont.
Gillies is not the blue-chipper that Brown is, but he is getting on base at a .373 clip for AA Reading.
As the only other outfielder currently on the 40-man roster, he could end up spelling Schierholtz after September call-ups.
As for Aumont, the Phillies could take an early look at a future starting pitcher. There is not currently an opening in the rotation for Philadelphia's fifth-ranked prospect, but the Phillies could give him some chances out of the bullpen and as a spot-starter.
Nothing would aid the 6'7" power pitcher's development more than the opportunity to face big league batters.
The Phillies' deadline deals marked the end of their 2012 season. For the next two months, it's all about developing guys like Brown, Gillies and Aumont for the future.