Roger Federer, Rafael Nadal and 9 GOAT Tennis Careers We'll Never See Again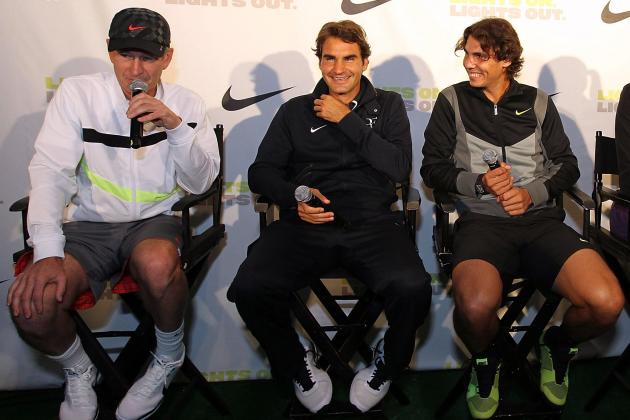 Al Bello/Getty Images

With all due respect to Roger Federer and Rafael Nadal, there is no single GOAT (Greatest of All Time) tennis champion.
Diehard fans of Federer and Nadal like to argue why their favorite is better than the other, or they debate whether he is greater than Pete Sampras or Bjorn Borg. It's an interesting exercise, and when objectively measured, it helps true tennis fans to gain a greater knowledge and respect for tennis history.
Federer's coach Paul Annacone, who also coached Pete Sampras, even tried to bury the comparisons with the following excerpt from The Tennis Space:
If Pete was to play Roger or Rafa or Novak, here in 2012, it would be a totally different game. You don't know how Pete would have evolved, and how his game would have changed. He would have been great. I don't mean to give you a non-answer, but when people try to compare era, it's apples and oranges. It's a different game.
If we apply this principle to distinctive mini-eras in tennis, we realize that players, court surfaces, racket technology, media and countless other factors have continued to evolve tennis into several other versions of itself through the years, linked but in constant motion and radically altered.
Suppose we tried to prove that Leonardo Da'Vinci was more intelligent than Aristotle, Albert Einstein and Bill Gates. We would have to invest in scenarios and data that are obsolete comparisons from one time period to another.
If you saw John McEnroe play during 1979-1984, you saw the GOAT dominate and elevate tennis. You saw him invent and create a style of championship tennis that has never been replicated.
All players can be defeated, as McEnroe was, but it's impossible to prove that Laver or Nadal could step into 1984 and defeat him. McEnroe actually dominated that time.
All champions could adjust to different eras and be great, but it would likely sacrifice or change a part of their makeup that we would recognize.
We will never know what would have happened to Federer if he had to use a wooden racket in 1969, except to say that he would have used his skills to adapt and become the greatest champion that he possibly could. Would it have been enough to trump Laver? We'll never know. Laver is the king of the 60s.
The following features are merely a reminder that tennis has produced wonderfully unique legends. We will never see any of them again because time will wash away the scenery and grow a new legion of heroes.
By and by you may see glimpses of past legends reappear in future champions. Your sense of nostalgia will brush off of the past and link its memories to tennis's new performances.
These nine legends changed the way tennis was played, which is why they will be remembered.
Begin Slideshow

»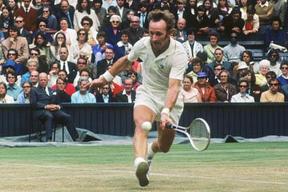 Photo Courtesy of: http://www.telegraph.co.uk
You will never see this GOAT again. Rod Laver ushered in the Open era with imaginative shots and his No. 1 dominance from 1964-1970.
He was a bulldog in spirit and style. His strong lefty forehand pounded like a hammer, or it lightly picked up a low ball to spin it back into some remote region of the court.
He scrambled like a clay-courter but was also offensively gifted to run into his shots while covering the net like the predatory and now extinct Tasmanian Tiger. Fittingly, Laver's style has never been imitated either.
Laver was the creator of all-court shots. He picked up half-volleys with unbelievable ease and lethal touch.
Watch him on YouTube as a 36-year-old play on fast indoor Caesar's Palace. He pushed around the No. 1 player Jimmy Connors who was in his prime at 22 years old.
Nobody before or since was greater than Rocket Rod. Somebody out there was lucky to watch his prime. The rest of us have never seen a player win a Calendar Slam, let alone twice.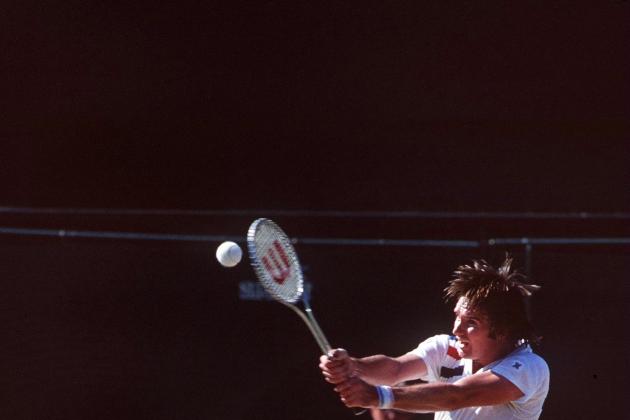 Tony Duffy/Getty Images

You will never see this GOAT again. Jimmy Connors fought with unconventional dash and flash swinging his steel racket like some medieval sword.
His pugnacious manners could turn an opera into roller derby. He contorted his body into each and every backhand smash as if he were adding gymnastics to his repertoire.
He made his mark destroying servers. His remarkable hand-eye coordination and timing can only be matched in precision by a Swiss watch.
Try winning the U.S. Open on grass, green clay and hard courts while beating back the likes of Bjorn Borg.
New York became his mecca, and perhaps nobody has ever been as beloved.
Nobody before or since was as great as Jimbo. Those that saw his peak remember when he stared at the tennis world and beat it back it back with running groundstrokes never to be seen again.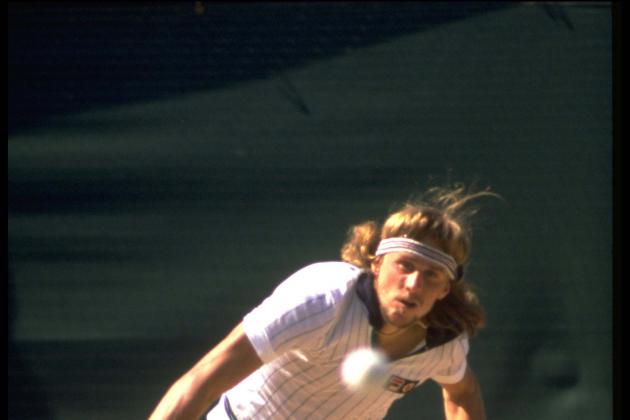 Tony Duffy/Getty Images

You will never see this GOAT again. Bjorn Borg brought superstardom to tennis and then took it with him long after his premature departure. Nobody has ever dominated the month of June like Borg's highwater glory.
He was a match made on clay. He brought fitness and coolness to another level. Fila should still pay royalties for his regal attire. No other image of 70s tennis compares, as if Zeus had decided to come down incognito as a tennis player.
Could anyone else have consistently hit massive topspin with a tiny wooden racket? Even his sometime ungainly serve and volley game at Wimbledon was a product of his tireless perfection.
Tennis mastery is not possible, but Borg was the prototype that still stands above all other copies.
Nobody before or since was greater than the Iceman. There are those who still remember the years when he collected his trophies from Paris to London, and wonder how many more may have been lost in the seasons that were never traveled.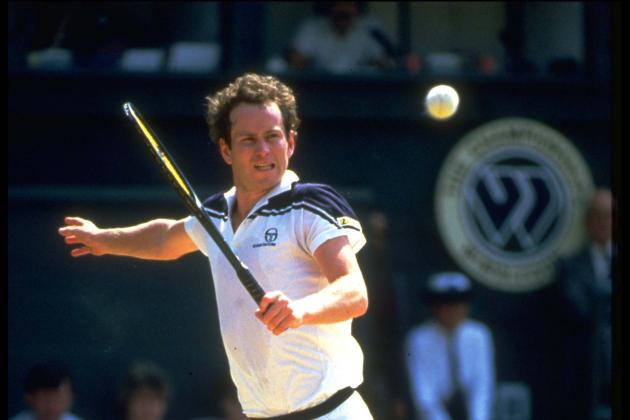 Steve Powell/Getty Images

You will never see this GOAT again. John McEnroe orchestrated magical tennis with both a wooden and graphite racket for five astonishing years.
His feet and hands were ballet. He could punch volleys as if he was playing billiards, and he could place a drop shot like a butterfly landing with sore feet. He found angles that defied geometry.
It didn't matter if you passed him at net. He would still come in at the faintest opportunity to smother your shots and humiliate your rhythm.
At his best, he played you like a genius with a yo-yo. At worst, he refused to back down, and was the most spectacular showman the game has witnessed.
Nobody before or since was greater than Johnny Mac. Somebody out there remembers what it was like for him to place his skinny arms on his short shorts and smirk at his own lack of perfection. And then he would go out and beat them all.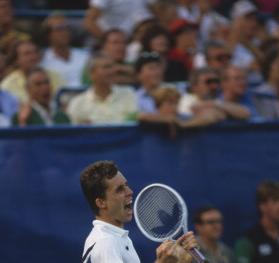 Trevor Jones/Getty Images

You will never see this GOAT again. Ivan Lendl may have been maligned, but his robotic demeanor and results were the real superpower in the mid to late 80s.
His forehand was an overpowering punch, like a delivery from Ivan Drago. It seemed to crack with a new kind of graphite thunder that just sounded bigger than everyone else's.
Why is his unique French and U.S. Open domination so completely overlooked? No other tennis player in the Open era won two titles on both surfaces, and no other player in the history of tennis won three titles on each. The media would have spilled gallons of ink for Borg or Federer.
He arrived too early to dominate the Australian Open, and his efforts to win Wimbledon became a symbol of failure rather than of admiration.
Nobody before or since was better than the stoic Czech. There are those who remember his tireless march to unacclaimed tennis glory, and they may have to verify that it happened.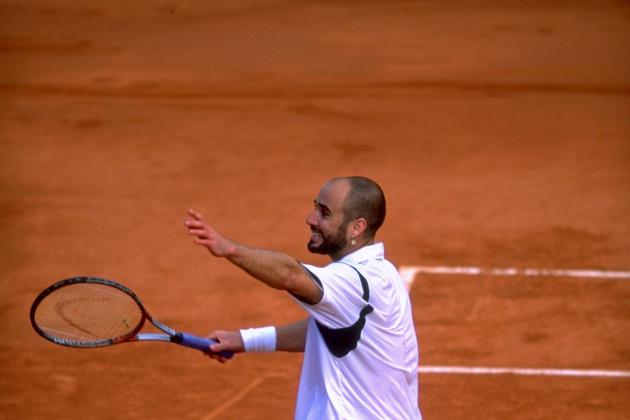 Stu Forster/Getty Images

You will never see this GOAT again. Andre Agassi created two careers of pure ball striking at the highest level that's ever been seen. Revolutionary Andre brought his flamboyant talent, and Evolutionary Agassi crafted his remarkable renaissance.
His early baseline play signaled that the traditional backboard player had about the same odds of survival as a dodo bird.
His 1992 Wimbledon masterpiece turned traditional tennis methods upside down, and sparked the vision of 21st century tennis.
He perfected the art of hitting a ball on its rise, smothered in topspin or garnished with changes of pace.
His sense of control was unparalleled, like watching Sugar Ray Leonard dance and box his way past those who simply could never match his talents.
Without Agassi, tennis suffered a dark ages from 1996-1998.
Even upon his return and completion of his career Slam, aging Agassi could always box his opponents into the far corners of the baseline and finish with a sweet backhand up the line.
Nobody before or since was greater than Andre the Giant. Whether you saw his flowing mane or his balding latter years, you will always see him stepping into a shot with his oversized racket as if he could hit enough balls to defeat the devil himself.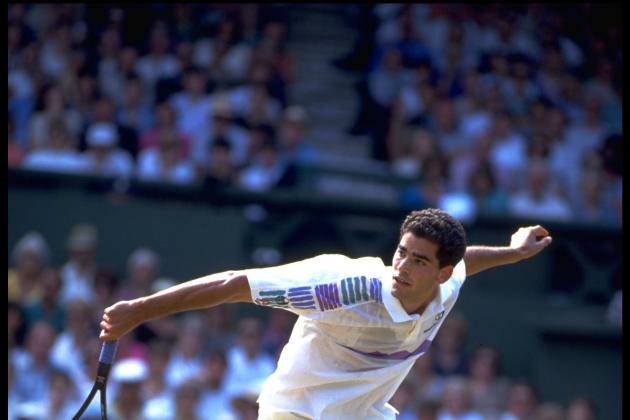 Chris Cole/Getty Images

You will never see this GOAT again. Pete Sampras quietly and thoroughly decimated 90s tennis with the most indomitable game the sport has ever seen.
His sweeping serve and athleticism belied his all-court skills and mental toughness. He was the King of Swing in the mold of the old Aussies, but with the technical precision of the computer age.
He owned Wimbledon with the most dominating presence since the invention of the A-bomb. An opponent looking to break serve was more likely to bat a bullet with a plastic spoon.
Returning serve off Sampras may have been the single most difficult task in tennis history.
Maybe his body could have held up better. Maybe he needed Agassi to peak more often. Maybe he could have avoided burnout. Maybe he could still play on the tour now if we were in shape.
Nobody before or since was better than Pistol Pete. There are those who know his skills to be without peer. They would tell you he was the man most impossible to beat. Even his records do not tell the tales.
A. Messerschmidt/Getty Images

You will never see this GOAT again. Since 2004, Roger Federer has changed tennis forever with a myriad of skills never to be seen again. His effect on tennis was like moving transportation directly from horse and buggy to landing on the moon.
His penchant for creating shots has rewritten tennis manuals. His imagination still defies what we think we know.
All of this has been skillfully performed as if some master computer had to sort through endless degrees of calculations to arrive time and again at perfect solutions.
You will never again see his style of tennis beauty, rhythm or adaptability. There was nothing he could not do as time, technology and opponents continued their assaults.
The gods may put 10 more years on the Mayan calendar just to watch him play into his forties.
Nobody before or since was greater than the Swiss Maestro. Many of us will one day tell his Grand Slam stories to explain feelings that cannot be described, only understood. Pull up a chair.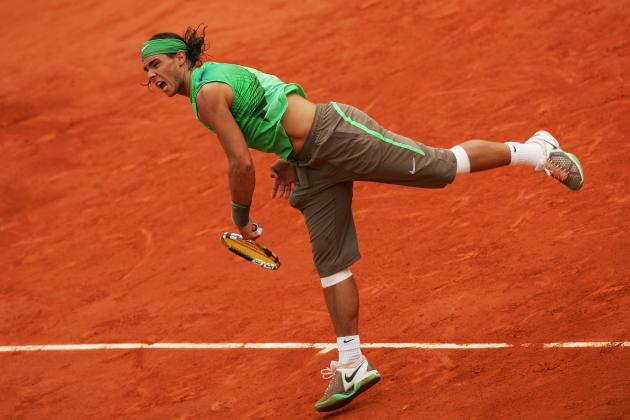 Matthew Stockman/Getty Images

You will never see this GOAT again. Since 2005, Rafael Nadal has dominated red clay no less than if he had conquered every square inch of Western Europe in some diabolical version of the board game Risk.
His physique is a conundrum of body-building power and athletic speed. Watch him slide into red clay with the ease of a skier. Then watch him spin a forehand as if he were turning a tennis ball into a meteorite.
He plays with self-made ingenuity, understood only by those who love and understand the mysterious intangibles to soccer and bull-fighting.
At his best on red clay, Nadal is the most unbeatable force since Genghis Khan. When he is human, he still finds time to win Grand Slam titles on grass and hard courts despite the critics.
Nobody before or since was greater than Rafa. Many of us will one day report anecdotes to illuminate the videos and statistics that have seemed all but impossible to equal.
Click here to read about pivotal matches that have defined tennis's history.