Roger Federer: Documenting the Greatness of a Living Legend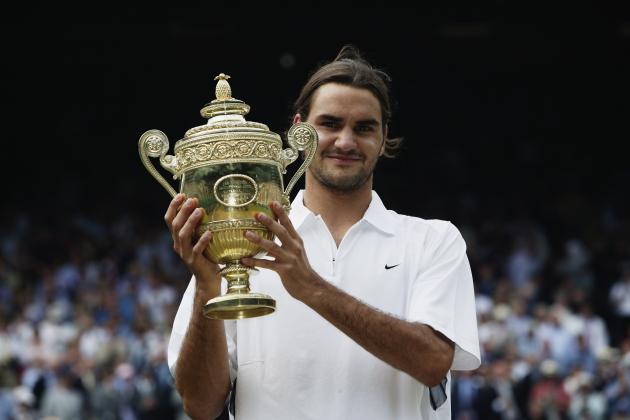 Alex Livesey/Getty Images
Federer following 2003 Wimbledon Title
"A tennis masterclass"
"A near faultless display"
"Completely dominant"
"Unleashed his full array of shots"
"Inspired play"
"Federer maintained his brilliance"
"Federer completed what promises to be the first of many Grand Slam victories"
The excerpts above were extracted from a prophetical article published by the BBC following Roger Federer's first Grand Slam victory, which came at Wimbledon in 2003 against Mark Philippoussis.
These vivid, crisp, concise descriptions of Federer's play would be unceasingly voiced for years to come.
The promise of this Swiss magician was vibrantly lucid in the eyes of the beholders of his magical grandeur.
The BBC made no mistakes in its visions for Federer. As we all are aware, Federer has captured 17 Grand Slams, eclipsing Pete Sampras' short-lived record of 14 and doing so with astounding pace and dominance.
In the eyes of many, Federer is the greatest player to ever to grace a tennis court with his presence.
In the following slides, I will attempt to explain and elaborate on the unique and remarkable qualities that have allowed Federer to assert his myriad of talents upon the tennis world.
This piece commemorates Federer eclipsing Pete Sampras's record for most weeks at World No. 1.— 287 and counting.
Begin Slideshow

»
"Genius is the ability to see things invisible, to manipulate things intangible, to paint things that have no features"
-- French Essayist Joseph Joubert
Roger Federer's genius has been fully characterized by his ability to come up with shots that defy even the most creative of imaginations. His ability to concoct seemingly impossible angles, spins and bounces has been well documented over the years.
He sees what others don't. He views every inch of the court as space he can use to leave his opponents begging for mercy. No shot is out of reach.
For Federer, the percentages are superfluous. His skill and talent have allowed him to operate in such a way in which every shot is high-percentage.
He can and will hit any shot from any position on the court. He knows no limits on the tennis courts—he's a legendary connoisseur, to say the least, willing to try anything and everything.
Federer has redefined the game of tennis, elevating it to new, unthinkable levels. He has amassed a sturdy list of shots that he can truly call his own.
His aggressive, first-strike ground game complemented by beautiful, fluent footwork provides Federer the means to ignite his unprecedented precision and accuracy.
In Federer's 2008 Australian Open match against Novak Djokovic, Federer hit a backhand winner to edge ahead in the third-set tiebreaker.
Martina Navratilova: "Roger did not have an angle and he made one up."
Justin Gimelstob: "That doesn't exist, that shot does not exist."
This is the essence of the Swiss. Doing not only what seems unrealistic, but going one step further—doing what no one even thought of.
"Never be in a hurry; do everything quietly and in a calm spirit. Do not lose your inner peace for anything whatsoever, even if your whole world seems upset."
-- St. Francis de Sales quotes (French Roman Catholic bishop of Geneva)
Roger Federer possess sublime maintenance of emotional homeostasis.
Throughout his career, Federer has established an immaculate middle ground between uncontrollable histrionics, a la David Nalbandian and Marat Safin, and futile apathy.
He displays no signs of tensions, fear, or stress. His complexion holds no answers and leaves many questions for his victims who are forced to unravel the undecipherable code of his emotions.
Negativity is not an option for the Swiss. But this was not always the case. Federer's temper served as a barbarian in his earlier years.
Channeling these outbursts and displays of inward animosity was critical for Federer as he matured into the Federer we know today.
The well-timed fist pump or "come on" is a staple of Federer's emotional state on the court as he turns inner motivation into positive energy.
The length and vigor of the tennis season necessitates the mental reserves of the top players to be extensive and resoundingly consistent-- an unwritten requirement that Federer surely has fulfilled many times over.
"Inward calm cannot be maintained unless physical strength is constantly and intelligently replenished."
-- Hindu Prince Gautama Siddharta, the founder of Buddhism, 563-483 B.C.
Roger Federer has broken records galore, with the list bound to continue. His accomplishments are singularly the most impressive of any tennis player.
17 Grand Slams, 287 weeks at No. 1, 23 consecutive semifinals—the evidence of Federer's greatness is well laid out.
But one accomplishment of Federer's, rarely discussed, that may provide the underlying reason for his success is his streak of matches without retirement.
This streak is one that has lasted his entire career. To clarify, Roger Federer has not retired from a single tennis match throughout his career on the ATP Tour.
It is a reflection of Federer's fitness and high level of stamina. He might not possess the muscle strength of a Rafael Nadal, but Federer never appears to have any semblance of fatigue or exhaustion.
Federer puts the work in the gym and it pays off on the court.
His physical resources are everlastingly abundant. In supplement, Federer, very much like Bjorn Borg, seems to have developed an immunity to sweating during the course of matches, a reflection of the low-input, high-output nature of Federer's game.
These physical capacities give Federer a meaningful calm, as he is aware that he has the ability to stay on the court till death—figuratively speaking of course.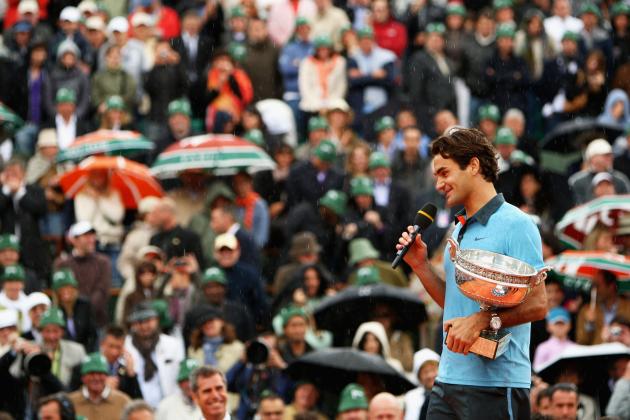 Clive Brunskill/Getty Images
2009 French Open
"The doubters said,
"Man can not fly,"
The doers said,
"Maybe, but we'll try,"
And finally soared
In the morning glow
While non-believers
Watched from below."

-- Bruce Lee
Tennis is inherently individualistic. You step on the court alone. You hit each shot in isolation. There is no sideline, no coach, no teammates.
Once you step on the court, your efforts are yours and yours alone.
With this point in mind, the limits and breaking points of tennis players are constantly scrutinized, and consequentially heavily doubted.
Roger Federer knows this better than anyone else.
Following the 2008 season and the 2009 Australian Open, many thought Federer's career was unraveling before our eyes at the hands of Rafael Nadal.
Federer, following a three-set loss to Novak Djokovic in Miami, made a rare dismissal of the hard-court season, stating "Thank God the hard-court season is over."
Previously in the same press conference, Federer stated "No one expects me to win."
Following this tournament, Federer went on to win the French Open for the first time and Wimbledon for the sixth time, expelling the doubt stemming from the purveyors of his decline.
But as 2010 spilled over into 2011 and 2011 into 2012, Federer suffered a historically long drought of not winning a major.
His age seemed to directly correspond with the lack of belief many had in his ability to capture another Grand Slam.
The world No. 1 ranking seemed to have left Federer, with no plausible return in sight.
But after putting together a marvelous end to 2011, capturing four titles and going on to win Wimbledon in 2012, Federer not only silenced his critics by once again overtaking the field for his 17th major, he cemented the record for the most weeks at World No. 1 (official on July 15, 2012).
Federer proved once more that he will stop at nothing. He wants every record to be his.
As for the losses, the doubters, the negativity, these all serve as motivation in achieving these goals.
He is an easily and readily lit fire, fueled by any medium that will allow him to strive for new heights and separate himself from the other greats of the game.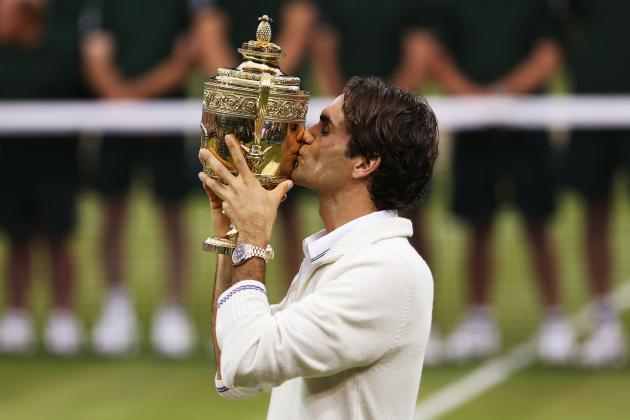 Julian Finney/Getty Images
2012 Wimbledon
One of the main components of Federer's game is his effortlessness.
As mentioned, Federer rarely shows signs of sweating or heavy breathing.
His strokes are so perfectly mechanized and smoothly struck as that they foster an effortless swing.
His movement is flowing, graceful, and simple.
He glides and eloquently transitions between shots with a multitude of swift, abbreviated steps, in contrast to a Robin Soderling or Juan Martin del Potro, who take relatively large steps and strides when moving to the ball.
With Federer, we know the Swiss gives it his all each time he steps on the court. But unlike a Nadal or a David Ferrer, his exertion level is not indicative of the amount of will and heart he is putting out.
This easygoing and fluent style of play is attributable to Federer's longevity, as he is able to put significantly less wear and tear on his body than virtually every other player on tour.
This is why at 30 Federer is still packing on the heat and making himself look like he's a 20-year-old when stepping on court against almost entirely younger opponents.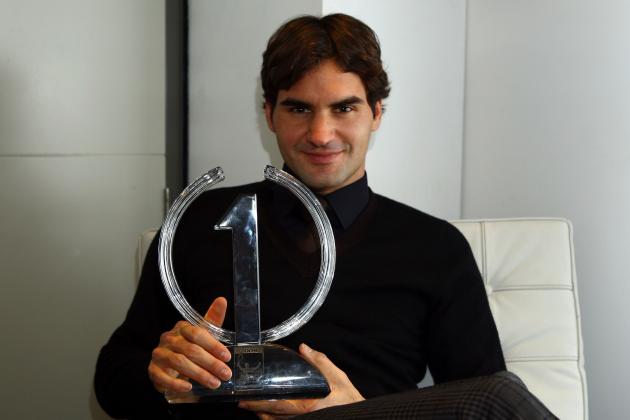 Julian Finney/Getty Images
World Number One Trophy
Records held by Federer
23 consecutive grand slam semifinals (2004 Wimbledon-2010 Australian Open)
24 Grand Slam finals
33 consecutive Grand Slam quarterfinals (Wimbledon 2004-present)
17 Grand Slam titles
237 consecutive weeks at No. 1
287 overall weeks at No. 1
Roger Federer is a model of consistency. He has performed at the utmost caliber for the last decade, rarely faltering on the biggest stages.
His quarterfinal and semifinal streaks are telling of his inability to produce an off day.
To beat Federer in a major, a virtuoso and masterful performance is needed.
Federer comes mentally suited for each and every match without fail. Much like Nadal and Djokovic, he leaves his defeats where they justly should remain—in the past.
"He is capable of hitting shots which other players don't even think about trying,"
-- Ivan Lendl on Federer's shotmaking prowess
"Roger is just the greatest player of all time," he said. He is the most beautiful player I've ever seen and I don't ever get tired of watching him. Rod Laver is my idol, Pete Sampras is the greatest grass-court player ever, but Roger is just the greatest player of all. I think we can all appreciate how incredible he is even more lately, because he's shown a bit more emotion on court and he's become a father so he seems a bit more human, more relatable. That makes what he's doing seem even more amazing."
-- John McEnroe on Federer's greatness
"You guys have tried to kill Roger—often. But he's always come back and proved you wrong. So one thing I would not do is make the mistake of saying Roger is dead."
-- Rafael Nadal on Federer's resiliency
"When you play tennis, playing Federer is kind of a dream because you can see he does everything you would love to do on the court. "
-- Fabrice Santoro on playing against Federer