Novak Djokovic: Loss of Energy and Focus the Main Culprit for Recent Woes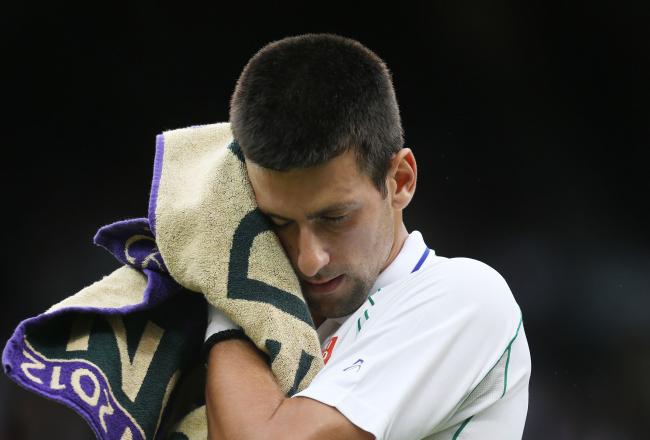 Clive Rose/Getty Images
The last few months have confirmed to the tennis world that Novak Djokovic is, in fact, a human being.
After dropping his second-straight Grand Slam event to the aging Roger Federer at Wimbledon in the semis last week, it's become clear that Djokovic has lost the intense focus and desire to be the best player in the world.
In 2011, Djokovic won three of the four Grand Slams and pulled off an insane 43-match winning streak (third longest all-time), and he followed that up with another win at the Australian Open this year.
There was no question he was the best player in the sport and was on the fast-track to tennis immortality. His five-hour-and-14-minute grueling victory over Rafael Nadal in the 2012 Aussie Open final was a prime example of how mentally tough and focused Djokovic had become.
He seemed unstoppable.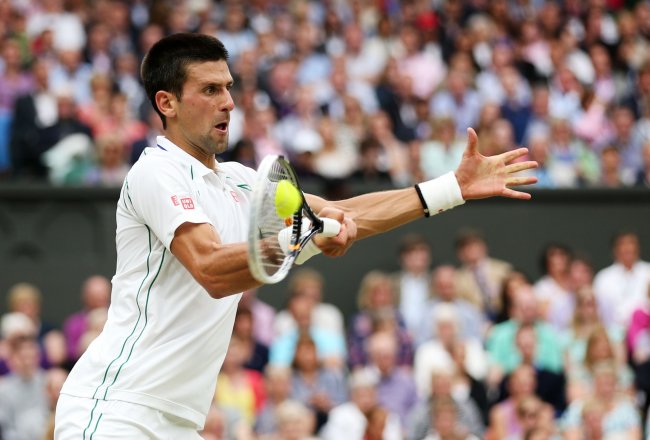 Clive Brunskill/Getty Images
Then his grandfather passed away in April. It hit him extremely hard, and he admitted to having "never been caught up in this kind of emotional situation before."
Since then, he has lost to Nadal at Monte Carlo, Rome Masters and the French Open; and now dropped Wimbledon to Federer.
Ever since his grandfather died, something seems to be missing from Djokovic mentally. After the crushing four-set loss to Federer on Friday, the Djoker decided to play a round of golf later that night according to the Daily Mail.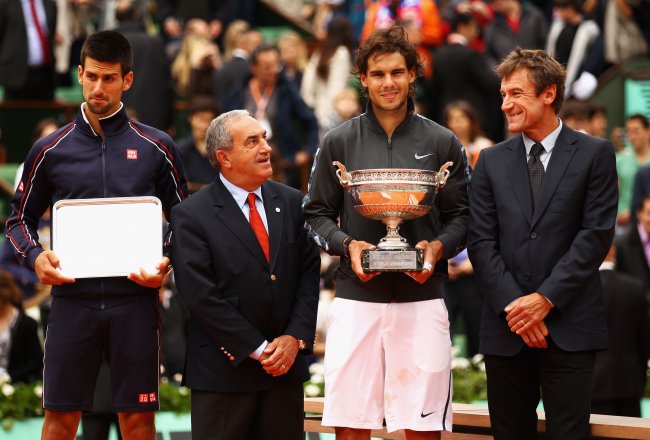 Clive Brunskill/Getty Images
Huh?
I'm not here to suggest this is the lone reason he has struggled recently, but there has been a direct correlation to his grandfather's death and a drop off in Djokovic's play.
Checkout what Craig O'Shannessy of the New York Times observed while watching him against Federer at Wimbledon:
Federer was the better player for most of their first grass-court encounter as Djokovic seemed to lack his usual mojo and positive body language that made him the most dominant player in the game for almost two years.
ESPN's Ravi Ubha had similar thoughts when talking about Djokovic's struggles against Fed-Ex's second serve:
When Will Djokovic Win Another Grand Slam?

It was clear that Djokovic, considered one of the game's best returners, was not himself. If Federer was as aggressive as Djokovic felt he was on the second serve, logic would dictate that a few double faults would result. They didn't. Federer hit none.
Body language, mental errors and an overall lack of focus are plaguing Djokovic right now, and they have been for three months now.
Has Djokovic's dominance of the previous 16 months allowed him to lose his edge? Is he not as dedicated to the game as last year after reaching the mountain top? Or has his grandfather's death taken a severe mental toll that he has yet to get over?
My guess is that it's likely a combination of all three. He still has the athletic talent to curb this recent slump, but it has become clear Djokovic is no longer the unstoppable force of a year ago.
The real question that remains: Will Djokovic ever recapture what he has lost?
This article is
What is the duplicate article?
Why is this article offensive?
Where is this article plagiarized from?
Why is this article poorly edited?