How Will Boise State's Rebuilt Defense Perform in 2012?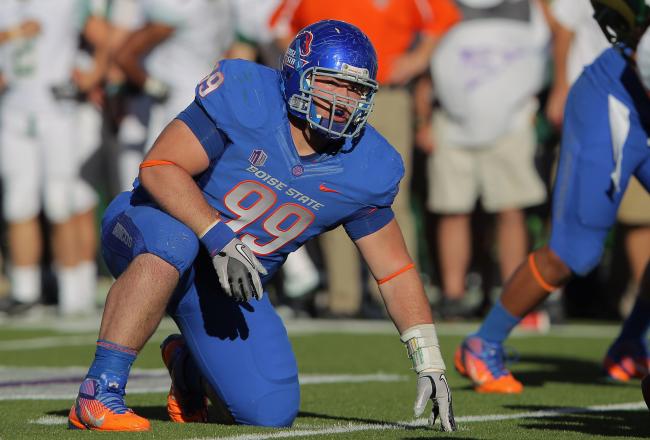 DT Michael Atkinson will be asked to step up and become a leader of Boise State's defensive line in 2012
Doug Pensinger/Getty Images
Many of the questions people have been asking about the Boise State football team this offseason have centered around how the Broncos will make up for the loss of their dynamic backfield duo of quarterback Kellen Moore and running back Doug Martin.

Moore, who set the college football record for most career wins in 2011, and Martin, who ran for over 1,200 yards in each of his final two seasons and ultimately ended up being selected in the first round of this year's NFL draft, will clearly be extremely tough to replace.
However, the two talented star backfield mates aren't the only key players Boise State will have to replace for the upcoming 2012 season.

In fact, you could make the argument that the losses the Broncos experienced on the defensive side of the ball were just as devastating as losing Moore and Martin was.

This offseason, coach Chris Petersen and his staff will have to figure out how to replace nine defensive starters from the 2011 season, including 12 of the unit's top 16 tacklers.

Last year's defense was packed with plenty of reliable and dependable veteran playmakers, and the results reflected that, as the Broncos ended up ranking 12th nationally in scoring defense and 16th in total defense, allowing just 18 points and 320 yards per game.

This year's group, however, will feature a ton of new faces.

Up front, all four starters from the 2011 defensive line will have to be replaced. That includes three NFL draft picks—DE Shea McCellin, who was selected in the first round of this year's draft, DE Tyrone Crawford, who was taken in the third round, and DT Billy Winn, who was scooped up in the seventh round.

Last season, McClellin, Crawford, Winn and fellow starter Chase Baker combined to rack up 16.5 sacks and 20 tackles for loss and they formed a defensive front that allowed just 110 rushing yards per game.

Now, the defensive front-four will look completely different in 2012.

Manning the outside spots will likely be 6'4'', 218-pound redshirt freshman Samuel Ukwuachu and 6'4'', 248-pound sophomore Demarcus Lawrence, a highly rated JUCO recruit from Butler Community College.

Ukwuachu and Lawrence are two tall, athletic edge-rushers who are loaded with potential, but between the two of them, they have taken exactly zero snaps as a member of the Boise State defense, so they still have plenty to prove.

The Broncos also have three other intriguing ends—6'3'', 280-pound senior Darren Koontz, 6'2'', 255-pound sophomore Beau Martin and 6'5'', 273-pound sophomore Tyler Horn, who will likely play a prominent role in the defensive line rotation as well.

Taking over at the defensive tackle spots will be 6'3'', 298-pound junior Ricky Tjong-A-Tjoe and 6'0'', 311-pound senior Michael Atkinson.

While neither of them are known for their agility or quickness, Tjong-A-Tjoe and Atkinson are both big, powerful tackles that should be able to make a seamless transition to the starting lineup and give the Broncos two robust run-stuffers who have the ability to consistently clog up running lanes.

Mixing the speed and athleticism of Lawrence and Ukwuachu on the edges with the size and strength of Tjong-A-Tjoe and Atkinson in the interior should provide some much-needed balance for Boise State's defensive line in 2012.

Lining up behind the front-four will be a linebacking corps that includes one of Boise State's key defensive leaders, weak-side linebacker JC Percy, along with two new starters—middle linebacker Blake Renaud and nickel linebacker Jonathan Brown.

Percy, a 6'0'', 223-pound senior, is the team's leading returning tackler after piling up 48 tackles in 2011.

Renaud, a 6'2'', 250-pound sophomore, and Brown, a 5'10'', 216-pound junior, don't possess the potential to be standout stars, but both of them should develop into valuable defensive contributors this season.

The defensive front-seven may feature a ton of new starters in 2012, but overall, it's a unit that's loaded with plenty of talent and potential, and it should grow into a solid and cohesive group over the course of the season.

The real key unit to watch in 2012 will be the defensive backfield. One of Boise State's biggest weaknesses last year was its pass defense, as the Broncos gave up an average of 210 passing yards per game in 2011.

The secondary's most embarrassing performance came against TCU, when quarterback Casey Pachall and receivers Josh Boyce and Brandon Carter tore up the blue turf, racking up 473 yards and five touchdowns through the air in the 36-35 victory.

This year's group will be led by returning starter, CB Jamar Taylor, who notched 27 tackles and picked off two passes in 2011.

The loss of athletic and fundamentally sound safety George Iloka, who was selected in the fifth round of this year's NFL draft, definitely hurts. However, the team does have two talented sophomores—Jeremy Ioane and Lee Hightower—who are ready to step in and guard the back end.

It also helps that senior cornerback Jerrell Gavins, who played in just three games before going down with a season-ending injury in 2011, will be back to complement Taylor on the other side of the field.

The secondary obviously has to be the defense's biggest concern going into the season, especially since the 2012 schedule includes matchups with quarterbacks such as Michigan State's Andrew Maxwell, Miami of Ohio's Zac Dysert, BYU's Riley Nelson, Fresno State's Derek Carr, Wyoming's Brett Smith and Nevada's Cody Fajardo.

If you look back over the past six years of the Chris Petersen era at Boise State, you'll see the Broncos have routinely put out a stingy defense, especially recently, as they've finished ranked in the top 20 nationally in total defense in each of the past four seasons.

That streak will likely come to an end in 2012, just based on the fact the Broncos will have so many new defensive starters this season; plus the fact they'll be facing some potent and dangerous offenses such as Michigan State, BYU, Fresno State and Nevada.

Still, even though Boise State will take some time to gel as a complete defensive unit this season, there's surely still enough talent for third-year defensive coordinator Pete Kwiatkowski to work with this season.

If young players such as defensive ends Lawrence and Ukwuachu, linebacker Renaud and safeties Ioane and Hightower all step up, handle their new starting roles and play well this season, Boise State will have the type of capable defense that it needs to win at least 10 games and take home a Mountain West championship in 2012.
This article is
What is the duplicate article?
Why is this article offensive?
Where is this article plagiarized from?
Why is this article poorly edited?

Boise State Football: Like this team?