Campbell's Hall of Fame Tennis Championships 2012: 6 Men Who Can Beat John Isner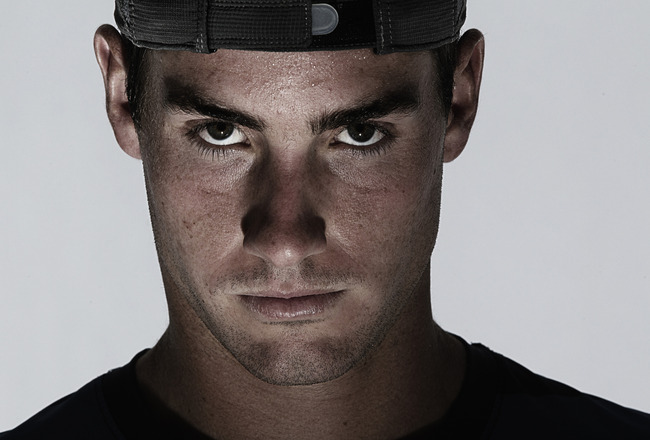 Clive Brunskill/Getty Images
While most of tennis's elite will be skipping the Campbell's Hall of Fame Tennis Championships in Newport, Rhode Island this week in order to prepare for the Olympics, the road to victory will not be an easy one for the tournament's competitors due to the presence of one man: John Isner.
Isner, the top-ranked American in the world (No. 11) and the tournament's defending champion, is the best player in the tournament by a somewhat sizable margin. Only one other top-20 player will play in the tournament, and Isner only has one challenger who has won more titles.
Still, Isner's victory is far from a lock. He has played progressively worse in each of this year's three Grand Slam events, culminating in a first-round Wimbledon loss to Alejandro Falla.
He also hasn't won a title since last year's Winston-Salem Open, though he reached the finals at both Indian Wells and the US Men's Clay Court Championships this year. And though much of Isner's top competition at Newport are short on titles, they represent some of the brightest and most promising young talent in the sport.
Here is a look at the six opponents with the best chance to prevent John Isner from repeating at Newport.
Ryan Harrison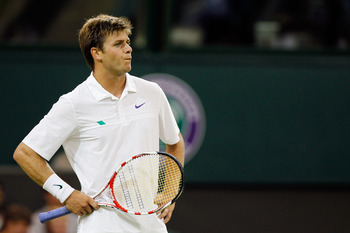 Paul Gilham/Getty Images
Ryan Harrison has been a rising star in tennis since he won his first ATP tournament at the age of 15, the 10th player in tour history to win a tournament before turning 16.
Since then he has usually only lasted to the first or second round of tournaments, but has twice reached the fourth round of Indian Wells, and has climbed to a No. 48 ranking.
Harrison was granted the final wild-card spot in the Hall of Fame Tennis Championships. He has found success in Newport in the past, winning the doubles tournament with Matthew Ebden in 2011. He is also coming off an impressive victory in the first round of Wimbledon over Yen-Hsun Lu before losing to Novak Djokovic in three straight sets.
Harrison last faced Isner in 2010 at the Regions Morgan Keegan Championships in Memphis, where Isner defeated Harrison 6-1, 7-5. Harrison was undone in that match largely by double faults (six to Isner's one), but his game has improved dramatically since then.
He would offer a much bigger challenge to Isner if they meet in the tournament semifinals than he has in the past.
Olivier Rochus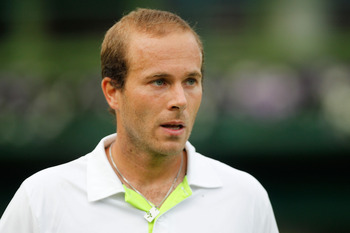 Paul Gilham/Getty Images
On paper, Olivier Rochus wouldn't seem to offer much of a threat to John Isner's title defense.
The 31-year-old Belgian is coming off a first-round Wimbledon loss to Nicolas Almagro, hasn't won a title since 2006 and is currently ranked No. 104.
Yet there's something about Newport that Rochus likes. He has reached the finals of the Hall of Fame Championships in each of the last two years, losing last year to Isner 6-3, 7-6. He also reached the final of this year's Heineken Open in Auckland, New Zealand, marking the fourth year in a row that he's reached the final of a tournament.
Rochus is running out of time in his quest to notch a few more tournament victories, but after coming so close in two consecutive years, this year's Hall of Fame tournament offers his best chance to win a singles tournament for the third time in his professional career.
Milos Raonic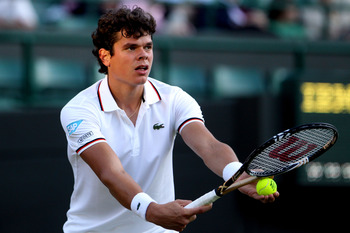 Dan Kitwood/Getty Images
Seeded third in the tournament, Milos Raonic could be a major problem for Isner in the semifinal round.
Only 21 years old, Raonic has one of the very best serves on the ATP Tour, serving more aces and winning a higher percentage of service games than anyone else on the tour in 2012.
Raonic has climbed to a ranking of No. 23 in the world and has a 27-10 record in 2012, including titles at the SAP Open in San Jose and the Aircel Chennai Open.
An Isner-Raonic matchup is an intriguing proposition. At 6'9" and 6'5" respectively, they are two of the biggest men on the tour, and each delivers a blistering serve. The two bombers have yet to play each other, and a win by Raonic over Isner would further cement Raonic's reputation as one of the best and most exciting young competitors in the sport.
Kei Nishikori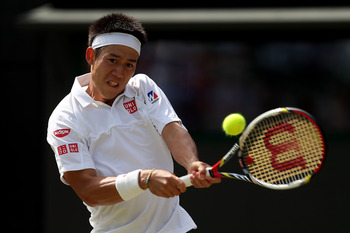 Clive Rose/Getty Images
The only top-20 player in the tournament besides Isner, Nishikori has had a strong start to the 2012 season, reaching the quarterfinals at the Australian Open, the third round at Wimbledon, the fourth round at the Miami Masters and the quarterfinals at the Copa Claro in Buenos Aires.
Nishikori hasn't won a title since the 2008 Delray Beach International, but he reached two finals in 2011 and has shown major improvement in his game over the past two years. He's 17-10 on the year and has already earned $477,467.
Nishikori is almost a foot shorter and a hundred pounds lighter than Isner. Unlike Isner, who can dominate with his serve, Nishikori double-faults more often than he aces.
Still, Nishikori is playing better this year than just about anyone who hasn't won a tournament, and without a top-50 player in his path at Newport until at least the semifinals, Nishikori is one of the biggest threats to Isner's chance to repeat.
Denis Istomin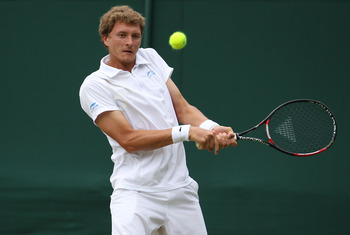 Dan Kitwood/Getty Images
Denis Istomin has been on a bit of a roll lately.
He just missed the quarterfinals of Wimbledon in a heartbreaking fifth-set loss to Mikhail Youzhny, destroyed Igor Kunitsyn in the first round at the French Open before falling victim to Rafael Nadal, reached the fourth round at Indian Wells, lost in the final of the SAP Open in San Jose to Milos Raonic and reached the semifinals of the Apia International Sydney.
He's reached the ranking of No. 34 in the world, the highest of his career, and comes into Newport as the fourth seed.
Istomin hasn't played Isner since July 2009, when Isner defeated him 6-4, 6-4 in Indianapolis, but Istomin's career took a big step forward shortly after the loss when he reached the third round of the U.S. Open.
Istomin hasn't been ranked outside of the top 75 since September 2011, and he has been in the top 45 since March. He has yet to win his first career title, but based on the way he has played lately, he has as good a shot as anyone to take Isner's crown.
Lleyton Hewitt
Clive Rose/Getty Images
Lleyton Hewitt has done something John Isner has yet to do—win a Grand Slam event—and he's done it three times (twice in singles and once in doubles). His stock has fallen pretty dramatically since his last Slam title in 2002, and he is currently ranked 233rd in the world.
But Hewitt is actually more of a threat than he appears.
He was defeated in the first round of Wimbledon, but this was largely due to his unlucky draw of Jo-Wilfried Tsonga.
He reached the quarterfinals of the Australian Open, defeating Andy Roddick and Milos Raonic in the process before losing to Novak Djokovic. He lost in the first round at the French Open, historically his weakest Slam event, but he kept the match close against Blaz Kavcic.
It's been two years since Hewitt's last title at the Gerry Weber Open in Halle in 2010, and he hasn't won two titles in a season since 2004.
Still, Hewitt has had by far the most successful career of any of Isner's potential challengers at Newport, and Rusty proved at the Australian Open that he still has the talent to beat some of the sport's elite competitors.
Keep Reading