Philadelphia Phillies: End of a Golden Age of Baseball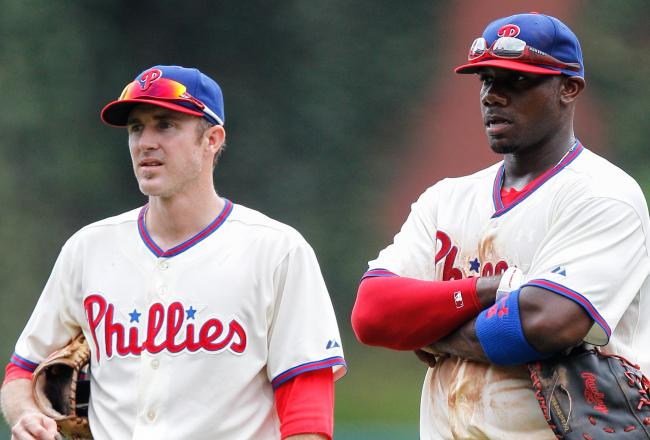 Brian Garfinkel/Getty Images
As the 2012 Philadelphia Phillies season continues to unravel, the Phillies faithful who fell in love with a core group of players six years ago and watched them rise from perennial also-rans to perennial serious contenders—and even World Champions of Baseball in 2008—must now accept a July, August and September with meaningless baseball.
The fanbase must now understand the window has been slammed shut. That may actually have happened when Ryan Howard had the single worst at bat in the history of the franchise on October 7, 2011.
Not only did Howard, for the second season in a row, make the final out at home with the season on the line but this time he blew his Achilles tendon running out of the box. An injury which pretty much doomed the 2012 season and ended the 2011 season.
2012, without Howard, and without Utley—a nice surprise the star second baseman sprung on the team in spring training—has been an unmitigated mess.
The goodwill and great feelings that started in 2003 with the free agent signing of Jim Thome and continued through Howard's disastrous last at bat in 2011, have all evaporated.
You can once again hear the obnoxious "E-A-G-L-E-S EAGLES" chant at Phillies home games again.
Those feelings evaporated with two final at bats by Ryan Howard one a strike out looking, another a feeble grounder to second.
Phils' skipper Manuel went from Buffoon to Genius and Back during his tenure
Drew Hallowell/Getty Images
They evaporated with Ruben Amaro, Jr. trading Cliff Lee away the day after signing Roy Halladay in 2009. Having Halladay and Lee as a one-two punch against the Giants in the NLCS would've been nice, huh?
They evaporated with Lee blowing a four run lead in game two of the NLDS against St. Louis in 2011 a game that was the turning point of the series.
They evaporated with Amaro doing nothing to improve the team in 2011 offseason, instead trying to put band aids on open wounds.
They evaporated with a bullpen that may be the worst in the history of baseball.
The team continues to spiral and the manager Charlie Manuel seems to have no answers. Manuel, who should be allowed to finish the season and then be put to pasture, wasted so many opportunities.
The saying goes Manuel won a World Series in 2008 and then lost the World Series in 2009 and 2010. He was out managed in both instances once by Joe Giradi and once by Bruce Bochy.
Manuel had some of the greatest talent ever assembled by the Phillies: Rollins, Utley, Howard, Hamels, Lee, Lidge, Halladay, Thome, Ruiz, Oswalt and walked away with one World Series victory.
Amaro inherited a World Champion from Pat Gillick and made moves to add to its firepower on the mound but ignored the bullpen.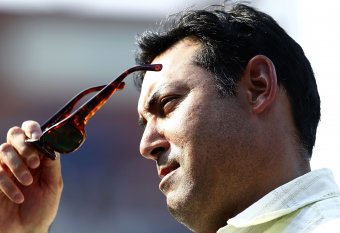 Most of Amaro's Moves Have Not Panned Out
Jeff Zelevansky/Getty Images
Milt Thompson was fired as the hitting instructor, yet Greg Gross kept his job and had his contract extended after the hitting went into the toilet under his watch.
Manuel, who is supposed to be a hitting genius, somehow never got through to his players about how to hit anything but home runs.
We, as a city, were treated to some amazing times between 2006 and 2011, but every year except for one the team fell short.
It was like going up a ramp. Falling short of making the playoffs during the last weekend of the season in 2006, making the playoffs on the last day of the season in 2007. Winning the World Series in 2008. Winning the NLCS in 2009. Winning the NLDS in 2010. Making the playoffs in 2011.
How bad can it be in 2012?
It was an incredible run for sure. Six great seasons. Memories were made. Philadelphia became a baseball city and Phillies games were nightly events in those summers.
But it's all gone now. The promise of multiple championships that started with the parade in 2008 is now just a faded memory.
After the most recent golden age of baseball, 1975-1983, that came to a close with a World Series loss to the Baltimore Orioles, the Phillies made the playoffs just once more, that magical season of 1993, before making them again in 2007. That's 23 of 24 seasons missing the playoffs.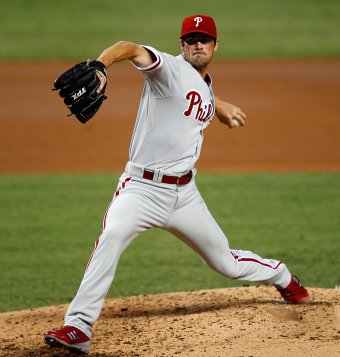 Ace Pitcher Cole Hamels Will Soon Be Taking His Talents Elsewhere
Sarah Glenn/Getty Images
Hopefully the next golden age of baseball in Philadelphia is not that far away. Who knows? There seems to be no plan in place. There were hopes for 2012 that once Utley and Howard were back in the lineup things would change, yet they only got worse.
The only thing on the horizon that seems imminent is the team will lose their best pitcher Cole Hamels to free agency which is a huge hole to fill considering how godawful their bullpen is and how old their other two "aces" Halladay (on the DL with a muscle injury) and Lee (who didn't record his first victory in 2012 until July 4th) are.
There's no doubt about how amazing and magical 2006-2011 was. You cannot overvalue those times and those memories. But the party's over, the windows closed.
Thanks, that was fun.
This article is
What is the duplicate article?
Why is this article offensive?
Where is this article plagiarized from?
Why is this article poorly edited?

Philadelphia Phillies: Like this team?