Nonito Donaire vs. Jeffrey Mathebula: Live Blog from Home Depot Center in Carson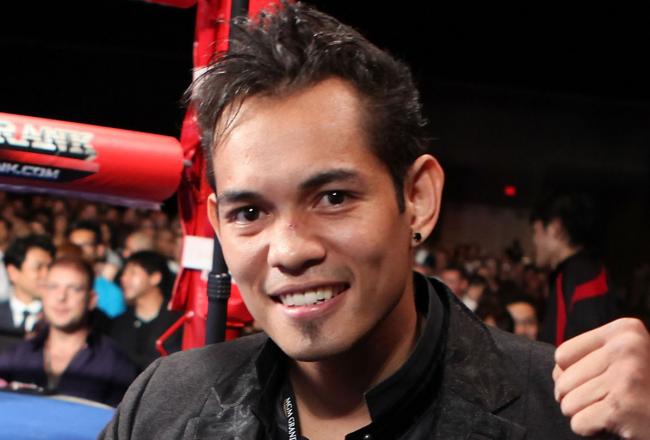 Jeff Bottari /Getty Images
WBO super bantamweight champion, Nonito Donaire (28-1, 18 knockouts), aka the Filipino Flash, is back in the ring this Saturday, July 7th, against South African IBF super bantamweight champion Jeffrey Mathebula (26-3-2, 14 knockouts) at the Home Depot Center in Carson, California.
This world title unification fight can be seen live on HBO Boxing After Dark at 10:00 p.m. (live ET/tape-delayed PT).
The HBO Boxing After Dark commentator team will include: Bob Papa, Max Kellerman and Roy Jones Jr.
Mathebula, from Johannesburg, goes by the moniker "Marvelous Mongoose." He is coming off of a close split decision win over his fellow country man Takalani Ndlovu, a former champion who defeated him two years ago.
Mathebula has only fought outside of his native land four times. Should he defeat Donaire Saturday, he will become the first South African fighter to be a unified world champion.
Mathebula has been listed as being as tall as 5'10". The press photos where he is standing next to Donaire make it evident that he will be towering over him on Saturday night.
It will be interesting to see how Donaire deals with fighting a much taller opponent this time around.
Donaire is widely regarded as one of the top-pound-for-pound fighters in the world. Many publications have him as high as #3 or #4 on rankings list.
Nonito is also the most wanted man in the 122 lbs and even 126 lbs weight division, all while not even having fought above 122 lbs so far. This will be his fourth time fighting on HBO.
Also on the televised portion of HBO's Boxing After Dark will be heavy handed former middleweight champion Kelly Pavlik. Pavlik will be taking on Edwin Rodriguez, replacing the previously scheduled Brandon Rios vs. Mauricio Herrera fight.
Friday Afternoon at the Weigh-In:
All fighters made weight. Donaire weighed in at 121.4 lbs, and Mathebula 121.8 lbs.
Both fighters meant business as they stared each other down, but there definitely is a lot more respect than the intense bad blood in Donaire's last fight against Vazquez back in February. Donaire had to look upward to stare down Mathebula, displaying the significant height advantage of the South African champion.
Kelly Pavlik and Edwin Rosinsky both weighed in at 168.2 lbs.
King J will be live ringside at the Home Depot Center in Carson, California and will be updating his blog with breaking details from the fight night. Continue to check back in for additional real time updates and real time photos. Follow King J on Twitter at: @KingJ323
Now off to the post fight conference hit me with your questions if you have any.
Most of the crowd walks out before the decision is even announced? In the mob walking up the stairs was a casually dressed Jim Lampley wearing shirt and jeans.
117-110, 118-109, 119-108 unanimous decision Nonito Donaire!!!!
Round 12:
Donaire to the body.
They tie up Nonito punches his way out landing to the side/back of his head.
Nonito's still looking for a KO not setting anything up?
Jeffrey lands 3 jabs down the middle.
Nonito fires a big straight snaps Jeffery's head back and tries to finish him off but he's backing up and blocking again.
Nonito throwing huge wild punches in the final seconds most miss wildly.
Nonito's round.
I have it 9-3 for Donaire
Round 11:
Nonito going to the body cause Mathebula's guard is up high, he lands to the body with 2 shots.
Nonito lands 2 big shots has Mathebula backing up walking backwards all over the ring doing laps actually.
Crowds booing.
Nonito presses him against the corner but he's all blocked up with his guard.
Crowds chanting: NONITO NONITO!
Nonito's round
Round 10:
Nonito counters Mathebula hard at the opening of the round.
They tie up and Nonito swings Mathebula into the ropes.
Nonito lands upstairs.
Mathebula still backing up and jabbing.
Nonito still seems to be looking for that right opening while Jeffreys throwing punches most missing and blocked but he's more active.
Close round Nonito landed the harder shots. Nonito's round
Round 9:
Mathebula jabbing Nonito just waiting.
Nonito is waiting for that one big shot but he's not doing much so far.
Crowd is booing.
Mathebula throws a series of punches most evaded but the last few land as Nonito is coming in.
Nonito stalking but not throwing much at all, Jeffrey jabbing as he's coming in.
Nonito did not do much again this round and took most of it off.
Mathebula's round
Round 8:
Nonito showboating and taunting Mathebula for blocking excessively and running backwards and the crowd laughs.
Mathebula gets a right hand landed down the middle.
Crowds booing Mathebula for running backwatds and hiding and not willing to engage with Nonito.
Mathebula lands a left hand at the end.
Nonito took most of this round off so we can give this one to Mathebula.
Round 7:
Jeffrey jabs Nonito ducks and dances.
Jeffery jabbing and moving backwards might not be pretty but its working so far for him this round.
Nonito lands a big left that snaps Mathebula's head all the way backwards crowds OOOOOHHHS!
Jeffrey jabbing Nonito just going for that big KO.
Nonito goes up stairs and then follows with a big left hook combo.
Nonito to the body.
Nonito's round
Round 6:
Jeffrey lands a big right as they trade.
Donaire lands a big left hook that makes Jeffrey jump up backwards.
Nonito lands a big right hand that made everyone scream, Mathebula counters with a left as well.
They are standing in the center of the ring timing each other.
Mathebula lands a right and Donaire goes for the attack pressing him against the ropes.
Donaire's round
Round 5:
Donaires trying to end the fight now going after the attack. Mathebula is backing up throwing jabs.
Donaires eating them walking thru and attacking.
Jeffrey got a good right hand to the cheek of Nonito but he's still coming forward.
Nonito throws 2 big shots they land and the crowd goes OHHHHH!!!
At the bell Nonito acts like he's hurt very exaggerated like a video game and then throws a big left that lands at the bell. Crowd loves the animation.
Nonito's round
Round 4:
Nonito opens up with a huge left hook followed by 2 upper cuts crowd is cheering on!
Jeffrey lands 2 jabs down the middle.
Nonito lands a big right and then and upper cut. Crowd goes OOOHHHH!!!!
Nonito drops Mathebula hard at the bell and crowd SCREAMS!
Mathebula beat the count but he looks like he's almost done?
Round 3:
Jeffrey took the full time possible to get up from his stool for this round?
Nonito throws another upper cut followed by another one.
Flash goes to the body and Mathebula is pretty much just backing up.
Jeffrey lands a left to Nonito coming in.
Nonito goes to the body and Jeffrey sneaks a jab upstairs.
Nonito then dances to evade punches and the crowd cheers and laughs.
Jeffrey throws 2 quick jabs.
Nonito's round
Round 2:
Jeff opens big and misses wildly.
Nonito seems to be waiting to counter so far this round.
Nonito lands a big right and another big upper cut and the crowds chanting NONITO NONITO NONITO!
Flash lands 3 big shots and tries to follow up but Jeffreys backing up to avoid them.
Flash stalks him as he backs up and lands another upper cut sneaked in right up the middle.
Nonito's round
Round 1:
Nonito opens up with a big left hand upper cut that seemed to partially land crowd screams!
Jeffrey jabs to try to keep Nonito off him.
Jab Jab Jab by Mathebula.
Nonito is all power shots so far.
Nonito to the body.
Nonito goes for bad intentions and lands Jeffrey holds on to stop him. Crowd is going OOOHHHH!!
Mathebula lands a good left hook to Nonito's cheek.
Nonito goes for a big left hand has Mathebula backing up.
Nonito's round
Many in attendance and fans at home are saying Nonito's choice of Yellow & Black is a homage to the legendary Bruce Lee flick Game of Death when he wore the same colors and took on the much taller opponent Kareem Abdul Jabbar
Nonito Donaire enters the ring last. Obviously the crowd favorite with the house cheering him on. He's wearing Yellow and Black colors.
Crowd here are on their feet awaiting the main event.
Mathebula enters first to want seemed like some traditional tribal music and then a more modern dance track. Mathebula looks tall in that ring. With hi hood on he looks like a middleweight.
Marco Antonio Barrera, legend Julio Cesar Chavez, 122lbs champion Nishioka all in the house.
Here at the Home Depot Center after the completion of the Pavlik/Rosinsky fight the stadium is for the most part not that full. There are about 6 whole sections that are completely empty.
This should be a good indication to Bob Arum and Top Rank to finally let Nonito fight in his backyard up in the Bay Area.
Alright fight fans we are here at the Home Depot Center in Carson, California.
Kelly Pavlik has just defeated Rosinksy by 97-92, 98-91, 98-91 Unanimous Decision.
Rosinsky had his moments but Kelly had the power and knocked scored a knockdown and had him hurt.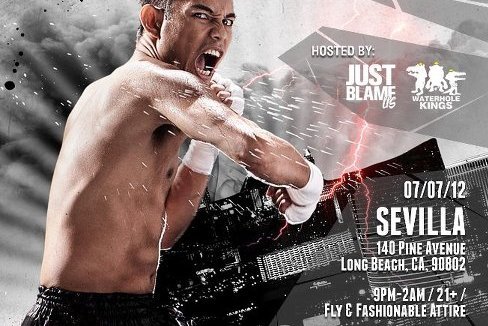 WBC 122 lbs champion Abner Mares will be in attendance at the Home Depot Center to watch the fight.
Many fight fans have been wanting a showdown between Donaire vs Mares.
Former WBC female lightweight champion Mia St. John will be in attendance tonight, she will be fighting Christy Martin next month in their highly anticipated long awaited rematch.
Top Rank has announced that an official after party for Nonito Donaire will be in Long Beach at Sevilla.
This article is
What is the duplicate article?
Why is this article offensive?
Where is this article plagiarized from?
Why is this article poorly edited?