Wimbledon 2012: Why Andy Murray Is Poised to Win His 1st Championship
July 3, 2012

Paul Gilham/Getty Images
Andy Murray has been so close, yet so far in his attempts to capture his first Wimbledon title.
For the past three years, Murray has strolled to the semifinals and then crashed out to the superior Rafael Nadal (2011 and 2010) and Andy Roddick (2009).
This time around, he has marched his way to the quarterfinals and remains relatively unscathed. He romped to victory against the unseeded Nikolay Davydenko in straight sets. From there, he maneuvered his way past the unseeded Ivo Karlovic, 7-5, 6-7, 6-2, 7-6.
In the third round, he took on another unseeded player in Marcos Baghdatis, who he defeated 7-5, 3-6, 7-5, 6-1.
Finally, in his fourth-round matchup, he clinically dismantled the 16th-seeded Marin Cilic in straight sets, 7-5, 6-2, 6-3.
Murray will now face seventh-seeded Spaniard David Ferrer, who took down former US Open champion Juan Martin del Potro in comprehensive fashion (6-3, 6-2, 6-3). The two have met on 10 previous occasions, and the series is currently even at 5-5.
Murray may have the upper hand at Wimbledon since this is the first time Ferrer has made it to the quarterfinal stage.
Victory is by no means a formality, but if he can show some of the form that has earned him his high ratings on grass, Murray should get the job done.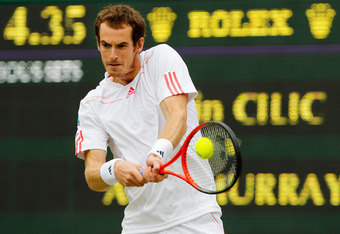 Paul Gilham/Getty Images
He will rely on his consistent backhand and his strong first serve in order to propel him into the next round.
Should he make it to the semifinals, the draw is significantly in his favor. There he would either play 27th-seeded Philipp Kohlschreiber or fifth-seeded Jo-Wilfried Tsonga.
He will not have to come up against the No. 3 seed (Roger Federer) or the No. 1 seed (Novak Djokovic), until the final.
If he can get past the curse of the semifinals and into his first final, Murray will have his work cut out for him against one of the world's best.
While it will certainly be a stretch for Murray, he can take some hope from the fact that Federer has been struggling with a back problem he sustained in his match with Xavier Malisse, and that he leads 3-2 in finals against Djokovic.
With the Wimbledon crowd willing Murray on to become to first British men's champion since Fred Perry in 1936, this could be his best chance.