Can Darius Morris Be an Impact Player for the Los Angeles Lakers Next Season?
July 3, 2012

Harry How/Getty Images
In a move to bolster the Lakers' backcourt, GM Mitch Kupchak re-signed 21-year old Darius Morris to a qualifying offer on Monday at $962K for the 2012-13 season.
A widely anticipated move given the uncertainty rising from Ramon Sessions' opt-out and bid for free agency, the Morris signing gives the Lakers a back-up plan in their pursuit of a starting point guard for next season.
But can Morris carve himself an impact role in the Lakers' rotation next season?
I, for one, was ecstatic when the Lakers drafted him in the second round last year. A 6'4'' playmaker with size, length and court vision who can get to the lane and finish at the rim.
Unfortunately, Morris found himself the odd man out in Mike Brown's rotations—often wearing a suit instead of a purple and gold jersey across his chest coming off the bench.
Given his scant playing time, it's difficult to judge Morris on his first year in the league. Yes, he made errant turnovers typical of most rookie point guards and did not light the stage on fire when he actually did get a chance to see the court.
But in digging deeper into his rookie year numbers, we can get a better picture of Morris' rookie campaign by looking at games where he did receive meaningful playing time.
Taking his 2011-12 game log and omitting any games where he played less than ten minutes, we are given a sample size of eight games that stack up as follows:
| | | | |
| --- | --- | --- | --- |
| Game | Minutes | Points | Assists |
| #1 | 13:05 | 4 | 2 |
| #2 | 18:08 | 3 | 4 |
| #3 | 23:42 | 7 | 4 |
| #4 | 17:33 | 1 | 0 |
| #5 | 18:06 | 0 | 1 |
| #6 | 15:26 | 5 | 0 |
| #7 | 17:59 | 5 | 0 |
| #8 | 21:25 | 9 | 5 |
| Total | 145:04 | 34 | 16 |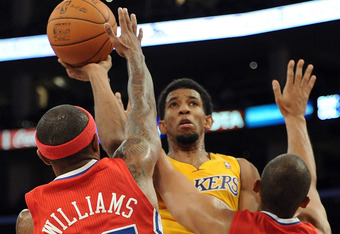 Harry How/Getty Images
On average, in games where Morris played more than ten minutes, he averaged 4.25 points and 2 assists in approximately 18 minutes of play.
These averages may be skewed by the goose eggs of games 4 and 5 above, but it is a better picture of his rookie production nonetheless.
Stepping back from the numbers, anyone who saw Morris play last season will note his visible timidness on the floor. He didn't find a flow within the Lakers offense, and his points mostly came on jumpers to beat the shot clock.
Chalk this up to a rookie experiencing his first taste of professional basketball. With time, maturity and development of a real feel for the game, we hope to see Morris playing the floor general role reminiscent of his time at Michigan.
What's interesting is that his best game was 8 on the chart above—the last game of the season versus the Sacramento Kings.
If you'll remember, this was a game where the veterans rested in prep for the playoffs and the young guns finally got the nod to play the entire game.
When given the reigns to actually run, Morris performed his best.
This 'best' is obviously not comparable to those of the 2012 free agent point guard pool, but it's progression, plain and simple.
The kid's work ethic is outstanding. He went full bore last winter during the NBA lockout in an effort to get better and he's surely continuing at the same breakneck pace this offseason.
What's also noteworthy is his three-point shooting. This was the biggest weakness noted by scouts coming into the draft and was top-of-the-list in his areas for improvement.
All he did was go 4-for-9 from downtown for a cool 44 percent last year. Tangible improvement that speaks to his training regiment.
The question is: Will Mike Brown actually give him playing time this season?
Brown showed last season he much prefers the predictable play of his veterans, neglecting Devin Ebanks, Darius Morris and Andrew Goudelock any real run in favor of Steve Blake and Matt Barnes.
True, as an organization, the Lakers are at a point where they shouldn't be experimenting with youth but performing at a championship level with their veteran players.
Yet the league-wide cries for the Lakers to get younger and more athletic are louder than ever, and now with Morris on board for another full season, it should be time they trust the 21-year-old a bit more.
He deserves a chance to perform. We already know what Steve Blake can do, we already know what Ramon Sessions can do, but it's still unclear what Morris can bring to the table for the Lakers.
2012-13 will hopefully be the season we find out.