Has Rafael Nadal's Frenetic Style Led to Injuries?
July 2, 2012
Julian Finney/Getty Images
Seven-time French Open champion Rafael Nadal has endured more than his fair share of injuries since making his name on the ATP Tour almost 10 years ago.
But is his frenetic style of play solely responsible for the amount of time the 26-year-old "King of Clay" has spent out of the game or are there other factors?
Rafa's injury record began in 2004 when he was forced to miss the entire clay-court season with a stress fracture to his left ankle.
In his 2011 autobiography, Rafa: My Story, describes in detail the harsh training regime imposed on him by his uncle and coach Toni Nadal.
Rafa states in the book that if it hadn't been for the fact that he'd initially been trained in a group, he would never have lasted under Toni's tutelage.
By age seven, Rafa was training five times a week, every week, for an hour and a half. At age eight, he won the Balearic Islands 12-and-under title.
But it wasn't just tennis that Rafa played at this age. Like most European youngsters, Rafa's favourite sport was soccer, which one of his uncles had played professionally.
By the time he reached age 11, Rafa was finding it difficult to balance school work, soccer and tennis.
When the new coach of his soccer team insisted that he attend all the team's practices and make himself available for every match, Rafa made the decision to drop soccer and concentrate solely on tennis.
At age 11, Rafa became the Spanish 12-and-under champion, reaching the final of the 14-and-under event, too.
By this time, Rafa was training four hours a day.
Playing Style

When Nadal began competing at Futures level at age 14, his strategy was to get every ball back in play.
Due to his ability, training and physical fitness, Rafa gained his first world ranking at age 15. Within a year and a half, he had entered the top 200.
At these ages, Rafa routinely spent up to six hours per day practicing on court and extra time in the gym.
By April 2004, and aged just 17, he had reached world No. 34.
Something's Gotta Give

Believe it or not, Rafael Nadal is only human.
Since his first major injury in 2004, Rafa has suffered from a foot injury, which at one stage threatened to end his career.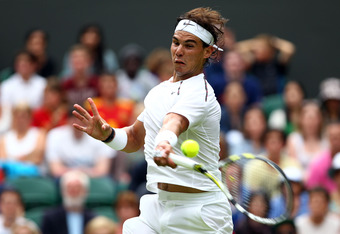 Clive Brunskill/Getty Images
Special insoles in his shoes enable him to continue playing.
Perhaps the most famous injury he's suffered was tendonitis in both knees in 2009.
His only loss in eight years at Roland Garros occurred that year to Robin Soderling and caused him to be unable to defend his Wimbledon title a few weeks later.
Since then, it appears that Rafa shed a few pounds in weight and now spends no more than three and a half hours on court per day.
He no longer does any long-distance running, and most of his physical training revolves around maintenance.
Toni Nadal states that it is unlikely that Rafa will be playing past his 30th birthday as injuries will likely take their toll.
I guess it's true that the candle that burns twice as bright burns half as long.