Wimbledon 2012 Results: Winners and Losers from This Weekend's Tennis Action
July 2, 2012

Julian Finney/Getty Images
A Venus Williams letdown in the first round and No. 2 men's star Rafael Nadal's Round 2 loss made this weekend at Wimbledon all the more epic.
These heavily anticipated matches lived up to the hype after some players came out with dominant victories and others went home in utter disappointment. Even after such shocking results in the first two rounds, the third round certainly boasted it's fair share of surprise.
These were the most impressive victories and puzzling weekend performances at the 2012 Wimbledon Championships.
Biggest Winners:
Angelique Kerber (8) Takes Down Christina McHale (28)
Christina McHale overcame two solid opponents in the first two rounds before meeting Kerber in what was a convincing defeat.
Coming into the match, McHale allowed opponents at least five games in four of the five sets she played. The fatigue got the best of her though, with Kerber dismantling her in an impressive 62, 6-3 Round 3 victory. 
Kerber won five of her eight break points and took full advantage of McHale's shaky serve, which led her to the victory that was as convincing as any in the women's third round.
American Mardy Fish (10) Cruising Along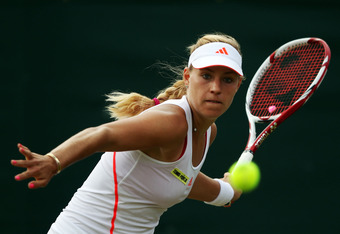 Clive Rose/Getty Images
Mardy Fish has shown massive improvements in his game this tournament. His serve has been on point as well as his return game.
What made the victory in Round 3 all the more impressive is that he took German David Goffin to a tiebreak in sets two and three of the match and won each one. He was resilient and effective when he had to be, and is proving to be one of the tougher men's players on the tour.
After a quarterfinals appearance his last time at Wimbledon, Fish is again making a strong push in 2012. 
Biggest Losers:
Vera Zvonareva (12) Calls It Quits vs. Kim Clijsters
After putting forth an outright impressive Wimbledon, Zvonareva fell terribly short against Clijsters.
Although it was out of her hands, an illness got the best of her and forced her to retire after being down just 4-3 in the second set. Yet Clijsters undoubtedly played the better match, which came as a significant shock considering Zvonareva's skilled play prior.
It was tough to watch and certainly one of the more disappointing losses at Wimbledon.
Lukas Rusol Goes From Greatness to Helplessness
From the opening rally, Rusol stood no chance against Philipp Kohlshreiber in what was a straight-set victory.
The German talent gave up a combined five games in the first two sets. After taking down Rafael Nadal, it was safe to say Rusol had close to nothing left in the tank in this one.