Andy Murray the Making of the 2012 US Open Champion: Part 1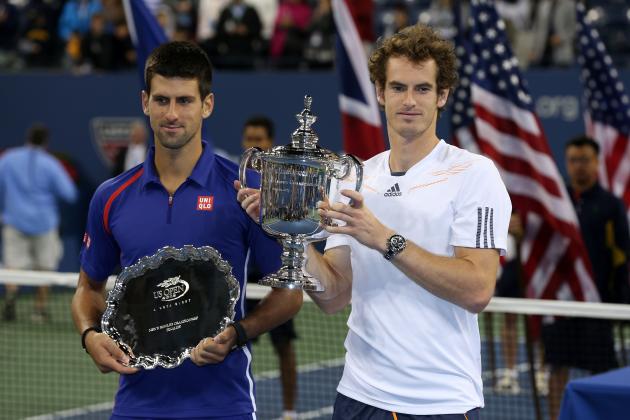 Clive Brunskill/Getty Images
2012 US Open finalist Novak Djokovic and champion Andy Murray
2012 US Open champion Andy Murray was born May 15, 1987 in Glasgow, Scotland, and grew up with his elder brother Jamie, in Dunblane near Stirling.
His mother, Judy, the current Great Britain Fed Cup Captain, was an outstanding player and won 64 Scottish titles.
Having decided the pro tour wasn't for her, Judy decided instead to concentrate on becoming a coach, and whilst raising a family, also ran a children's clothes shop.
Murray's father Willie worked in the retail trade.
EARLY YEARS
As toddlers, Murray and Jamie played various sports in the garden at their home. Later, along with other children, they took part in their mother's coaching sessions at the nearby Dunblane sports club.
Initially, Murray wasn't as good a player as Jamie (who is 15 months older) and Judy spent extra time feeding him balls to help his coordination.
Murray soon improved, and although he played his first tournament at age five, tennis was just one of the many sports he and Jamie tried along with golf, rugby and gymnastics.
He was most taken by football, which his maternal grandfather, Roy Erskine, had played professionally for Hibernian.
In the mid-1990s, Judy became Scottish National Coach, and organized trips for groups of the best Scottish juniors, including Murray and Jamie, around Great Britain.
Begin Slideshow

»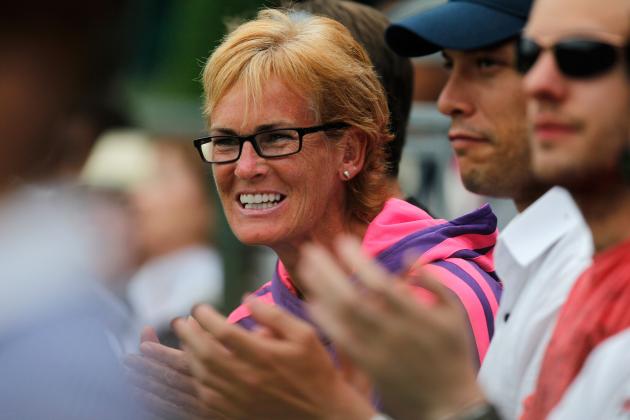 Paul Gilham/Getty Images
Powerful maternal force - Judy Murray
UNOFFICIAL WORLD JUNIOR CHAMPION AGE 12
At age eight, Murray won the prestigious 10-and-under tournament at Solihull; winning the event three years running.
Jamie was also an excellent junior, and reached the final of the 1998 12-and-under junior Orange Bowl—the unofficial world junior championships.
Judy said that having Jamie as an older, stronger brother encouraged Murray to work extra hard to try and keep up.
When Murray was 11, Judy asked Scottish coach Leon Smith to take over the role of being his main coach.
Smith held this position for the next six years, and Judy trusted and allowed him a free reign to develop Murray's game.
In December 1999, Murray went one better than Jamie; winning the 12-and-under junior Orange Bowl, beating Tomas Piskacek of the Czech Republic in the final.
Just before his 13th birthday, Murray was given the chance to sign as a schoolboy for Glasgow Rangers Football Club.
He turned it down though, as he had decided that he wanted to be a professional tennis player instead.
Around this time, Jamie left home to attend an academy in England, but returned within a year, upset, having not improved as much as he and Judy felt he should have done.
Despite having few good standard hitting partners, Murray's progress continued, and in January 2001, at age 13, he reached the final of the 14-and-under Petit As tournament at Tarbes.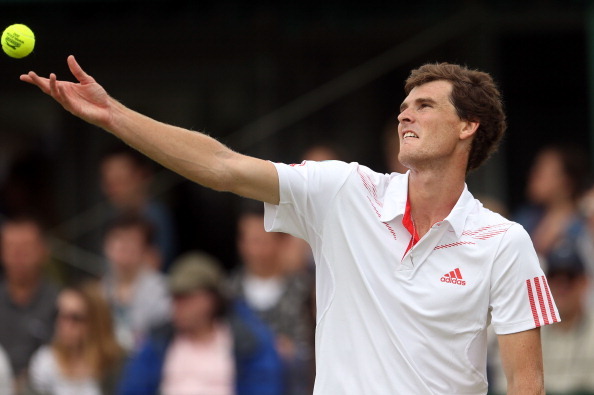 Julian Finney/Getty Images
Jamie Murray
In 2002 at age 15, Murray enrolled at the Sanchez-Casal Academy in Barcelona.
He had made the decision to train abroad the previous year, when playing in the 16-and-under European Cup, in which Great Britain lost in the final to Spain.
Having talked to Rafael Nadal following a game of racquetball, he told his mother,
"Rafa's practising with Carlos Moya, and I'm having to practise with a few county-level players, my brother and my mum.
Rafa's out in the sun all day – he hardly goes to school, and he's playing four-and-a-half hours a day. I'm playing four-and-a-half hours a week. It's not enough!"
The cost of the academy at the time was £25,000 per year, plus competition costs.
Funding and sponsorship from the LTA, Sportscotland and the Royal Bank of Scotland paid some of the bill, but the Murrays had to fund around half the cost themselves.
At Sanchez-Casal's, Murray was able to train outdoors in the sun for up to six hours a day, with players from all over the world.
Within a short time of his arrival, and on consecutive days, he beat Guillermo Coria, and split sets with Carlos Moya, both of whom were ranked in the world's top five at the time.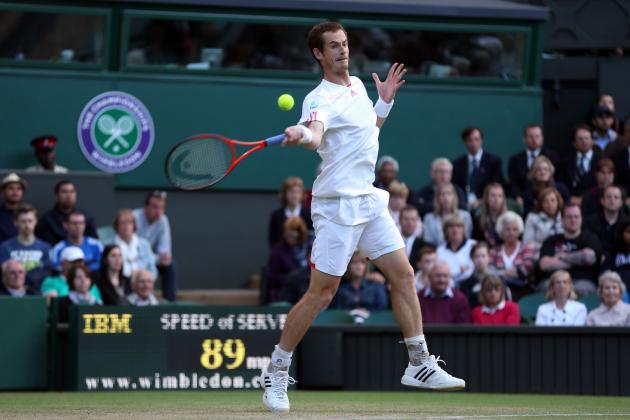 Julian Finney/Getty Images
Will 2013 be Murray's time to win Wimbledon?
In mid-2002, Murray began playing the qualifying of Futures events, failing, however, to make it through to any main draws.
In 2003, he played a combined schedule of junior and senior events and reached the last 16 of the French Open juniors.
Having received a wild card into the main draw of the Challenger at Manchester, he won two matches and gained his first world ranking at No.774.
After reaching the last 16 of the Nottingham Challenger in early November, Murray went to play a Futures event in Gran Canaria.
There though, he suffered the major setback of a serious knee injury, which kept him out of competition for the next seven months.
At age 16, he finished 2003 ranked world No.540.
Having turned 17 and with little preparation, Murray made little impact on his return to the tour.
By then, he had split with Smith and was being coached by Pato Alvarez, a then 69-year-old Colombian coach from Sanchez-Casal's.
Having failed to secure a wild card into Wimbledon, Murray then headed back to continental Europe.
In August, he won two of the four Futures events he played in Spain and Italy, and then headed to New York to play the junior US Open.
As a result of his European success, when Murray arrived in New York, he was match-ready and eager to make up for the time he'd lost out through injury.
He won the tournament, beating amongst others, Juan-Martin del Potro and Sergiy Stakhovsky in the final.
Following the US Open, Murray returned to Europe, where he won back-to-back Spanish Futures and age 17, ended 2004 ranked world No.411.
From my book, "So you want to win Wimbledon? - How to turn the dream into reality" - available from Amazon
And here's part 2
http://bleacherreport.com/articles/1262752-andy-murray-the-making-of-a-champion-part-2