Wimbledon 2012 Schedule: Novak Djokovic and 4th-Round Favorites Who Will Cruise
June 30, 2012

Julian Finney/Getty Images
The biggest story of Wimbledon thus far has been the early ouster of superstar Rafael Nadal. But upset lightning isn't going to strike twice at this tournament. By the time the rest of the biggest names in the men's draw bow out, it will be because they're facing each other in the late rounds of the tournament.
Here are three high seeds who—having already moved on to the fourth round—should have no trouble advancing to the quarterfinals in Monday's action. 
The world's No. 1-ranked player has been a fixture in Grand Slam finals since the 2010 U.S. Open, and that pattern's not going to change here. Djoker proved his mettle on grass by winning this tournament last summer, so the surface is hardly going to be an obstacle now.
He's also facing an exceptionally easy fourth-round match against unseeded Viktor Troicki, who's already set a personal best for this tourney by getting out of Round 3. Djokovic fought back from an early stumble against Radek Stepanek to rout the Czech in the last three sets (4-6, 6-2, 6-2, 6-2), and he won't be caught off-guard against another underdog.
Once unbeatable at the All-England Club, No. 3 seed Federer has bowed out in the quarterfinals in the last two years. Reaching the 2012 quarters, though, should pose little problem for the Swiss legend after surviving a thriller against Julien Benneteau.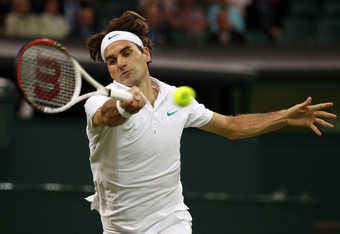 Clive Brunskill/Getty Images
Federer's fourth-round opponent, Xavier Malisse, is a hard-court specialist with precisely zero tournament final appearances on grass. Although Malisse did make the semis at Wimbledon a decade ago, he'll be hard-pressed even to stay competitive with a grass-court expert like Federer.
A semifinalist at Wimbledon a year ago, No. 5 seed Tsonga has an excellent chance to match that feat next week. He's been tremendously sharp so far, dropping just one set through his first three matches.
10th-seeded opponent Mardy Fish, for his part, has been just scraping by, playing tiebreakers in five of 11 sets in the tournament so far. Neither player is especially at home on grass, but Tsonga has been executing too well to be tripped up by the scuffling Fish on his way to the quarterfinals.