Your Best 11 Tweets of the Week: Big East Jabs and What Is Matt Barkley Wearing?
June 29, 2012
Stephen Dunn/Getty Images
Every Friday on the Your Best 11 Blog, we'll bring you the best Big 12, Pac-12, Big East and ACC tweets of the week.
All anyone is talking about right now is the impact of the new 4-team playoff system in college football. Seriously though - It is all anyone is talking about.
No exception is Sports Illustrated's Andy Staples, who responded to fellow Sports Illustrated writer Stewart Mandel:
@slmandel So AQ isn't dead -- except for the Big East.

— Andy Staples (@Andy_Staples) June 28, 2012
Burn. Seriously though, Andy. The Big East is already hurting. They are trying to stay hopeful. Let's not be a kill joy just yet.
Virginia Tech quarterback Logan Thomas was not happy this week. He tweeted:
It's VIRGINIA TECH not va tech

—Logan Thomas 3⃣ (@Lthomas_3) June 29, 2012
Not to get defensive here, but I often use VA Tech on Twitter because it's Twitter and they only give me 140-characters to work with. VA Tech's six characters to Virginia Tech's 12 is half the space. That's an extra six characters, Mr. Thomas. That's valuable real estate in the Twitter-verse.
I'm such a Matt Barkley fan, I'll admit it. The USC quarterback really won me over when he decided to stick around for his senior season. I just could get enough of him until he tweeted this photo:
Hunting Jacket FTW!! instagr.am/p/MSRjwet3lm/

— Matthew Barkley (@MattBarkley) June 26, 2012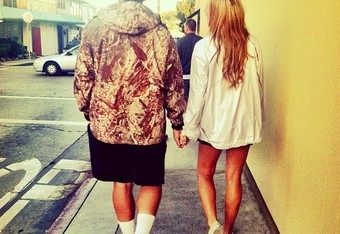 A hunting jacket? In California? Why, Matt Barkley, why? I want to understand but I just don't. Maybe this is some trend I've yet to hear about. If someone on the West Coast can let me know, I would really appreciate it. Most fashion trends take a long time to reach the Midwest, so I need an update.
In the mean time, Matt Barkley can add one more thing to his resume. USC quarterback. Trend-setter.