Serena Williams: A Look Back at Her Most Outrageous Wimbledon Fashions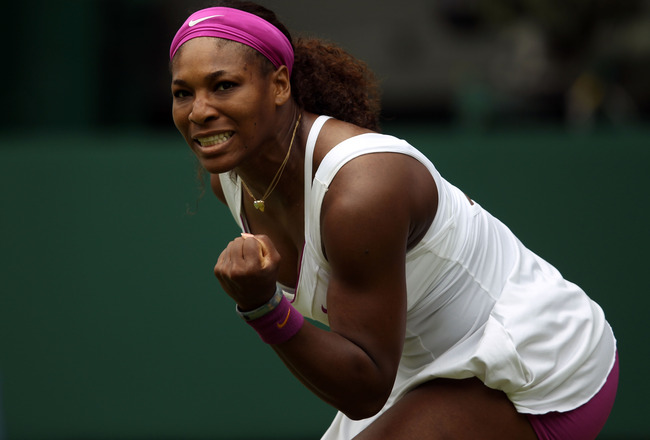 Clive Rose/Getty Images
From the green lawns of the All England Club to the strawberries and cream and even the Queen herself, Wimbledon is a very traditional tournament. The players are required to wear white at the grand slam tournament, but tennis-power-turned-fashion-mogul Serena Williams has always found a way to show off, despite the strict dress code.
Although you won't see any neon pink body suits at the All England Club, your mouth is still guaranteed to drop looking at some of Serena's signature outfits.
So, let's count down Serena's most outrageous Wimbledon fashions.
Wimbledon 2012: Purple Headband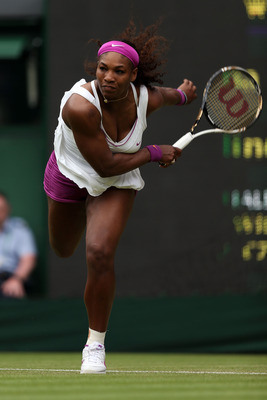 Clive Rose/Getty Images
The Wimbledon dress code states that there should be "no solid mass of coloring," including no fluorescent colors and a preference toward pastels. Well, there is nothing muted about the purple headband that Serena Williams wore during her first two rounds at Wimbledon. Her bold choice of color—literally—has led to quite the controversy off court of whether she should be allowed to play in it.
All outfits are inspected prior to the tournament, and the referee has the final say on the fashion choice the day of the match. Obviously the referee was fine with her purple headband, matching purple sweatbands and shorts, but what about the length of her dress?
Nike has designed Serena's dress, once again, but they seemed to have ordered the wrong size dress, because it looks more like a shirt than a dress.
Clearly, Serena has figured out a way around the rules of Wimbledon, but this outrageous outfit is only the tip of the iceberg for the four-time Wimbledon champion.
Wimbledon 2008: White Trench Coat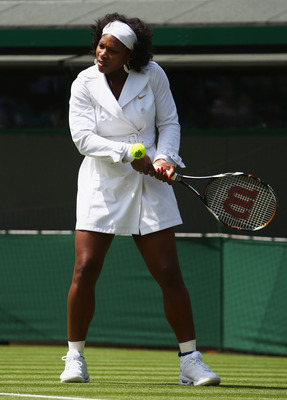 Ryan Pierse/Getty Images
Despite the sunny weather of Wimbledon 2008, Serena Williams was feeling a little chilled—so she wore an all-white trench coat. Yes, you're right; those are for rain, not for playing tennis in. However, Serena had a special one made out of a lighter fabric that breathed more, allowing her to warm up against her opponent, Kaia Kanepi.
Because every girl loves her accessories, Serena added on a large, wide bandana and chunky hoops.
Not only did Serena win her match 7-5, 6-3 against Kanepi, but she also got a call from the C.I.A. asking if she would consider a career as a spy. After all, she already looked the part.
Wimbledon 2011: Hot Pink Tie-Dye Pants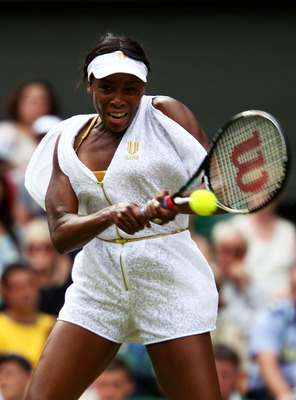 Clive Brunskill/Getty Images
Apparently Wimbledon's white dress code doesn't apply to warm-ups.
Serena Williams famously sported a pair of hot pink tie-dye leggings during Wimbledon 2011 while taking a few serves on the practice courts.
However, if you're going to talk about outrageous fashions from Wimbledon 2011, you have to mention Serena's sister, Venus Williams.
Talk about your fashion disaster. Although Venus (somewhat) kept with the white theme of Wimbledon—she did wear a pair of pale yellow shorts that were a little too visible—she was literally wearing a romper. Venus' pool cover-up, I mean "play-suit," was the talk of the All England Club that year. If you combine Venus' jumper and Serena's hot pink leggings from that year, the Williams sisters definitely win most outrageous outfits in Wimbledon history.
Keep Reading