Pirlo vs. Xavi, Iniesta and Alonso: Clash of the Pass Masters in Euro 2012 Final
June 29, 2012

Christopher Lee/Getty Images
The Andrea Pirlo exhibition at Euro 2012 began with a drop of the shoulder and an exquisite pass to set up Antonio Di Natale for Italy's opening goal of the tournament.
The Pirlo show opened against Spain, and it will close against the reigning champions, too—in a final that promises to showcase four of the best passers on the planet.
Pirlo will go into the game as Euro 2012's best player. His beguiling performances as Italy's midfield conductor have set the tone for their progress, and his touch and vision has been unsurpassed. Occasionally he's been otherworldly.
Those who watched Pirlo in action for Juventus last season won't be surprised. The player who left AC Milan by "consensual separation" in 2011, after 10 years at the San Siro, was reborn. The "regista" reigned supreme.
Pirlo led Serie A with 13 assists from 37 appearances. He was the fulcrum for a team that went unbeaten in the league all season, and he would ultimately make Milan rue the day they let him walk away.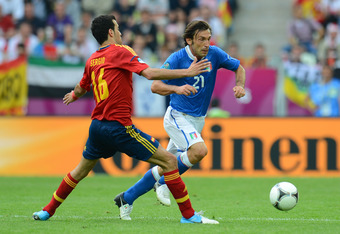 Shaun Botterill/Getty Images
"I believed I was number one and I believe I have demonstrated it again this season," Pirlo said (Goal.com), after Juve won their first Italian title in nine years.
The 33-year-old carried that swagger and belief into Italy's campaign at Euro 2012. In Italy's opener against Spain, he produced a moment of devastating brilliance. Against Croatia, he curled home a sumptuous free kick. And in the games against the Republic of Ireland, England and Germany that followed, Pirlo took complete control.
Other players have contributed fine individual performances—not least Mario Balotelli against Germany—but there's no question Pirlo's influence has been the defining element of Italy's progress at Euro 2012.
Spain will be plotting a way to stop him in Sunday's final. "Players like Mario Balotelli can make you win a match, and players like Andrea Pirlo can make you win a tournament," said Gerard Pique on the eve of Euro 2012, as per Goal.com. "Pirlo is a great player who is capable of controlling any match."
The question for Spain is whether they deem Pirlo enough of a threat to dedicate a player to stopping him. As BBC footage demonstrated last night, Croatia found success in employing Mario Mandzukic as Pirlo's assigned enforcer in their Group C clash. During the time he was on duty, Pirlo's influence was severely limited.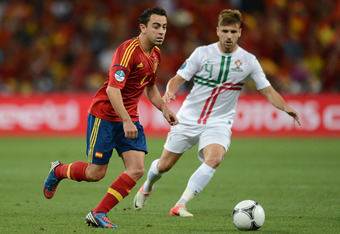 Jasper Juinen/Getty Images
But if Spain don't even start a striker, or if that striker is the attack-minded Cesc Fabregas or Fernando Torres for that matter, who would get the job?
Sergio Busquets might seem the most obvious candidate, but Pirlo plays so deep it would suck the Barcelona man out of position and create space in behind him.
More likely is that Spain will try to ensure their midfield talent pool sets the agenda. After all, in Xavi, Andres Iniesta and Xabi Alonso, the Spanish have three men who can pick a pass pretty well themselves, and have done so to rampant success in recent years.
Xavi wasn't in control against Portugal. A calf injury may be partly to blame, but we haven't seen the best of him at Euro 2012. In truth, we haven't seen the best of Spain's midfield full stop at the tournament.
At times they've been labored, and only in glimpses have Spain given us the dynamic, imaginative forward play we've come to expect from tiki-taka during their reign. If they slow things down against Italy, Spain will play right into their hands. And Pirlo could have a field day.
That's why we can expect Vicente Del Bosque to up the tempo in the Euro 2012 final. He'll want Spain's midfield pushing on and squeezing the space that Pirlo operates in—to keep Italy's maestro occupied in duties other than cutting his defense to ribbons with arrowed through balls.
Therein lies an obvious danger, of course. If Spain do press, they'll be vulnerable to counterattacks, and as Pirlo has shown time and again at Euro 2012, he can spark those in his sleep.
Whatever unfolds on Sunday night, we can be sure the midfield battleground will be integral to the outcome. When you have the likes of Pirlo, Daniele De Rossi, Xavi, Alonso and Iniesta operating in one space, sparks of inspiration are certain to fly in the final of Euro 2012.
Kiev awaits a battle of the pass masters.