Lukas Rosol: Breaking Down Rosol's Wimbledon Chances After Nadal Upset
June 28, 2012

Clive Rose/Getty Images
The tennis world was shocked to its very core on Thursday as Rafael Nadal fell in five sets—6-7 (9), 6-4, 6-4, 2-6, 6-4—to an unheralded Czech free-swinger who wasn't even ranked in the world's top 100. 
Lukas Rosol, making his first appearance in Wimbledon's main draw, dropped the first set to the two-time winner of the tournament. He rebounded to take the second and third sets.
Fast-forwarding, officials halted the match for 43 minutes before eventually closing the retractable roof over Centre Court for the fifth set. Rosol stormed out and manhandled Nadal for a 6-4 victory in the set to take the match. 
Ranked No. 100 in the world, Rosol had failed to advance through qualifying in each of his previous attempts at this Grand Slam. Now, the 26-year-old has handed Nadal his first loss before the third round of a Grand Slam since the Spaniard lost to Gilles Muller in 2005. 
So, what's next for this relatively unknown player who played the role of David to Nadal's Goliath?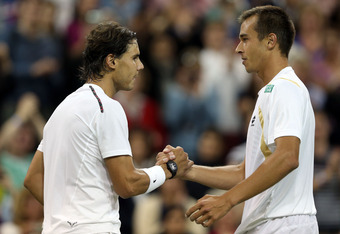 Clive Rose/Getty Images
Rosol will take on Philipp Kohlschreiber in the next round. Kohlschreiber, No. 30 in the world, just defeated Malek Jaziri in straight sets. The German has been ranked as high as No. 22 and has four singles titles to his credit, four more than Rosol. 
While he's clearly another tough opponent for Rosol, who is sure to be at least a bit tired after going five sets against a physical player like Nadal, Kohlschreiber has never made it past the third round at Wimbledon. In fact, the Australian Open is the only Slam at which he's advanced to the fourth round. 
Rosol and his powerful serve have the ability to take him down, especially if the Czech upstart keeps playing aggressively and forcing his opponent deep beyond the baseline with his powerful groundstrokes. 
The big question is, how much did Nadal lose that match and how much did Rosol win it? Bit of both, probably, but more of the latter. Rafa got his head ripped off. Next up for our man Rosol is 27th seed Phiipp Kohlshreiber - the start of big things or a flash in the pan? Whatever it is, some pan, some flash... lights literally going out here, let's get out of here...

It was a freak performance. It's amazing we don't know more about Rosol. It's not as if Nadal lost the match. Rosol came out and hit winner after winner. I think he hit 20 aces.
The general consensus in the aftermath of this monumental upset is that Rosol was extraordinarily under-ranked at No. 100 and is fully capable of playing at a high level. 
Expect the Cinderella run to continue for two more rounds, first against Kohlschreiber and then against the winner of Brian Baker and Benoit Paire.
After that, the clock will likely strike midnight for Rosol, when he will most likely face either Mardy Fish or Jo-Wilfried Tsonga.