WWE Favorites: Best 25 Superstar Theme Songs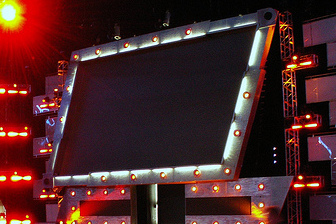 http://flickrhivemind.net/Tags/titantron/Interesting
The lights dim. The crowd gets silent.
Then the music hits and fans go crazy.
Superstars' theme songs are such an important component to selling the show. I'll even go so far as to say that it can influence a character's popularity with the crowd.
Just like a movie's soundtrack is important, so are theme songs in the WWE Universe. Music helps create a mood, an emotion, a response.
The theme song is your first introduction, the first impression.
Even more interesting to the product is that theme songs evolve as superstars evolve.
In this slideshow, I'll examine the 25 best theme songs in WWE history.
These theme songs have been chosen because they fit perfectly with the superstar's personality at the time, got a great pop from the crowd, were memorable, and, at the end of the day, were just really good pieces of music.
The theme songs are in no particular order because this is a highly subjective topic. And if your favorites didn't make the list, that doesn't mean they weren't considered.
Enjoy!
Begin Slideshow

»
"Hey!"
One of the best ways to get a crowd's attention, Randy Orton's theme song "Burn in My Light" got a great pop from the crowd.
In addition, the lyrics made sense for his character at the time. Orton had broken his ties with Evolution and was paving his own road as a champion and top dog.
The song also fit well with his finisher—the RKO. Sudden, quick and effective, "Burn in My Light" made you picture Orton striking his next victim.
Arguably, his current theme song, "Voices," also gets a great pop from the crowd and is very catchy. But when you listen to the lyrics, they make Randy Orton sound more like a crazy person.
Perfect.
One of the most difficult things for a musician to do, I believe, is to create music without lyrics that still manages to convey a particular mood and emotion.
This theme song does just that. Mr. Perfect's (Curt Hennig) gimmick, as the name suggests, was that he was flawless in and out of the ring.
His theme song is no exception. It conveys greatness, triumph and grace.
Say what you will about Hulk Hogan.
But he had one of the greatest theme songs of all time.
Hulk Hogan is one of the biggest names, if not the biggest name, in wrestling history.
"Real American" had a great guitar intro that received a huge pop from the crowd. The lyrics were catchy and memorable and spoke to the character.
But even further than that, this theme songs manages to also capture the atmosphere of the late 80's and early 90's.
It's nostalgia at its finest.
He coming. Opponents run.
That's the first thought that comes to mind when this theme song hits fans' ears.
And it's totally appropriate.
Ultimate Warrior would capture the electricity and excitement of this song by sprinting down the ramp, running around the ring, until eventually climbing into the ring and shaking the ropes in a frenzy that can only be described as ultimate.
It's as if when Warrior grabs the ropes, he's strumming the guitar of the gods.
Perhaps an exaggeration, but it's only fitting of his wildly random interviews.
The glass shatters and all hell breaks lose.
It's the perfect set up for a superstar who did just that.
Austin defined the Attitude Era and this theme song sets the tone for the beer drinking, opponent stunnering, mudhole stomping, middle-fingering, ass-whooper that he was.
He said what he was going to do. He did it.
And his theme song is the soundtrack to the chaos that many fans want to relive over and over again.
Before hustle, loyalty and respect, there were the three I's—intelligence, integrity and intensity.
Kurt Angle's theme song embodies these traits.
For Kurt Angle, his gold medals meant everything. It was about winning. It was about glory.
And what better way to signify glory than the powerful sounds of the trumpet?
What's even better is that Angle's theme song allowed crowd participation with the famous "You Suck" chants.
But Kurt Angle didn't suck. He went out and gave us some of the best wrestling matches we'll ever see. And when that victory came, he fell to his knees, the trumpets sounded and it was glorious.
Rebellion.
That's what D-Generation X represented. And their theme song captured it perfectly.
It starts with asking fans, "Are you ready?"
The guitar slowly prepares the world for what's coming.
Just like any rebellion, it starts with a gradual buildup that eventually explodes.
"Break it down!"
It's about breaking the rules. Not caring what other people think. Being bad is good. Being bad is cool.
And if you aren't down with that, they've got two words for you.
This was a tough decision because Triple H's current theme song, "The Game," is a great theme song.
But I always found this theme song more menacing, more cerebral.
It captured his obsession with perfection, with being the best. It was about going through anyone who stood in the way.
It was about his time.
And, I argue, it still fits with his character today. Triple H rose to the top, became a 13-time world champion, married the boss' daughter, and now has significant power on a corporate level.
Here comes trouble.
Ah, the saxophone.
In my opinion, Billy Gunn is one of the most underused superstars in WWE history. He had the look, the charisma and the in-ring ability.
It's unfortunate that he never made it to the top.
Regardless, Gunn had one of the best theme songs which captured his persona and received a good pop from the crowd.
He had it all, but I guess it wasn't meant to be.
Another great song that captured a legend without lyrics.
Fantastic guitar sounds, with great jumps and pauses, alluding to perfect execution.
And that's what Bret Hart was all about.
He was a technical artist, one of the best in history.
Love or hate him, Goldberg has one of the best theme songs I've ever heard.
The song screams gladiator.
The fight is coming and it's going to be epic.
Or at least the song promises it will be.
Whether Goldberg delivers on that promise is highly debatable among fans.
At their peak, the NWO defined cool.
Hogan, Hall and Nash.
In today's world, they are three of the most highly criticized superstars.
But back then, they were one of the main reasons WCW was able to temporarily dominate WWE programming.
The song captures the "too cool for school" attitude. The wolf howling in the background was a nice touch.
Too bad we never go to see the D-Generation X face off against the NWO. Two of the greatest theme songs and two of the greatest stables.
The crowd would have been uncontrollable.
Undertaker currently has a fantastic theme song.
But I think this one is better.
It's darker.
It's more menacing.
It's bad ass.
The song also offers more variety in terms of musical instruments, shifts in beats and story-telling.
Oh and there's that awesome guitar.
I can dig it.
Booker T's theme song is intense.
The drums and random sound effects enhanced his break dance gimmick at the time.
It was a fun theme song that made you want to dance.
But don't get too comfortable, because you might just get a scissor kick to the head.
Punk.
Personal atrocities aside, Chris Benoit was one of the best technical wrestlers in pro-wrestling history.
His theme song captured the Ruthless Aggression Era.
It took him a while to reach the top, but it was difficult to ignore his accomplishments in the ring.
A man of few words, Benoit was part of a rare group of superstars that used physical theatre to tell a story.
This theme song tells that story.
Rob Van Dam truly was one of a kind.
While he may want to, he can't take all the credit for bringing extreme stunts to the WWE ring.
But when he was in the ring, he showed you something new.
Dam's theme song totally captures his purpose. And he always delivered.
Rob Van Dam, and the type of wrestler he represented, are sorely missed in today's WWE Universe.
If fans ever hear that song intro again, they'll almost certainly jump to their feet.
You think you know me.
Edge's most recent theme song manages to pay tribute to his original theme song ("You Think You Know Me"), while also bringing an entirely knew twist.
The hard metal intro generated a great crowd reaction.
But the lyrics also connect with Edge's character. Even on a personal level. Edge put in a lot of time into the business, helped redefine tag team wrestling and eventually rose to the top.
His theme song is about just that. Chasing a dream.
On this day.
Unfortunately, he had to retire before his time.
At their peak, that drum intro made fans go nuts because the Hardy Boys defined extreme.
When they walked down that ramp to the ring, fans knew they were about to see something they never saw before.
Especially when facing other tag team greats, like the Dudleys or Edge and Christian, you knew that tables, ladders and chairs were most likely involved.
They spoiled us.
Vince McMahon made sure his theme song exemplified his persona.
The evil boss. The dictator. The iron fist. Big brother.
Fans loved to hate him.
Although most of Vince's feuds ended with him losing, he made sure that his adversaries suffered a long, painful struggle before the climatic Pay-per-view end.
The catchy refrain, "No chance in hell" defined this song.
And for his opponents, it often seemed that way.
Although I don't really consider this to be a great song in itself, it's one of the catchiest songs on this list.
Most fans know all the lyrics.
This song makes the list because it did its job.
It goes with the character, sticks in fan's minds and also has that awesome guitar solo.
Flashy.
That's what Ric Flair was all about.
Wining and dining. Limo riding.
His theme song captured his bigger than life personality.
The "Whoo!" intro generated a big pop from the crowd.
Will Ric Flair return? You just never know.
Cactus Jack didn't get much screen time in comparison to Mick Foley's other alter egos.
But when he did, you remembered it.
Cactus Jack exemplified hardcore wrestling.
When I hear this theme song, I think of a rugged, calloused outlaw.
And that is what Cactus Jack was.
Except he carried around a two-by-four wrapped in barbed wire.
Cena lovers will hate me for not putting his current theme song on this list.
But this theme song is better.
It was a very creative spin on a character and, at the beginning of his career, John Cena's thuganomics got main stream attention.
The violin intro establishes an environment of menace and unpredictability.
Without thuganomics, John Cena wouldn't be one of the most polarizing superstars in WWE history.
This theme song tells a story.
The guitar and drums personify his rock star appeal.
He promises to open our eyes and make us see.
Chris Jericho truly helped redefine wrestling. He started with his debut on RAW.
He declares that he's the best in the world at what he does. He's king.
And that's what made his feud with CM Punk mean something.
This song captures that.
It's no accident that Evolution made it last on this slideshow.
And it's not because it's the best theme song, but rather because it helps symbolize the purpose of this article.
Theme songs help define superstars, eras, emotions and opinions. This song was no different, but it also captures pro-wrestling.
It captures the process in which new superstars carry on the legacy of those who came before them.
Ric Flair passed the torch to Triple H, Triple to Batista and Randy Orton.
And as superstars evolve, so do their theme songs. But theme songs do something that is very important. They create a personal connection between fans and superstars. Connections that can last a lifetime. A connection that establishes life-long fans who eventually pass wrestling on to their children.
Evolution.