San Diego Padres: Reasons They Will Be Winners at the Trade Deadline
June 28, 2012

Denis Poroy/Getty Images
In San Diego, it has become a common theme to do a little house cleaning every summer.
The Padres' mindset never rests on the present. They continually look to develop and strengthen their depth for the future.
2012 is panning out to be as predicted. The Pads are nurturing their major league youth and watching their minor league talents blossom in preparation for the 2013 season.
The Padres have ridden a bumpy roller coaster while shifting in players and designating players for assignment this year. It has been nothing short of a whirlwind, to say the least. So much so that I can't keep a firm grasp on the positional players any more.
As the friars turn to the midsummer classic for a little breathing room, names like Chase Headley, Carlos Quentin and Huston Street begin to circulate the trade market.
After coming off the designated list due to arthroscopic knee surgery in late March, Quentin has surged onto the scene in his first season in San Diego. Through 23 games, Quentin has racked up six dingers, 14 RBI and a noteworthy .338 batting average. These numbers stimulate the senses of teams in contention.
He has only called San Diego a home for a few short months, but all signs suggest his locker will be vacant come August.
The Pads could retrieve a solid asking price or handful of valuable young guns in exchange for his potential departure. If he continues to put up solid numbers, the Pads will be sitting pretty while absorbing all of the offers.
The Padres have witnessed the coming-of-age talent of their third baseman, Chase Headley. In his 74 games this year, Headley has seven home runs, 37 RBI and a .267 batting average.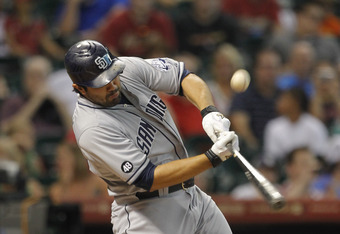 Bob Levey/Getty Images
The reason his name has come up on the radar has been because of the bottomless third base potential in the Padres' minor league system. Jedd Gyorko has been nothing short of spectacular, and the Padres could use a refreshing ingredient to add to the deflated concoction. 
For teams looking to bolster their talent at the hot corner, the switch-hitting 28-year-old has a lot of upside. Considering the fact that the Pads aren't exactly looking to ship Headley, there is no telling what the front office will entertain. But if an appropriate offer is on the table, he could very well be out of San Diego.
After returning from his injury, Huston Street has reeled together a rather impressive June. In nine appearances this month, he has converted all seven of his save opportunities, and even snagged a  victory in the process.
His appeal factor is that he is having a career year. Bouncing back from a dreadful 2011 campaign, Street has yet to blow a save. Another plus is that he has maintained a solid 1.50 ERA. Like Quentin, the better Street's numbers become, the more reason he will land to a team in contention.
At 28 years old, it is safe to say that Street still has plenty of years left in the tank.
If there are any positives to come out of the Padres 2012 campaign, it is the potential talent they will be awarded with from the likes of these individuals. All that is left is the waiting game. When will "next year" be this year?