Caroline Wozniacki: Former No. 1's Early Loss at Wimbledon Means Nothing
June 27, 2012

Paul Gilham/Getty Images
Caroline Wozniacki's first round upset at the hands of Tamira Paszek means absolutely nothing.
No stock should be put into this loss by Wozniacki at all, as Paszek played what was easily the best match of her career today. She played like a top-ten competitor, and could have taken down almost anyone in the game today.
Wozniacki still played well today, showing some great defensive moments and capitalizing when she found weaknesses. Most importantly, she didn't beat herself: She had very few unforced errors and forced Paszek to beat her.
Unfortunately, Paszek played well enough to do so.
In the first set of the match, Paszek sprinted out to a quick lead, and was up five sets to four when she had four set points against Wozniacki.
However, Wozniacki fended her off, playing excellent defensive tennis.
There were two memorable set points in the first set. In the first, she adjusted to all of Paszek's shots, covering great ground to return her shots until she found an opening and smashed a signature backhand down the line to win the point. In the second, she focused on returning Paszek's shots until Paszek made an error, and Wozniacki took the point.
Wozniacki went on to win the set 7-5, showing great grit and determination.
Then, in the second set, she took a lead of her own and had match point before Paszek eventually played great tennis to claim the point and force the game to a tie-breaker. Paszek continued to impress, and eventually won the set, forcing a third.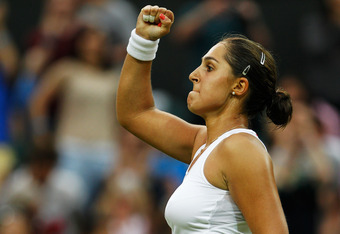 Paul Gilham/Getty Images
Even though Wozniacki lost the second and third sets to lose the match, she still played great tennis and looked like a stud.
Paszek simply played the best match of her career, and Wozniacki was unfortunate enough to be her opponent.
Wozniacki still deserves to be the No. 7 player in the world right now, and this should have no impact whatsoever on her in the US Open, which takes place from August 27 through September 9.
We saw Serena Williams go down in the first round of the French Open, and so far she has given no indication of struggling because of it at Wimbledon, winning her first match in straight sets. Serena actually did look like she was under mental stress and beat herself at Roland Garros as well, whereas Wozniacki looked great, but Paszek looked elite.
I don't see any problems resulting from Wozniacki's early loss, and while it was a surprise, it will result in nothing more.