Oakland Raiders: Eight Players Who Seem Headed to the Practice Squad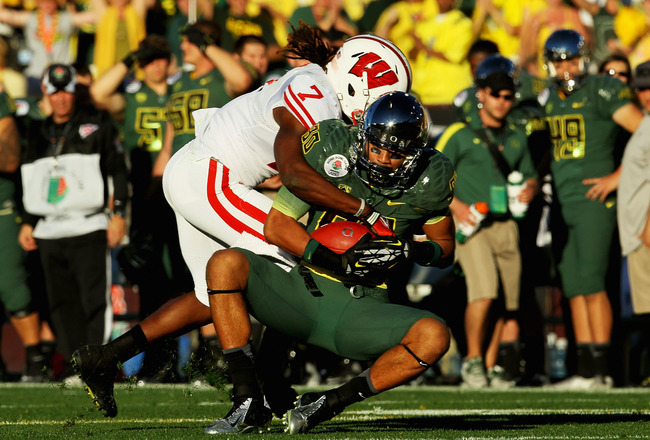 Stephen Dunn/Getty Images
With the expansion of the offseason rosters to 90 players, there is an even larger group of players vying for a spot on the roster and practice squad.
While only a few Raiders have a shot to make the roster, a few more have the opportunity to make $5,700 per week on the practice squad.
Of the 37 players potentially eligible for the practice squad, six were 2012 draft selections who figure to make the roster. That leaves 31 players competing for eight spots.
There are an additional four players—Alex Parsons, Travis Ivey, Rod Streater and Kaelin Burnett— who have a good chance to make the 53-man roster but would also be excellent candidates for the practice squad if they fall short.
For Parsons to be eligible for the practice squad, the Raiders have to maintain a 53-man roster at all times. He has a good shot to make the roster on his merits because he can back up multiple positions, one of which is center.
Ivey has a good chance to help the Raiders. There is no one with his mass on the roster who can eat up space in the run game. The Raiders passed over several nose-tackle prospects in the draft who could have been the run-stopper for years to come. It seems like the team likes Ivey, making it likely that he will take over for the released John Henderson as the team's run-stopper.
Streater took snaps with the first team during minicamp. That was no doubt a reward for a good performance during the offseason program. He could falter or be beaten out by another receiver during camp, but he seems to have made a good first impression.
The Raiders are thirsty for pass-rushers and Kaelin Burnett has the raw athletic ability to help the team on third downs. He's also impressed the coaching staff, but will need to continue to produce once the team puts on pads.
One notable player you won't find on this list is punter Marquette King. There are two reasons: Shane Lechler isn't going anywhere until next season at the earliest and punters aren't valued enough around the league to keep one on the practice squad.
If the Raiders find themselves in need of a punter or if Lechler walks next year, King could be back. He might also earn himself a starting job elsewhere during the preseason.
The practice squad offers no protection against another team signing the player and a punter's job can be mostly simulated by a machine during practice. There is just no reason to keep King on the practice squad when he can work with a punting coach independently and be re-signed if he is needed.
Here are the eight players most likely to make up the practice squad.
Conroy Black, CB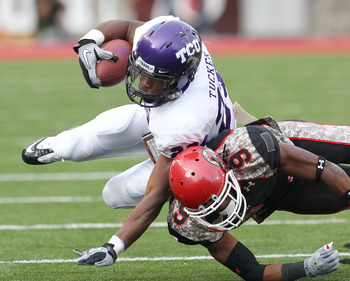 George Frey/Getty Images
Of the players eligible to be placed on the practice squad, Black is the only cornerback. The Raiders aren't deep at the position and might need to call up a player if there are a couple injuries.
Black is a better athlete than football player at this point and is worth developing. He could turn into a solid player with coaching and time in an NFL weight room. He was a JUCO transfer to Utah and was productive as a starter, although still very raw.
Speed: 4.38—More than enough to play cornerback
Height: 6'0"—Good size
Weight: 185—Slim and could add bulk
Wingspan: 77'3/8"—Impressive length for the position
(Measurements via ProFootballWeekly)
Aaron Henry, FS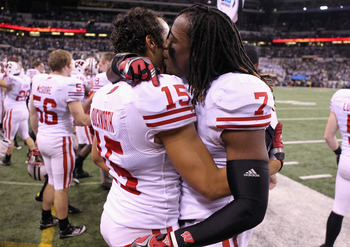 Andy Lyons/Getty Images
The Raiders don't have enough roster space to carry Henry, but he'd be a valuable addition to the practice squad. Henry was a team captain at Wisconsin and has an NFL body.
A converted cornerback, Henry could be called upon to fill several positions and simulate opposing cornerbacks for the scout team.
With a strong preseason he might even push for active roster status.
Speed: 4.55—Good enough for a safety, but a little slow if he's going to play cornerback
Height: 6'0"—Good size
Weight: 208—Built well enough for a safety
Wingspan: 76'1/2"—Good enough length to play cornerback in a pinch
(Measurements via ProFootballWeekly)
Dan Knapp, OL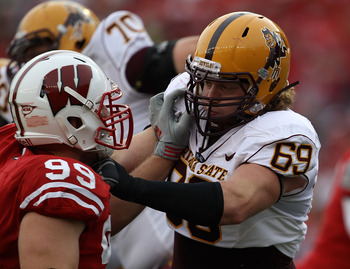 Jonathan Daniel/Getty Images
Finding and developing offensive linemen is the entire purpose of the zone-blocking scheme. Knapp converted from tight end prior to the 2010 college football season. He's recently put on weight just to get to 304 pounds.
According to his nfldraftscout.com profile, he posted 41 reps of 225 pounds at his pro day, which would have been the best at the 2012 NFL Combine had he been invited.
He's a raw offensive line prospect, but as former tight end he is nimble and has a strong upper body to go with it.
Just based on attributes, Knapp is worth keeping to develop as a potential starter in the zone scheme.
Height: 6'5"
Weight: 304—Still a bit thin for his height, but might be able to add more bulk
Mario Kurn, LB
As a junior in 2010, Kurn posted 17 sacks and 27 tackles for a loss and was put on the Ted Hendricks Award watch list. Kurn posted 12.5 sacks and 15 tackles for a loss as a senior.
Kurn is also converting from defensive end at the FCS level to linebacker at the NFL level. That's a big change and a big leap all in one year.
Despite the changes, the Raiders could use help in the pass rush, so it's worth seeing how Kurn develops as a linebacker. Coming from the FCS, he could use the extra time with the coaching staff.
Height: 6'2"
Weight: 238
Thomas Mayo, WR
The Raiders have no shortage of receivers, particularly undrafted players like Mayo.
He had great stats for Division II California University of Pennsylvania, making 79 receptions for 1,359 yards and 16 touchdowns. He was a man among boys.
But since he is making a big leap to the NFL, Mayo may need more than a single training camp to adjust.
For those that may be unfamiliar, Mayo got a chance to compete against a higher level of competition at the East-West Shrine game and drew mixed reviews. Bleacher Report's Michael Schottey was not impressed with his morning practice on Day 2, but Sports Illustrated's Chris Burke said he played well in the game itself.
The ideal players for the practice squad are those who can use additional refining. Mayo qualifies.
He was a favorite among some draftniks and was profiled by the Washington Post. Scott Bischoff of Bleacher Report also did a nice profile and interview with Mayo prior to the draft.
Height: 6'2"
Weight: 205
Lucas Nix, OG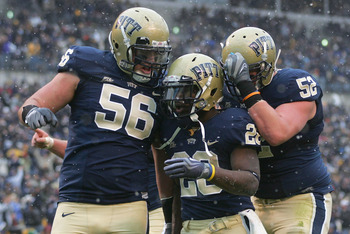 Jared Wickerham/Getty Images
Nix was once believed to be a fourth-round prospect, but he went undrafted and the Raiders brought him in as depth.
Nearly every report on Nix says that he is full-effort player who coaches love. Nix might need additional time to learn the zone-blocking system and work on improving his balance and technique. He finds himself on the ground more than scouts would like.
Given the extra time, Nix could be a player worth developing on the practice squad.
Height: 6'5"
Weight: 317
Lonyae Miller, RB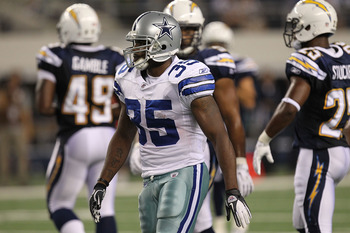 Ronald Martinez/Getty Images
Rumors have been swirling about the Raiders' interest in former Cincinnati Bengals running back Cedric Benson. But the Raiders have three backs who should easily make the 53-man roster, plus they have Lonyae Miller.
Miller lost his starting job to Ryan Mathews at Fresno State, gained some traction with the Dallas Cowboys in 2010 but didn't make the cut in 2011. Miller spent part of last season on the Raiders' practice squad.
The new blocking scheme could be a great thing for Miller, who doesn't have the agility to make many moves but has the speed hit holes and the size to break through arm-tackles.
Don't be surprised when Miller is a top performer in the preseason.
Height: 6'0"
Weight: 230
Mason Brodine, DE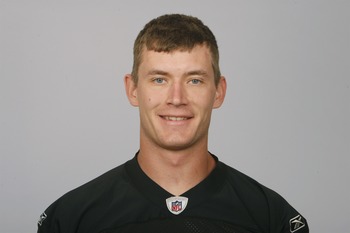 Handout/Getty Images
Brodine came from a small school and made the roster toward the end of his rookie season. The previous regime obviously felt he had done enough in practice to merit the promotion.
The new regime might have a different view, but won't be quick to dismiss a pass-rusher.
Brodine was a three-year starter at defensive end for Nebraska-Kearney and posted a school-record 23.5 sacks and 155 tackles in his college career.
While blitzing will be a big part of the new defensive game plan, it never hurts to have a player who has a knack for getting to the quarterback.
Height: 6'7"
Weight: 255
Keep Reading

Oakland Raiders: Like this team?