Dallas Cowboys: Training Camp Storylines Fans Must Keep an Eye on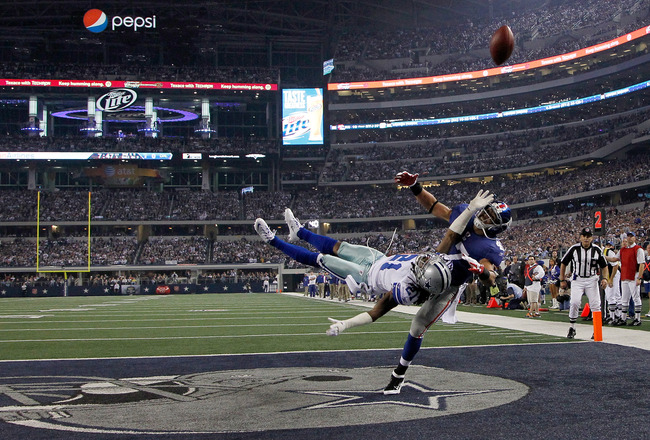 Tom Pennington/Getty Images
Friends, we are just about a month away from the start of the Dallas Cowboys training camp. July 20th is the first practice in Oxnard, California, where the 'Boys will meet to prepare for the 2012 season.
Before we get to camp, the Cowboys have a couple of juicy storylines that are fit for any good NFL daily blog. While there's some added stability within the organization as the team signed some key free agents, there's uncertainty at key positions.
Let's take a dive into a few of the storylines that fans should keep their eyes on this summer.
The Mike Jenkins' Saga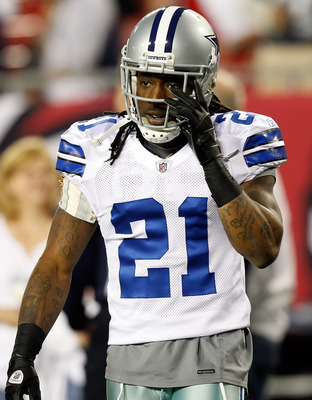 J. Meric/Getty Images
Remember that Diddy album called The Saga Continues…? It had "I Need a Girl" where he begged for Jennifer Lopez to take him back? At any rate, that's Mike Jenkins' life.
If you aren't familiar with the story, Jenkins is a little disgruntled because he doesn't have a new deal, and Dallas effectively replaced him when they drafted Morris Claiborne. Jenkins isn't happy, and he's showing that by not speaking with the media.
He's being a professional by showing up for required team activities and rehabbing his surgically repaired shoulder.
What will be interesting to watch is how he performs in training camp and where he actually ends up on the depth chart. Claiborne will start and so will Brandon Carr. So where does that leave Mr. Jenkins?
Dez Bryant's Progression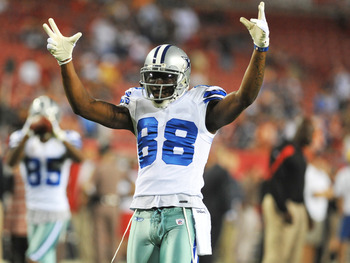 Al Messerschmidt/Getty Images
Bryant has matured according to Tony Romo. He's improving and earning the quarterback's trust, which will be key for his development this season.
From what I've heard and seen, Bryant does not have a strong grasp of the playbook. That may be all changing with his developing this offseason and during training camp.
I fully expect for Bryant to take a giant leap forward this year where he breaks out as one of the best receivers in the NFC East. I believe his next full step as one of the league's top threats will be next season.
Keep an eye out for how Bryant progresses through the summer.
Kyle Orton's Grasp of Jason Garrett's Offense
Doug Pensinger/Getty Images
I placed Orton here because the backup quarterback position is vital for Dallas. He'll aid Romo with his sideline observations, but if Romo goes down, and Orton is needed, the team needs a strong reservist to guide them.
Orton is a fantastic talent, yes I said fantastic, and Dallas received an upgrade at the second position. He's also capable of starting for half of the NFL's teams. But if he fails to pick up on Garrett's playbook quickly or falters on the nomenclature, Dallas may have an issue.
Watching Orton's progression through training camp and the preseason should be tops on any fan's list to see how well he'll work within the team's offense.
Morris Claiborne and Brandon Carr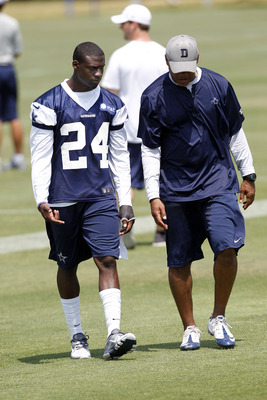 Layne Murdoch/Getty Images
Claiborne is the rookie, and Carr is the new guy in town with a truckload of money. How these two play on the field will determine just how far the Cowboys will fly in 2012.
Claiborne should be ready to play by training camp as he's still recovering from wrist surgery. When that day arrives, all eyes will be on the rookie from LSU.
First-year players will often lean on talent and athletic ability to get them through mistakes on the field. How he reacts to missteps and recovers from errors will show just how good or bad he may be.
Carr is proven, and 2012 will show if he played well in 2011 for the money or if he's really one of the best. The Cowboys secondary has vastly improved, and watching Carr and Claiborne work the defensive backfield should be on your radar.
Cowboys Rookies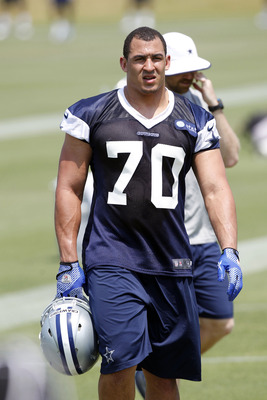 Layne Murdoch/Getty Images
Defensive end Tyron Crawford and linebacker Kyle Wilber are two of the most intriguing rookies the Cowboys picked back in April.
Crawford is no sack specialist, but he does bring fresh, fresh legs and a different attitude to the Cowboys defensive line.
Wilber is a very talented linebacker who may give Anthony Spencer a run for his money. With young guys like Wilber, Sean Lee and Bruce Carter roaming the middle and sides of the field, the Cowboys may be on the precipice of having one of the best linebacking units in the league.
Keep an eyes on these young men.
The Race for 3rd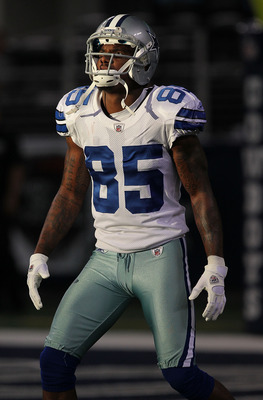 Ronald Martinez/Getty Images
The Cowboys slot position is still up for grabs. Kevin Ogletree has the name recognition as he's been in and out of the position for Dallas, but he has yet to fully grab on to that position.
Dallas drafted a guy capable of taking hold of that spot and making Ogletree expendable. Danny Coale has the ability; it's just a matter of him making the team and showing coaches that he can handle the task.
There are a number of receivers the team will look at before naming a player who will play the slot, such as newly signed rookie Cole Beasley.
How the Offensive Line Forms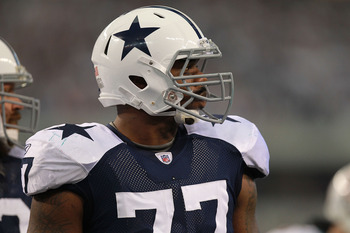 Ronald Martinez/Getty Images
We already know that Tyron Smith is the protector of Romo's blind side, and Doug Free was moved to the right side. The tackle position is set for 2012 and possibly the next decade.
Now, the center and guard positions are different. Who will start and for how long? Will Phil Costa win the center job and who are the Cowboys going play at guard? Better yet, have you heard of them?
Nate Livings and Mackenzy Bernadeau are two guards who will compete for the open slot as soon as Bernadeau returns from injury.
But the larger question is can we trust these men to bring stability to a shaky offensive line? That's why watching them in training camp will be important.
Keep Reading

Dallas Cowboys: Like this team?