Philadelphia Phillies: Why Carlos Ruiz Is the Most Underrated Player in MLB
June 27, 2012

Christian Petersen/Getty Images
The Philadelphia Phillies' Carlos Ruiz is the best catcher in baseball. You may think it looks weird written out, or it sounds strange to hear it aloud, but it is true. Actually, it has probably been true for the past season or two. But somehow, nobody gives Chooch the acknowledgement he deserves.
Ruiz should be leading all catchers in National League All-Star voting. Instead, he is currently in third place. While All-Star voting should not carry much weight because a lot of it is about politics and marketing, it is still a disgrace that he is not in first.
He is, by far, the most underrated player in baseball.
Ruiz currently leads all of MLB in batting average. While everyone can't stop sucking up to Bryce Harper (hitting .278), gushing about Matt Wieters (.255) and swooning over Giancarlo Stanton (.274), Chooch is quietly hitting a cool .361.
As Prince Fielder (.303) and Albert Pujols (.259) sit on their contracts worth more than $210 million each, Chooch is outhitting them on a three-year, $8.85M deal. In fact, Ruiz's batting average is significantly better than Pujols' on-base percentage (.320). 
And anyone who says Chooch is only a contact hitter can sit down, too. Ruiz's 10 homers tie him for sixth among catchers, and his 41 RBI have him tied for third.
He leads all Major League catchers in hitting, slugging, on-base percentage and OPS. And this is not random luck, either. Ruiz hit .283 and .302 in the past two seasons, and is a career .275 hitter.
His clutch tendency is not to be ignored, either. I can't tell you how many times I have watched Ruiz step up late in a game and deliver a big hit to keep an inning going or knock in the tying run.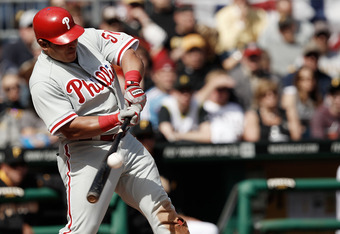 Jared Wickerham/Getty Images
In the 2009 World Series against the New York Yankees, he batted .333 after hitting an impressive .381 against the Colorado Rockies in the NL Championship. When the Phillies won the World Series in 2008, they did so largely thanks to Ruiz's stellar play behind the plate, his .385 batting average and his ridiculous .500 OBP. 
The Phillies have dominated the NL East for the past five seasons, and Chooch is one of the few key players that has been there the whole time. In his time in Philadelphia, he has been the rock behind the plate for one of the strongest pitching staffs in the league.
And he has managed to do all this without drawing any attention to himself. But if he keeps playing like this, the attention and praise will come whether he likes it or not. So, ladies and gentlemen, I give you Carlos Ruiz, the best catcher and most underrated player in all of baseball.
UPDATE: After Tuesday night's game vs. Pittsburgh, Ruiz is now batting .364, with 11 HR's, 43 RBI's and has a .430 OBP. Unbelievable.