Robinson Cano: Is He the NY Yankees' Greatest Second Baseman Ever?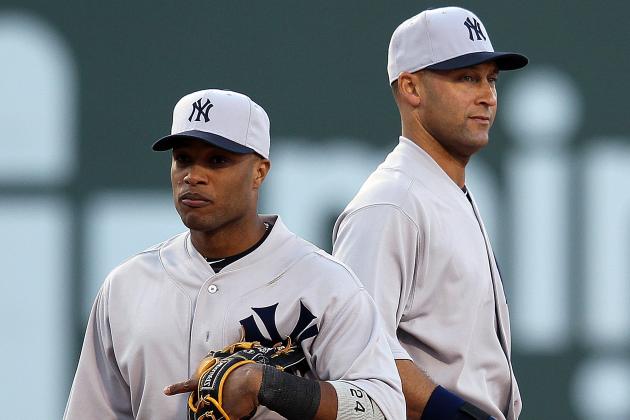 Jim Rogash/Getty Images
This is the greatest middle infield in Yankees history.
The New York Yankees are the most successful baseball team in history, and the franchise's all-time All-Star squad could take on any grouping of Hall of Famers in a Field of Dreams fantasy scenario.
At almost every position on the field, they had one of the all-time greats, from Babe Ruth to Lou Gehrig, Joe DiMaggio to Yogi Berra, Whitey Ford to Mariano Rivera.
Go ahead, take your pick from this lineup.
C: Yogi Berra, Bill Dickey
1B: Lou Gehrig, Don Mattingly
2B: Tony Lazzeri, Robinson Cano
3B: Alex Rodriguez, Graig Nettles
SS: Derek Jeter, Phil Rizzuto
LF: Charlie Keller, Dave Winfield
CF: Joe DiMaggio, Mickey Mantle
RF: Babe Ruth, Reggie Jackson
SP: Whitey Ford, Ron Guidry, Lefty Gomez, Red Ruffing, Andy Pettitte
RP: Mariano Rivera, Goose Gossage, Sparky Lyle
When Alex Rodriguez joined the team in 2004, he instantly vaulted over Graig Nettles as the Yankees' greatest ever third baseman as soon as he put on the uniform. Then he won the AL MVP in both 2005 and 2007, and, oh yeah, a World Series in 2009.
However, is Robinson Cano already the greatest second bagger to ever don the pinstripes?
Let's take a look at the five best players to ever field the position for the Yankees.
Note: Statistics have been taken from Baseball-Reference.com.
Begin Slideshow

»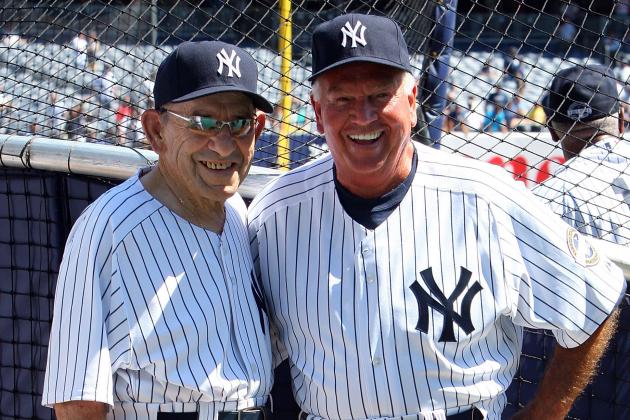 Jim McIsaac/Getty Images
Bobby Richardson with Yogi Berra at Old Timer's Day in 2009.
A lifetime Yankee, Richardson played in seven World Series, winning three. He also won the World Series MVP in 1960, even though the Yankees lost in seven games to the Pirates on Bill Mazeroski's homer in Game 7.
An eight-time All-Star, Richardson had his best year in 1962, tallying 209 hits, belting 38 doubles and scoring 99 runs while hitting .302. He came in second in MVP balloting that year to his teammate, Mickey Mantle.
Richardson was extremely tough to strike out, never fanning more than 40 times in a season, and striking out only 243 times in 5,780 career plate appearances.
He also boasts a career .979 fielding percentage and won five consecutive Gold Gloves from 1961 to 1965.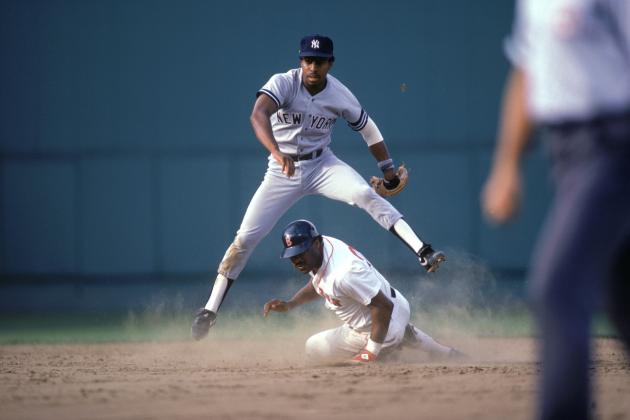 T.G. Higgins/Getty Images
Willie Randolph was an athletic leader for the Yankees.
Randolph played 13 seasons with the Yankees and won six World Series titles with them. Two came as a player (1977 and 1978) and four came as a coach under manager Joe Torre (1996, 1998, 1999 and 2000).
He was a six-time All-Star, five of those times in pinstripes. Randolph's game was plate discipline and speed. He stole 30 or more bases four times as a Yankee and drew 1,243 walks in 9,461 plate appearances, including 119 in 1980.
Randolph was co-captain of the team for three years with Ron Guidry, before signing as a free agent with the Dodgers.
Though he never won a Gold Glove (consistently losing out to the Royals' Frank White or the Tigers' Lou Whitaker), he had a lifetime fielding percentage of .980.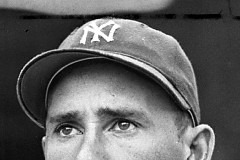 Source: nydailynews.com
Gordon was a nine-time All-Star and won five World Series, four while with the Yankees. He was inducted into the Hall of Fame by the Veteran's Committee in 2009. He was a power-hitting second baseman before there was such a thing.
He won the AL MVP in 1942 over Triple Crown winner Ted Williams, batting .322, with 18 home runs, 103 RBI and 88 runs scored. In 1940, he drove in 103 runs as well, but belted 30 home runs and scored 112 times, but that year he finished just 23rd in the MVP balloting.
After the 1941 World Series, Yankees manager Joe McCarthy told Bob Considine of the St. Petersburg Times, "The greatest all-around ballplayer I ever saw, and I don't bar any of them, is Joe Gordon" (via the New York Times).
Gordon lost the 1944 and 1945 seasons due to military service, and after returning to the Yankees in 1946, he was traded to the Indians for pitcher Allie Reynolds.
He had a lifetime .970 fielding percentage, making 23 or more errors in seven different seasons, six while still in New York. But the errors are misleading, as Gordon could turn double play with the best of them and was heralded for his athleticism in the field.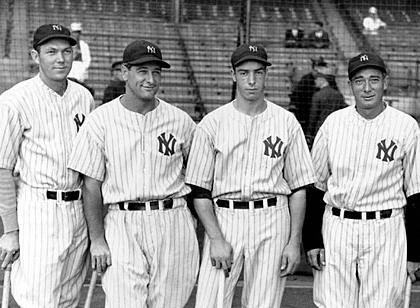 Tony Lazzeri (right) with Bill Dickey, Lou Gehrig and a stoic Joe Dimaggio. Source: http://newyork.yankees.mlb.com
At second base, the team's best ever player at the position (for now) is still Tony Lazzeri.
He played in New York for 12 seasons, flashing moderate power and speed. His main weakness was defense, as he made more than 25 errors in eight different seasons with the Yankees, ending with a .965 fielding percentage for his career.
For his career, he had 178 home runs, 1191 RBI, 986 runs and 148 stolen bases, to go with his .292 lifetime average. He finished third in MVP voting in the 1928 season and batted .354 in 1929.
Lazzeri passed away in 1946 at just 42 years of age and was inducted into the Hall of Fame by the Veterans Committee in 1991.
He still holds the American League record for RBI in a game with 11, also becoming the first player in history to hit two grand slams on May 24, 1936. And he is the only player ever to hit for a natural cycle (a single, double, triple and home run in order) with the home run being a grand slam.
Lazzeri was overshadowed by his more notable Murderers' Row teammates, but he was a solid player in the lineup for more than 10 years on teams that won six pennants and five World Series.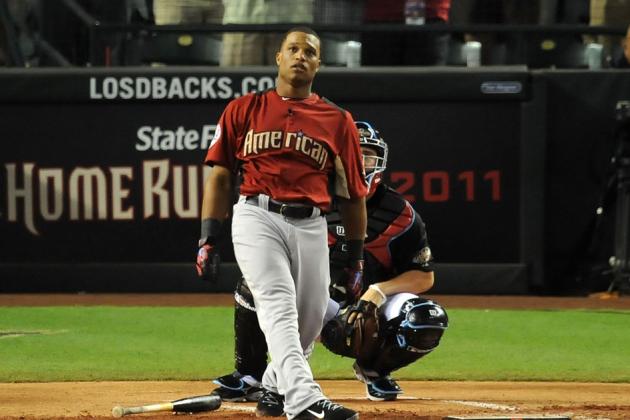 Norm Hall/Getty Images
Cano admires a blast in the 2011 Home Run Derby.
Robinson Cano is currently in his eighth season with the Yankees and already has impressive career numbers: 161 HR, 660 RBI, 664 runs and a .307 BA.
His sweet swing has been compared to Rod Carew's, and his slick fielding style and powerful arm have carried him to a .985 fielding percentage. Cano was also awarded the 2010 Gold Glove award.
Cano flashed his power-hitting potential when he took home the title at the 2011 Home Run Derby. While some hitters have flagged in the later rounds of the competition, Cano blasted a record 12 home runs in the final round to defeat Adrian Gonzalez.
And the best part? The man throwing the pitches was Robinson's father, former Major League pitcher Jose Cano.
Cano only seems to be getting better and more powerful with age. He exhibited his prowess as a hitter in his sophomore season of 2006, batting .342. However, he has really turned it on in the past three seasons, with at least 25 home runs, 85 RBI, 100 runs and a .300 average in each of them. He finished sixth in the MVP voting last year and third in 2010.
After a mediocre start to the season, Cano has erupted in June with six homers in the past eight games. He already has 17 home runs, 39 RBI, 51 runs scored and a .301 average through 73 games.
If he can keep up that pace, he will turn in another stellar season in 2012. He will also be well on his way to a career worthy of the Hall of Fame and the distinction of being the greatest second baseman in Yankees history.
Cano is currently 29 years old and is due for a contract renewal soon, with only a one-year team option for 2013 remaining. Look for him to get big money and big years, in the region of eight years and at least $120 million.
However, his agent is Scott Boras, so it might be more like $160 million. Whatever it is, it's worth it for the best second baseman in the game right now—and the best to ever wear pinstripes.
Follow me. I taught LeBron to play with his back to the basket.