Which Rookies Could Start Right Away for the Indianapolis Colts?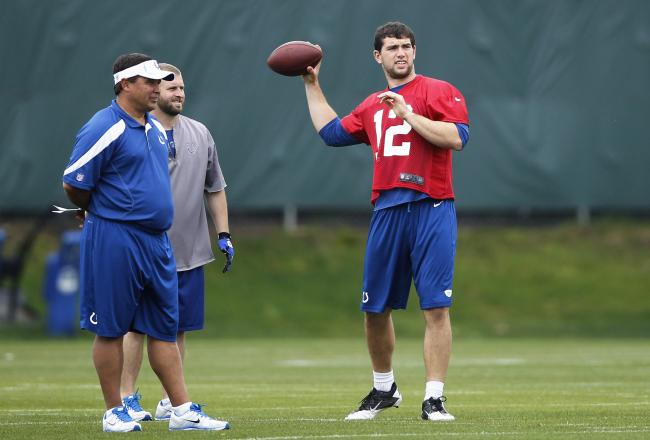 Joe Robbins/Getty Images
The Colts will begin the monumental task of life after Peyton Manning this year, and their rookie class will play a large part in the mission of "moving on."
In addition to jettisoning their iconic quarterback, the Colts have also hired a new head coach and general manager, so the opportunity for youngsters to make quick ascents up the depth chart is greater than usual.
Which draft picks are poised to take advantage of the openings created by the franchise's transition?
First-Round Quarterback Andrew Luck
Well, duh. What you might not know already is that Luck was away from the team until mid-June, waiting for classes at Stanford to wind up—not that Colts fans should worry about it.
According to the Associated Press, Luck was "nearly flawless" upon his return, with only a drop by Dwayne Allen marring the results of his 16 throws. Luck also had zero mental mistakes, according to head coach Chuck Pagano.
Opening your regular season career at Soldier Field against the Chicago Bears is a tough draw, but if Luck struggles, don't hold up his absence this spring as one of the reasons.
Second-Round Tight End Coby Fleener
This one isn't as obvious as it seems, and it could come down to a technicality. During the Colts' minicamp, third-round tight end Dwayne Allen was actually lining up with the ones and Fleener with the twos, according to Philip B. Wilson of the Indianapolis Star.
Offensive coordinator Bruce Arians is likely aiming for a two-tight end set to be the base formation for the offense, which would get Fleener on the field with the starters. Fleener could also line up in the slot in no-tight end sets.
If the team does march a single tight end set on the field for their first play of the game, Fleener won't be classified as a starter, but you can rest assured that the team will capitalize on the existing chemistry between Fleener and his collegiate teammate Luck.
Fleener will see a lot of snaps and targets whether he's a literal starter or not.
Third-Round Tight End Dwayne Allen
Allen was drafted second among the tight ends, but he'll play first because of his blocking prowess. The tendency is to think of Allen as the Rob Gronkowski in-line tight end and Fleener as the Aaron Hernandez "move tight end," but Allen played some H-back at Clemson.
He's also a very good receiver in his own right. He'll play as many snaps as the Colts believe he can handle in his rookie year.
Third-Round Wide Receiver, Punt/Kick Returner TY Hilton
Hilton will "start" on the return team without a doubt. His six career return touchdowns in college (including one against Alabama) assure that the Colts won't neglect the best return threat they have had maybe since Alvin Haymond in the franchise's early days.
If the team keeps Austin Collie in the slot, Donnie Avery would be in line to start outside opposite Reggie Wayne, but with a healthy camp and preseason, Hilton could make a surprise bid for the job.
Fifth-Round Nose Tackle Josh Chapman
Chapman playing almost all of 2011 on a torn ACL will probably keep him from being ready to start in Week 1, but as the best true zero-technique nose tackle on the roster by far, he should start as soon as he is full speed.
The Colts do expect him to be cleared for training camp, so perhaps a Week 1 start isn't out of the question for Chapman.
This article is
What is the duplicate article?
Why is this article offensive?
Where is this article plagiarized from?
Why is this article poorly edited?