Philadelphia Phillies: Is Pursuing Ben Sheets a Smart Move, or Just Desperate?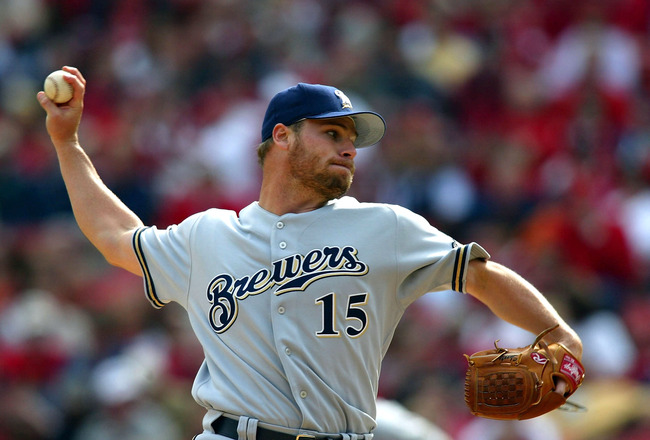 In 2004, Ben Sheets was one bad mother (shut your mouth.)
Donald Miralle/Getty Images
Ah, rumors. As Timex Social Club once deftly put it, "Look at all these rumors/Surrounding me every day./I just need some time/Some time to get away from/From all these rumors."
Have you heard the one about Ben Sheets? According to Tim Dierkes of MLB Trade Rumors, he recently threw for several major league teams looking for starting pitching help, and the Phillies were there.
Is pursuing Ben Sheets a smart move, or is it just desperate? Maybe history can provide the answer.
Ben Sheets, 2004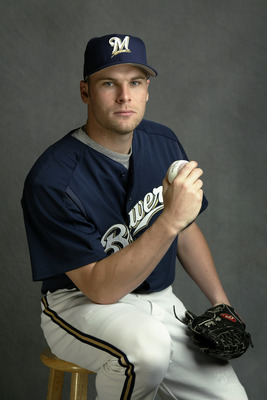 "Is this menacing enough? Maybe I should snarl?"
Brian Bahr/Getty Images
Here is why anyone showed up to Sheets' throwing session at all.
In 2004, Sheets had this season for the Milwaukee Brewers: 34 starts, 237 innings pitched, 264 strikeouts, 32 walks, an ERA of 2.70 and a WHIP of 0.98.
Because his team was bad (67-94), Sheets only won 12 games that season. But with peripheral numbers like these, he might have won twice as many games if he were on a good team.
Jake Peavy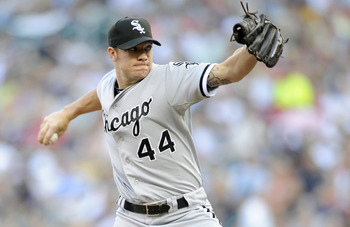 That's right, I'm Jake (expletive) Peavy.
Hannah Foslien/Getty Images
Teams often think they can wring one more good performance from stars coming back from injury.
Sometimes it actually happens.
In 2007, Peavy won the Cy Young Award by going 19-6 with 240 strikeouts and a 2.54 ERA. He threw 223.1 innings that season, which might explain why he missed parts of each of the subsequent four seasons.
It is too early to say that Peavy is all the way back, but in 2012 he is 6-3 in 14 starts with the Chicago White Sox with an ERA of 2.74. He also has 83 strikeouts in 98.2 innings pitched.
Brandon Webb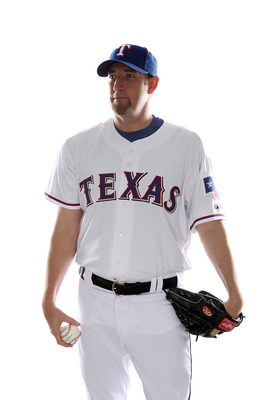 "It's a nice uni. Too bad I'll probably never get to wear it in a game."
Jonathan Ferrey/Getty Images
Unfortunately, for every guy like Peavy who approaches his past glory, there is a guy like Webb.
Webb was a Cy Young Award winner in 2006, and finished second in the Cy Young voting in both 2007 and 2008, but he only pitched one game pitched in 2009 and has no Major League action since.
He is now property of the Texas Rangers, but he is still recovering from a second rotator cuff surgery. It is hard to imagine Webb ever being relevant in the Major Leagues again.
Mark Prior
Well, no wonder he blew his arm out...he's not using his lower body at all.
Jonathan Daniel/Getty Images
And it is not like Webb is the only one refusing to let the dream die peacefully.
The season before Sheets' best year, Prior was "The Next Big Thing." Any pitcher who posts an 18-6 record with 245 strikeouts, a 2.43 ERA and a 1.10 WHIP is going to turn heads. A pitcher who does this for the tortured Chicago Cubs, as Prior did, will be an instant phenomenon.
Sadly, that was the high-water mark, and Prior has not pitched in the bigs since 2006. Prior is trying to reinvent himself as a reliever. Wish him luck.
Pedro Martinez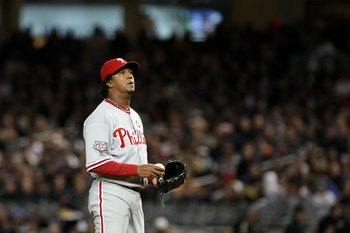 "If I hear 'who's your Daddy' one more time...."
Nick Laham/Getty Images
As indicated before, though, teams would not try this if it never worked.
Martinez was seemingly out of baseball after finishing out the four-year, $53M contract with the New York Mets that they almost certainly regret. But Pedro had a last act, joining the Philadelphia Phillies in what now appears to be their last real grasp at the brass ring in 2009.
He was 5-1 in nine regular season starts and pitched credibly in the National League Championship Series. You can look up his 2009 World Series stats if you like, but keep it to yourself.
Jamie Moyer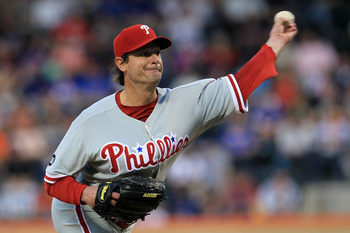 Get off my lawn!
Chris McGrath/Getty Images
Come to think of it, the Phillies have a long and distinguished record of this sort of talent reclamation activity.
Moyer looked to have very little left when he was offloaded by the Seattle Mariners for prospects in 2006. From 2007-2010, though, Moyer won 51 games and a World Series ring.
Sometimes they do come back.
Freddy Garcia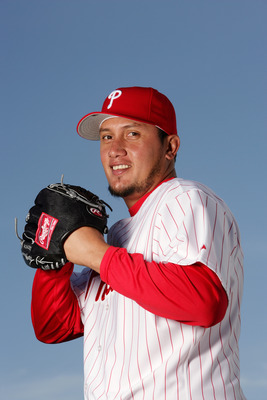 Why don't we both pretend this never happened.
Al Bello/Getty Images
But certainly it does not always work.
Garcia was acquired for Gavin Floyd and Gio Gonzalez in 2006, and cost the Phillies $10 million for 11 starts, a 1-5 record and a 5.90 ERA in 2007.
They might want that one back.
Jon Lieber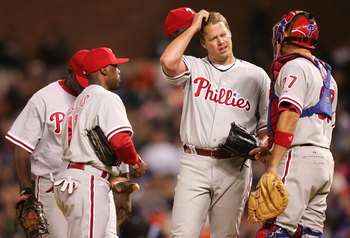 "Well, candlesticks always make a nice gift."
Jed Jacobsohn/Getty Images
In signing Garcia, the Phillies were probably recalling the success they previously had with Lieber.
After a year of recovering from arm trouble and then a year reestablishing himself in the league with the 2004 New York Yankees, Lieber came to Philadelphia in 2005 and won 17 games for an on-the-come Phillies team that would make the playoffs with him in 2007.
Kris Benson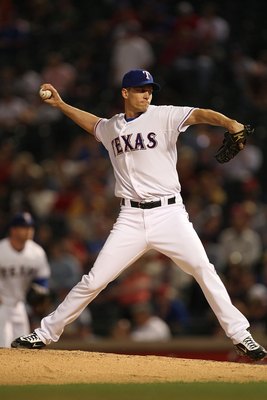 He never appeared for the Phillies, so this is what you get.
Ronald Martinez/Getty Images
And then there was that time, during spring training, where the Phillies signed Kris Benson to a minor league deal.
The hope was that he could replicate...well who knows what the hell the Phillies were thinking? Benson was mediocre throughout his entire career—68-73 when they signed him and 70-75 at last report.
Maybe they were hoping his wife would shake things up.
Ben Sheets 2010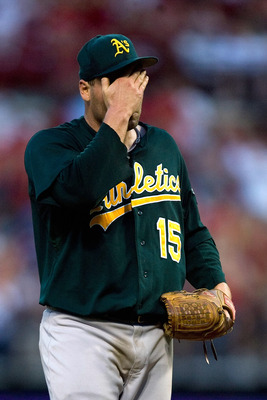 "I cannot believe I am still trying to make a living throwing a baseball."
Dilip Vishwanat/Getty Images
The truth is that if the Phillies sign Sheets, they are more likely to get this guy than they are the 2004 version that made hitters miss over and over again.
The 2010 Sheets was 4-9 with a 4.53 ERA for the Oakland A's. For the sake of comparison, Kyle Kendrick is 2-7 with a 5.24 ERA this year. Is Sheets even better than Kendrick at this point after two years at home?
Smells like desperation.
Keep Reading

Philadelphia Phillies: Like this team?