5 Reasons New York Yankees Are in First Place for Good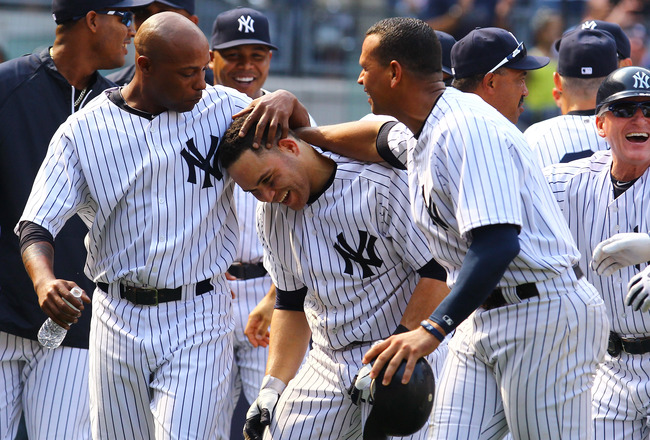 Al Bello/Getty Images
The New York Yankees stand atop the American League East as July is right around the corner and although it's still early in the season with the second half yet to be played, the Bombers aren't going to get knocked off their first place pedestal anytime soon.
It's true the Bombers are living and dying by the home run in 2012, but that's something that isn't likely to affect them until October. The same goes for the Yanks' horrid average with runners in scoring position as a team.
There's no question the Yankees can finish out the season winning that way, but it might be a different story in the postseason. But at this point, that doesn't matter. The Yanks have to make it to the playoffs before they can even worry about such a problem.
Here's why New York won't relinquish the lead in the AL East the rest of the way.
Division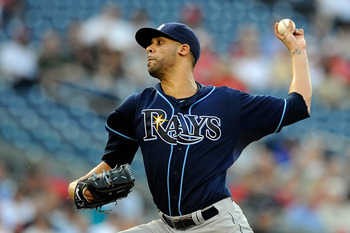 Patrick McDermott/Getty Images
The AL East is easily the most competitive division in baseball, year in and year out. This season is no different as the division leader and cellar-dwellar are separated by only 6.5 games.
Currently the Baltimore Orioles are in second place just three games back. But does anyone really believe the Orioles will be able to stick around for the long haul? Not likely and that's nobody's fault but their own. Baltimore has been so bad for so long, its impossible to imagine them winning this division, or even challenging for it at all.
Another annual AL East disappointment, the Toronto Blue Jays currently sit in the basement in this division, once again proving they aren't ready to make the postseason. They are continuously a trendy pick in the MLB at the start of the season, but they continuously fail to live up to expectations and will continue to do so the rest of the way.
The Boston Red Sox have been in turmoil this season thanks to new manager Bobby Valentine. However, Valentine's big mouth is the least of Boston's issues as their starting pitching has been horrendous. The Sox's starters are pitching to a 4.82 collective ERA, good for 27th in the MLB. If they can't shape up their pitching, they won't be able to compete in this division.
Joe Maddon's club, the Tampa Bay Rays, are the biggest threat to the Bombers' hopes of winning this division. They can hit and pitch with some of the best in baseball, so they won't be going away anytime soon.
But the Yanks as a whole are just a more talented team all around than any other team in the AL East and should be able to hold off Tampa Bay en route to their 18th AL East title.
Potent Lineup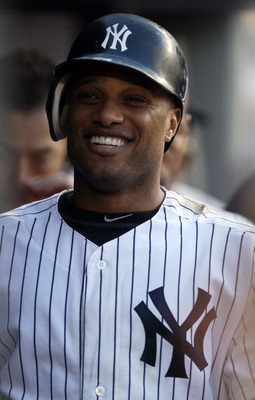 Elsa/Getty Images
New York's offense has been horrible with runners in scoring position this season and they have become an offensive attack dependent on hitting the ball out of the park. While this isn't a new approach for this team, it has never been as extreme as it is now.
Putting the runners in scoring position aside, the Yanks are launching homers out on a nightly basis. They currently lead the MLB with 115 homers as a team this year and that's a great sign for an offense depending on them.
Granted, the Yanks might be addicted to the long ball and relying on it to drive in the majority of their runs, but they are certainly hitting enough to survive that way the rest of 2012.
It should get better when Brett Gardner finally returns from injury after the All-Star break, but he won't make that much of a difference. Either way, this team will look to power their way to the playoffs and I'd say they're doing a great job of it thus far.
Such a talented lineup like the one the Yankees have always has the ability to make up for lackluster pitching on any given night. That means the Bombers are capable of winning games even when their starter bombs.
That fact alone will help the Yankees win more games than an average team with an average lineup.
Starting Pitching Continues to Bounce Back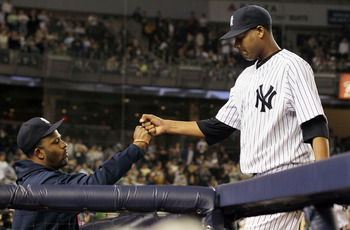 Jim McIsaac/Getty Images
The Yankees pitching got off to a rocky start to say the least, but things have calmed down since.
CC Sabathia is still looking to hit his stride, but even with all his struggles, he is the ace of this staff and will get the benefit of the doubt that he can turn it around and reel off an impressive winning streak to get himself going.
Hiroki Kuroda had some issues to start 2012 but has since figured things out for the most part with some work still to be done. In a little over a month, Kuroda's ERA has gone down an entire run and he has become a much more reliable, No. 2-caliber starter for New York.
Andy Pettitte's last start against the Mets wasn't pretty, but the 40-year-old has been so good this season you had to figure he was due for one. Pettitte will be fine, though, and should continue to be a consistent arm for the Yanks down the road. He looks sharp and the most telling thing about Pettitte has been the amount of innings he's giving the Yankees on a start-to-start basis.
Young Ivan Nova has seen some problems this year, but before we can chalk it up to a sophomore slump, Nova has been building up a head of steam and has made four solid starts in-a-row. It wasn't until the second half of the season when Nova began to pick it up and throw the ball better. That led to a 15-game win streak that carried over into 2012. The best is yet to come this season for the 25-year-old.
Phil Hughes is still a major cause for concern, but if the Yanks are busy at the trade deadline, he could be looking at a new home, or even worse, the bullpen. Still, Hughes is the No. 5 starter and if you are depending on a guy at the back-end of a rotation, you have serious issues. The Yanks could certainly survive the 26-year-old's struggles.
Even if the Yanks' rotation does go into another tail spin, they have more than enough offense to suffice.
Bullpen Reinforcements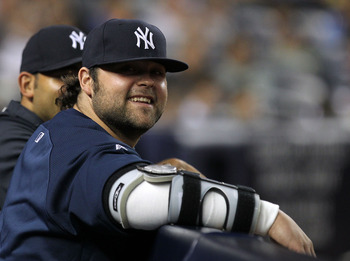 Al Bello/Getty Images
Mariano Rivera's injury was a huge blow to this team's bullpen, but it wasn't the death sentence many had thought. Even without their legendary closer, New York's bullpen has the second lowest ERA in the league.
In his place, Rafael Soriano is doing an excellent job with 15 saves in 16 chances and is pitching to a 1.65 ERA. It looks like the outrageous contract he got from New York is paying huge dividends as opposed to when he was the seventh inning guy for this team.
David Robertson became an elite reliever last season with an astonishing ERA of 1.08. While he isn't there yet this season, D-Rob has been impressive nonetheless with a 2.50 ERA as the Yanks' setup man and former interim closer.
If that isn't enough, the Bombers could enjoy the return of both David Aardsma and Joba Chamberlain at some point later in the season. That would be a huge boost for this team's 'pen and would give them great depth even without Mo.
Not to mention, if Hughes continues to struggle, he could be removed from the starting rotation and if he isn't traded, Hughes could end up back in the bullpen, further adding a ridiculous amount of depth in the process.
Would You Really Bet Against Them?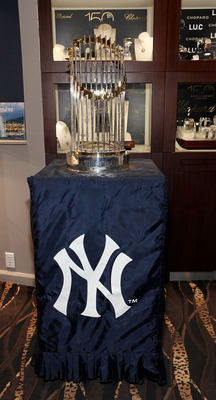 Donald Bowers/Getty Images
Throughout the history of the AL East, its safe to say the Bombers have been the class of the division.
Since the division was created in 1969, the Yanks have won 17 division titles. However, they've done most of their damage as of late. Since 1996, New York has won the AL East crown 12 times, so chances are the Yanks are in the running on an annual basis.
Knowing their history, if you had a gun to your head and had to pick one team to win this division, you'd be crazy not to pick the pinstripes. After all, they just reminded you of that when they won the division as recently as 2011.
Keep Reading

New York Yankees: Like this team?