Wimbledon 2012: Andy Roddick's Draw Gives Him a Chance to Re-Emerge
June 25, 2012

Mike Hewitt/Getty Images
Andy Roddick has not enjoyed much success, by his standards, at the All England Club in recent seasons, as he fell in the fourth round in 2010 and in the third round in 2011. Those poor results at Wimbledon in the last two years are a major reason while Roddick has declined in the men's rankings.
Heading into Wimbledon 2012, there is reason to believe that Roddick might re-emerge as a threat on tour. He appears to be playing well following a title last week in Eastbourne, and he has very nice draw at the All England Club this week.
Roddick is to open his campaign against a British player in Jamie Baker, a player who is ranked just 186th in the world heading into this season's tournament at the All England Club. Baker has appeared in just five previous Grand Slam main draws, and his record in majors is 0-5.
Barring an upset in the first round, Roddick also has to love his prospective second-round match. It would be against either Wayne Odesnik or Bjorn Phau, two players who are very inexperienced in Grand Slam matches.
Phau, for example, is 33 years old and has never actually won a match at the All England Club. He's actually made more than his fair share of appearances in the main draws of majors (22), but in his career he's only made the second round five times, and he's never made the third round.
A Roddick vs. Odesnik second-round match might be one that Roddick would be looking forward to. Odesnik used to be a regular in Grand Slam draws, but that was before his career took a major turn for the worse a couple years back due to a controversy involving the importation of human growth hormones (HGH) into Australian.
Roddick was quite vocal in stating that Odesnik should be banned from tennis back in 2010, and while that did not happen, you have to think Roddick would like to make Odesnik's Wimbledon 2012 efforts short-termed.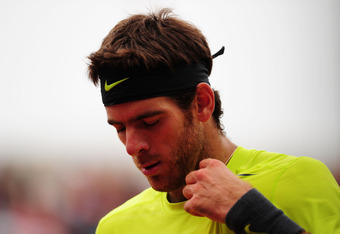 Mike Hewitt/Getty Images
At the very least, the hand shake at the end of this prospective match could be interesting to watch.
Roddick's third-round match promises to be very difficult, especially if the seeds hold up. Roddick could face Spain's David Ferrer, a player coming off of his best French Open ever. However, Ferrer has not been that impressive of a player at Wimbledon over the years. An in-form Roddick on grass is heads and shoulders better than an in-form Ferrer on grass, and I think a third-round match should be on the American's racket.
If Roddick makes the fourth round, he would not face anyone ranked higher than Juan Martin del Potro, another player who has not done that much at Wimbledon in the past.
Personally, I'm not entirely convinced that Delpo will make the fourth round. But even if he does, what would the big deal be? This is a player whose body isn't really meant for Grand Slam tennis anymore following his injury from late 2009 and 2010. He's fine in the early rounds against the fluff, but when he's put to the test in the mid-to-late rounds against a quality player, quite simply, del Potro often loses.
I found the loss to Federer at the French Open discrediting, as there was not much more that del Potro could have hoped for. He had a two sets to love lead, Federer wasn't playing well at Roland Garros, Delpo shouldn't have been overly tired heading into the match, and yet he still lost in five sets.
I think Roddick can get back to the quarters at Wimbledon 2012, and if he does he might face Andy Murray, a player he beat in their most recent Wimbledon head-to-head meeting.