NASCAR: Is Michael Waltrip Racing Headed Towards Elite Status?
June 25, 2012
When you think of the elite teams in Sprint Cup, you think of Roush Fenway Racing, Hendrick Motorsports, Joe Gibbs Racing, Richard Childress Racing and possibly Stewart-Haas Racing. Meanwhile, Michael Waltrip Racing has seemingly been in the second-tier of teams.
However, it appears that the recent surge behind the MWR cars may shoot them up into "elite status".
Clint Bowyer won on Sunday at Sonoma, the first win for MWR this season. Before Bowyer's victory at the tricky road course, no MWR driver had ever finished higher than eighth at the track. Bowyer easily took care of that problem, as he led a dominating 71 of the 122 laps.
And when you think about it, the win at Sonoma should not have been the first for MWR this season. There could have been a couple more.
Earlier this season at Martinsville, a late caution was brought out for David Reutimann's stopped car on the backstretch. Jimmie Johnson and Jeff Gordon had been the dominant cars all day long and one of those two guys looked poised for the win, as they were first and second when the green flag waved again.
Bowyer, in his No. 15 5-Hour Energy machine, was lined up in third. When the field finally restarted, Bowyer swan-dived it into Turn 1, but he was way too hot going into the turn. Because of that, he hit Gordon and Johnson and caused them to spin. Bowyer barely got caught up in the aftermath, but he was no longer able to capture the checkered flag.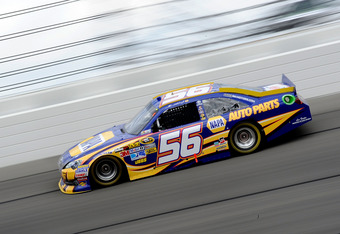 John Harrelson/Getty Images
Instead, Bowyer came home tenth, as Ryan Newman collected his first and only win of the season.
A few weeks later, the series traveled to Kansas fror the eighth race of the season.
Two of the three MWR cars would eventually exit the race with engine problems, as Mark Martin's No. 55 finished 33rd and Bowyer finished the race in 36th.
But Martin Truex Jr. made up for those miscues. Truex utterly dominated the race as he led 173 of the 267 laps. It appeared that Truex would collect his second career victory, the first of which came at Dover in 2007.
Needless to say, Truex was going through a long losing streak, much similar to the one his former boss, Dale Earnhardt Jr., is going through.
There were long stretches throughout the race, in which Truex's No. 56 was clearly the most dominant car. In three seperate spans, Truex led 45, 81 and 43 laps.
Unfortunately, as the race went on, Truex's car seemed to get worse and worse. Truex had to decide between two risky choices. He could have either held on and hoped to collect the win or he could have come to pit road to fix the problem and immediately give up the lead, finishing in the middle of the pack.
Truex elected to go with the first option, but with less than fourty laps to go, Denny Hamlin was just reeling him in lap-by-lap. There was nothing the driver of the No. 56 could do.
Finally, with 31 laps to go, Hamlin passed Truex for the lead and they would finish in that order. Hamlin collected his second win of the season while Truex was to remain mired in his massive losing streak.
There's no doubt that Truex had the most dominant car that day, but if there's one thing that NASCAR has shown us over the years, it's that the dominant car doesn't always win. And it was proven again that Sunday.
Last but not least, the series traveled to Pocono three weekends ago to take on the tricky, 2.5-mile triangle.
Mark Martin, who had already collected three poles this season, started the day in sixth. Bowyer started 16th while Truex started 23rd. However, Truex would get caught up in a Lap 1 crash that collected himself, Landon Cassill and A.J. Allmendinger. Truex's day was immediately done, although he would come back and salvage his race with a 20th-place effort.
There really appeared to be no "true" dominant car that Sunday, as there were nine different leaders with 22 different lead changes. If there was any car better than the next, it would have to have been Joey Logano's, who led for a race-high 49 laps.
Towards the end of the race, it appeared that it would come down to Martin, who hasn't won since 2009 and Logano, who has collected just one victory in his career, a rain-shortened event at Loudon in 2009, his rookie campaign.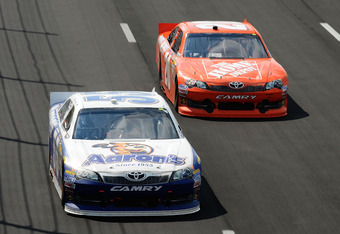 Jared C. Tilton/Getty Images
Logano led from Lap 126 to 141 before being passed by Martin, who led the following lap. Logano then passed Martin for the lead once more and led for the next ten laps. A debris caution would be brought out on Lap 150, but the field took the green flag two laps later.
Martin got off to a phenomenal restart and jumped out to a decent lead over Logano. Unfortunately, a few laps later, Martin made a rare mistake in Turn 3 and got loose. Logano was able to get a good run because of Martin's error and coming into Turn 1 on the following lap, he bumped Martin and was able to overtake the lead for the final time.
Logano collected his second career victory in Sprint Cup while Martin finished second at Pocono for the sixth time in his career.
Prior to Sunday's race, MWR could have been looking for their fourth win of the season. Bowyer may not have won at Martinsville, but if things went right, he could have drove it in there very hot and slid up in front of Gordon and Johnson. Or, he could have done the exact same thing, but without getting collected in the aftermath, retaining the lead for the remainder of the race.
At Kansas, Truex clearly had the dominant car and looked poised for the victory, but his car seemingly got worse as the race went on. If that wasn't the case, Truex would have undoubtedly reached victory lane for the first time since 2007.
In Martin's case, he should have won at Pocono, but because of his rare mistake, he recorded another second-place finish. If the veteran had not made that mistake and had continued on his hot path, he would have won the race, and Logano would still be looking for his second career win.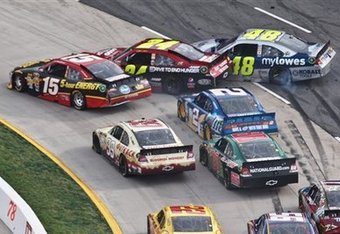 To fast-forward to Sunday's race, Bowyer had the dominant car and won the race as he deserved to do. Brian Vickers, taking over as the pilot for Mark Martin in the No. 55, finished fourth, his second top-five finish in three starts this season for MWR. Clearly, Vickers is auditioning for a full-time ride in 2013. Truex appeared to be headed to a top-eight finish, but was spun out in the waning laps.
Instead of registering a top-ten finish, Truex came home a disappointing 22nd.
There's no doubt that Michael Waltrip Racing is on an amazing hot streak. They have been one of the most consistent teams in NASCAR this season, which comes as quite a surprise. Bowyer has recorded one win, three top-fives and nine top-ten finishes and is currently seventh in the points standings.
Truex currently sits ninth in the standings and has recorded four top-fives and eight top-tens.
Mark Martin has been predominantly consistent in 2012, as he has collected three poles, two top-fives and five top-ten finishes. He has started just twelve of the sixteen races and is currently ahead of drivers Bobby Labonte, Regan Smith and Casey Mears in the standings, all of whom have started every single race this year.
He's also ahead of Kurt Busch in the points, who has started fifteen of the sixteen events.
As I said earlier, Brian Vickers finished fourth at Sonoma in just his third start this season. He previously recorded a fifth-place effort at Bristol and a mediocre 18th-place finish at Martinsville.
The emergence of Michael Waltrip Racing has been a phenomenal turnaround.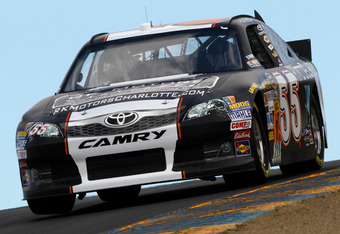 Chris Graythen/Getty Images
Waltrip started fielding full-time rides in 2007, as Dale Jarrett drove in 24 races while rookie David Reutimann participated in 26 events. Waltrip competed in 14 events while P.J. Jones and Terry Labonte raced in two and three events respectively.
The following season, Waltrip fielded three cars. The aforementioned Reutimann competed in all 36 events, as did Waltrip. The other ride was divvied up between a multitude of drivers that included Michael McDowell, Marcos Ambrose, A.J. Allmendinger, Dale Jarrett, Kenny Wallace, Mike Skinner and Mike Bliss.
That season, Reutimann registered four top-ten finishes while Waltrip recorded one top-five effort and two top-ten finishes.
However, the 2009 season would be a breakout year of sorts for Michael Waltrip Racing.
David Reutimann would go on to collect the checkered flag at the Coca-Cola 600, but it was a rain-shortened event that included just 227 laps. To go along with the win, he also registered two poles, five top-fives and ten top-ten finishes and finished the season 16th in the standings.
Again, Waltrip competed in 34 of the 36 events, but had lackluster results. Patrick Carpentier participated in the other two races. Waltrip registered just two top-ten efforts that season.
In 2010, MWR would being back Reutimann, and the team welcomed Martin Truex Jr. as well. Truex would inherit Waltrip's old sponsor, NAPA Auto Parts, and would pilot the No. 56.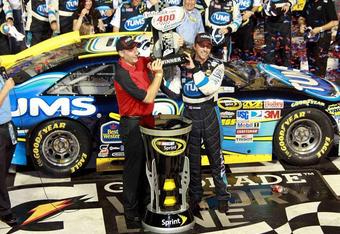 Reutimann would go on to collect his second-career victory at Chicago. It was the first "true" win for Reutimann, who had won the rain-shortened Coca-Cola 600 the previous year. The driver of the No. 00 would also register six top-fives and nine top-tens while finishing 18th in the standings.
Truex, on the other hand, didn't have as much success as Reutimann, as he collected just one top-five and seven top-tens while finishing the year 22nd in the standings.
Last season seemed to be the exact opposite, although neither driver visited victory lane.
Truex recorded one pole (Dover), three top-fives and twelve top-tens and finished 18th in the standings. Reutimann struggled mightily, as he recorded one pole (Richmond) and just one top-five and three top-tens.
Because of his lackluster performance, MWR decided not to retain Reutimann for the 2012 season after he finished 28th in the standings.
2012 saw a number of changes for Michael Waltrip Racing. The organization brought in Clint Bowyer, who had previously spent his entire Sprint Cup career with Richard Childress Racing. It was announced that Bowyer would be part of a new third team and would drive the No. 15 5-Hour Energy Toyota.
The organization decided to keep Truex in the No. 56, as they also announced that veteran Mark Martin would race a limited schedule in which he would participate in at least 25 races.
It was announced that Michael Waltrip and Brian Vickers would split the remaining races.
Jerry Markland/Getty Images
Since the 2012 season began back in February, MWR cars has been one of the most consistent in NASCAR. Bowyer and Truex remain in the top-ten in the standings and have been there for a majority of the season. Martin would likely be in the top-15 if he had participated in all of the races. However, I still believe Martin will collect a victory for MWR before the season concludes at Homestead later this year.
This season has been a remarkable turnaround for Michael Waltrip Racing. They have gone from a mediocre team to an organization that is reaching the upper echelon of NASCAR teams.
Michael Waltrip Racing is definitely getting better as the weeks go on. If luck was on their side, they could have more wins this season than Hendrick Motorsports, Stewart-Haas Racing and Joe Gibbs Racing. But, it just wasn't in the cards.
It will be in the cards very soon, though. I'm going to go ahead and predict that Truex and Martin will win at least one race before the season ends, and Bowyer could likely take home another checkered flag or two, as well.
MWR definitely deserves some consideration from the rest of the NASCAR world.
Please check out my NASCAR blog: http://fourturns.blogspot.com/ - If you have any questions or just want to simply talk about NASCAR, e-mail me at tylersportsguy@yahoo.com