Barcelona: Why Sitting Tight in the Transfer Window Is Right Move
June 25, 2012

Angel Martinez/Getty Images
Barcelona endured a disappointing season by their standards in the 2011/12 season. They lost both the Champions League and La Liga in the closing stages of each competition.
Normally, teams would react to such events by adding new talent through the transfer window. It has been done a few times with varying results. Folks will look for the Blaugrana to strengthen its defense this season, but it is not necessary.
Valencia left-back Jordi Alba, who is currently stating his case to any interested party with some solid displays for Spain at Euro 2012, has been linked to a move.
Barcelona does not need to spend during this transfer window, and sitting tight would be the best move of all. There are a few reasons why Barcelona need not worry about spending money with their financial situation being one that is well known.
The Catalans were able to engineer two big-money moves for Cesc Fabregas and Alexis Sanchez last year, thanks to the movement of some of the club's players (Bojan Krkic, for example).
The club's current president, Sandro Rosell, was still worried about the state of his team's finances after taking over last year.
A recent article in the Daily Mail showed just how bad the debt is in La Liga, even with its top two teams. Via the Daily Mail:
Real Madrid, which lead the Spanish league by four points, has debts of €589m (£477m), while Barcelona's stands at €578m (£473m) and Atletico's is €514m (£420m)...Those numbers eclipse the record earnings of €479m (£392m) taken in by Madrid in 2010/11 or the €450m (£368m) accumulated by Barcelona.
Financial Fair Play is just around the corner, and the club needs to start balancing the books a little bit more. But that is not all.
The club is still the best team in Spain as well as in Europe. They have the best midfield talent, they are have enough depth up front and, contrary to popular belief, they should be just fine at the back as well.
Just as was the case last season season, a variety of individuals will affect how well Barcelona does next season.
Both David Villa and Ibrahim Afellay will be returning from injury. Villa's goals were missed during some trying times during the second half of the season. He already had nine goals in December before his injury and was slightly on course to at least replicating his debut season haul of 23 goals.
Afellay missed virtually the whole season and brings some versatility and hunger to the squad. He has the ability to play both in midfield and out on the wings, and he is already raring to go for the club's new season.
Whereas injury alone was the cause for concern with these two players, two other important pieces of the Barcelona puzzle struggled with both form and fitness last season. Pedro and Gerard Pique's offseasons certainly had an impact for the squad on both ends.
The attacker actually still scored in the double digits, with 14 goals last season, but that tally was just a little over half his statistical output in previous seasons.
Pique was sometimes benched in favour of Javier Mascherano, though that wasn't exactly the worst thing considering the Argentine's form throughout the season, but one would expect his team would have been more stable in defense had he been in top form.
Those four players should all be hungry to help Barcelona get back to the top, but yet another duo could provide a spark for the club. Alexis Sanchez and Cesc Fabregas had pretty solid debut seasons, but it all came without what they wanted the most: silverware.
Sure, they won the Spanish Super Cup, the Club World Cup and the UEFA Super Cup, but those were all set up thanks to the club's hard work from the previous season. The Copa Del Rey was their sole trophy for 2011/12, and that surely isn't what they went to the club for.
If both players match their accomplishments from their debut season—Sanchez's 16 goals in all competition and Fabregas' 15 goals and 11 assists,—and add it to the production of those above, it could be a really good season for all involved.
The impact of those six players alone could change how Barcelona ends its season, but it is these remaining five that should end speculation about any transfers.
According to InsideSpanishFutbol.com, Barcelona will be promoting four players from the B squad next season—Marc Muniesa, Marc Bartra, Martin Montoya and Jonathan Dos Santos.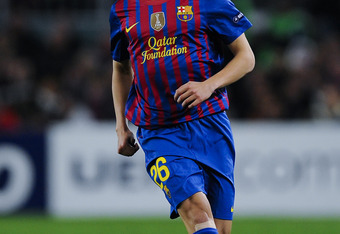 David Ramos/Getty Images
It may come down to whether or not Tito Vilanova trusts these players more than his predecessor, but they can provide some depth for the club in key areas. Add them to the oft-underused Andreu Fontas and you can see why Barcelona may not need to buy.
Fontas may be out of the action for a little while still, thanks to his injury at the start of the year, but he may just play a role for the team next season.
Both Montoya and Dos Santos have experience with the first team and will play their part in giving rest to their colleagues. Montoya proved himself a capable deputy to Dani Alves on the right and Dos Santos has the versatility to play there as well as slot into the midfield.
Muniesa and Bartra may be the key. Both youngsters are highly-rated central defenders, with Muniesa able to fill in on the left side of defense. They do not have the same experience as their promoted colleagues but have talent all the same.
Muniesa can cover for both Eric Abidal and Adriano on the left and may even allow the Frenchman to play more centrally should that necessity arise. His presence would decrease the need for a player like Alba.
Bartra will likely be used in Copa Del Rey games but, again, it is down to Vilanova trusting them if or when something happens.
With all these players at their disposal, Barcelona does not need to spend any money during this transfer window. Afellay and Villa may feel like new signings for the club and the youngsters may prove their worth in time.
A lack of transfer market activity may seem like lack of ambition from their opponents' viewpoint, but Barcelona already has all it needs at the Nou Camp conquer Europe and Spain once more.