Rafael Nadal: Why Spaniard Is Ready for Another Grand Slam Victory at Wimbledon
June 24, 2012

Clive Brunskill/Getty Images
Rafael Nadal was supposed to be as vulnerable as ever heading into the 2012 French Open. He was supposed to fall to the great Novak Djokovic or Roger Federer in the final.
All Nadal did was defeat every player in straight sets until dropping one to Djokovic in the final, the player most people would say is the best in the world.
Nadal dominated clay once again, but that's not where it's going to stop. He's ready for another Grand Slam title run, and it will happen at Wimbledon.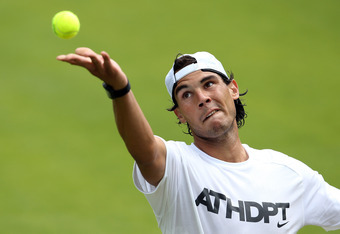 Julian Finney/Getty Images
Nadal is "hindered" by injuries and his age is becoming more of an issue. That's what we heard prior to the 2012 French Open.
Well, after his dominating performance at the French Open, he proved to the doubters that he's capable of overcoming some of those injuries people thought would hold him back. 
And about his age—26 is getting up there in age for tennis—but he still has a good four or five years left before he truly goes on the downside of his career. He just turned 26 earlier this month. He's fine.
Nadal will get the benefit of not having to play Djokovic or Federer unless they met in the Wimbledon Finals. Both Federer and Djokovic will have to beat one another in order to play Nadal, barring an upset.
The draw consistently gets overlooked in these competitions. Nadal, Djokovic and Federer are clearly the three best players in the world right now and not having to play both in the same tournament clearly favors Nadal.
He had this liberty at the French Open and look how that turned out.
Despite not having the same type of success as Federer on the grass, he has still won at Wimbledon twice in his historic career. The last time was in 2010.
He is in prime position to win his 12th Grand Slam title. Don't count him out. Nadal is ready to win his second-straight Grand Slam.