Wimbledon 2012: Expected Early-Round Matchups to Be Excited for
June 23, 2012

Clive Brunskill/Getty Images
The stage is set for the season's third Slam, and on Monday, it will be off to the races. Now that the draws have been released, we can really begin to analyze how the tournament will play out.
Of course, the entire tennis world is looking forward to the last few days of the two weeks in London, where the game's best players will clash in the finals and semifinals. However, that's no reason to overlook the excitement that we will see in the first few rounds.
Here's a look at some of the most highly-anticipated probable matches of the first three rounds.
First Round: Jo-Wilfried Tsonga (5) vs. Lleyton Hewitt
As a dark horse entering this year's Wimbledon (and most other Slams), Frenchman Jo-Wilfried Tsonga faces a fairly difficult draw, and his troubles may start as early as the first round. In his opening match of the fortnight, he will face Aussie veteran and former World No. 1 Lleyton Hewitt.
Upon seeing the 31-year-old's name in the draw, most of the tennis world will see it as little threat to Tsonga. It's important to remember, though, that Hewitt was no easy opponent in this year's Australian Open, where he took down Andy Roddick (retired) and Milos Raonic and stole a set from Novak Djokovic before being eliminated by the Serb in the fourth round.
Most likely, Tsonga will be able to win this match fairly easily. But because of the play that Hewitt has been able to exhibit at his relatively old age, this certainly will be a first-round match to watch.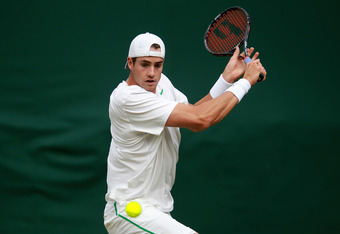 Julian Finney/Getty Images
Second Round: John Isner (11) vs. Nicolas Mahut
It has happened yet again; those same two opponents who provided 11 hours of entertainment in the 2010 Wimbledon campaign have been drawn near each other for the 2012 tournament. And we will likely see them face off in the second round of play.
Assuming the American, the No. 11 seed, can pass Alejandro Falla in the first round, and the Frenchman can do the same to Paolo Lorenzi, we will be in for another rematch. In 2011, the two men met in the first round for the second consecutive year, and Isner was able to make quick work of Mahut, winning in just over two hours (quite different from his win in their 2010 encounter).
Will their probable match in 2012 be more like the first or the second? Or will Mahut change it completely by pulling off a victory? One thing is for sure. The world will be watching.
Third Round: Marin Cilic (16) vs. Milos Raonic (21)
This matchup is by no means set in stone, because it would require both men to win their first two matches. It's likely to occur, though, and if it does, it will be a good one.
Both of these men are on the younger side, but Cilic (23) is two years older than Raonic (21). Despite their young age, though, they have both displayed plenty of confidence and talent so far in their short careers.
Although Cilic has won more career ATP titles (seven) than his likely opponent (three), Raonic is having a better season so far; he has already captured two titles in 2012 (San Jose and Chennai), compared to Cilic's one (AEGON Championships, which he would likely have lost if not for Nalbandian's disqualification from the final).
If this match does happen in the third round, audiences in London and around the world will be entertained by an intense battle of young guns.