Wimbledon 2012: Men's Draw a 3-Way Race with Nadal, Federer and Djokovic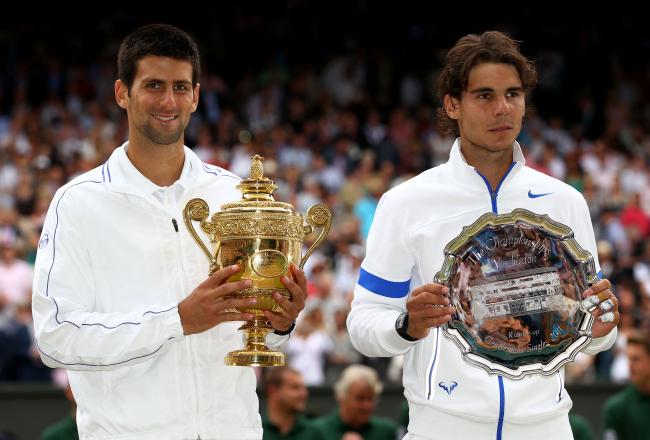 Clive Brunskill/Getty Images
If Wimbledon 2012 is anything like the last seven or so years of men's Grand Slam events, the ability to predict who will be holding a championship trophy at the All England Club should be an easy one.
Since 2005, a trio of players—Rafael Nadal, Roger Federer and Nojak Djokovic—have won 28 of the last 29 major events, according to Howard Fendrich of the Associated Press. Expecting that unprecedented run to end in at Wimbledon is optimistic thinking.
The trio's string of wins started with Nadal's victory at the 2005 French Open. Since then, only Juan Martin del Potro's win over Roger Federer at the 2009 U.S. Open has stopped the three players from owning all the major hardware over the last seven years.
Here's to betting that either Nadal, Djokovic or Federer will make their tally 29 of 30 in a fortnight across the pond.
If Djokovic, the defending Wimbledon champion, is a favorite heading into this week, it's only by the slimmest of margins. Nadal, who won his record-setting seventh French Open at Roland Garros, has put together an impressive year of beating Djokovic in finals.
In fact, the two have met in the last four Grand Slam finals. Either Nadal or Djokovic has won the last nine, too.
Nadal has beaten Djokovic in two straight clay court finals, including the French Open earlier this month. Nadal's win ended Djokovic's 27-match winning streak in Grand Slam events that dated back to Wimbledon 2011.
Who will win Wimbledon 2012?
Previously, Djokovic beat Nadal in the finals at Wimbledon, the U.S. Open and the Australian Open in 2011.
Federer, who hasn't won a Grand Slam event since 2010 or a Wimbledon title since '09, still can't be forgotten. A winner of 16 Grand Slams in his decorated career, Federer knows how to play the surface at Wimbledon better than anyone in the field.
In all, Federer has won six times at Wimbledon. His last Grand Slam win came at the 2010 Australian Open.
The Wimbledon draw put Djokovic and Federer together at the top of the bracket, with Djokovic the top seed and Federer No. 3. It's likely that a semifinal matchup between the two will decide who plays Nadal, the No. 2 seed, in the final.
Nadal does have some threats on his side of the bracket, including Jo-Wilfried Tsonga, Andy Murray, del Potro and Milos Raonic. Tsonga knocked out Federer of last year's Wimbledon and nearly kept Djokovic from the French Open final this year. The Frenchman may be ready to pull off another major upset.
However, it would take a fairly large upset for Nadal to not make the finals.
American Andy Roddick, who was seeded at No. 30, might have put it best when describing the dominance of the "Big Three" in men's tennis.
"They've, you know, been pretty selfish about Grand Slam titles for a little bit," said Roddick in the AP's report.
Expect that greediness from Nadal, Djokovic and Federer to continue at Wimbledon. Save for a huge upset, one of the three will be holding some hardware by the time things conclude at the All England Club.
This article is
What is the duplicate article?
Why is this article offensive?
Where is this article plagiarized from?
Why is this article poorly edited?