Travelers Championship 2012: Lurking Stars That Will Make a Run This Weekend
June 23, 2012

Stuart Franklin/Getty Images
With the second round of the Travelers Championship being suspended due to inclement weather on Friday, the leaderboard is a bit of a mess right now with some players still having to play the bulk of their second round while others have already finished. With that said, it is tough to determine which players are contenders and which aren't at this point.
Many of the players near the top of the leaderboard currently seem like candidates to fall back over the course of the weekend, while several others are lurking four or five shots back and have a real chance to ambush the leaders. There is a lot that can happen in what amounts to two-and-a-half rounds of golf for some players, so no deficit is insurmountable right now.
Here are three stars who are currently sitting several shots off the pace, but will be in contention and make a run at the Travelers Championship this weekend.
Matt Kuchar
Matt Kuchar is partly through his second round of play and sits four shots behind leader Fredrik Jacobson. Kuchar is the type of player that specializes in hanging around during tournaments and never making terrible shots that knock him from contention. TPC River Highlands has played fairly easily thus far, so when you consider how consistently Kuchar plays, there is a good chance that he can make up some ground.
There is a worry that many of the players who are currently leading or are just a shot or two back will crumble over the weekend. That is never a concern with Kuchar, as you rarely see him get on a bad streak. Perhaps Kuchar isn't going to wow you with big drives off the tee or an incredible short game, but he is solid in every area and that bodes well for his chances.
Louis Oosthuizen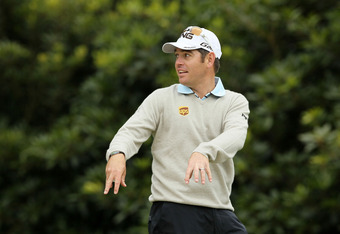 Jeff Gross/Getty Images
South African star Louis Oosthuizen is a former Open Championship winner and he nearly won The Masters this year, so he certainly knows how to compete in big tournaments. The Travelers obviously isn't anywhere near the same level as those events, but the point is that no stage is too big for Oosthuizen.
He is very cool under pressure, so even though he is seven shots behind the leader at the moment, Oosthuizen is still a big threat. He has yet to finish up his second round of play, so it will be interesting to see where he stands after that.
Unlike Kuchar, Oosthuizen is somewhat of a streaky player. He ultimately fell short against Bubba Watson in The Masters, but Oosthuizen was red hot in that final round and seemed to be sinking everything. You never know when Oosthuizen is going to go on one of his runs, but he is usually good for a big round every tournament. He hasn't had that big round yet at the Travelers, so expect him to make a little run this weekend.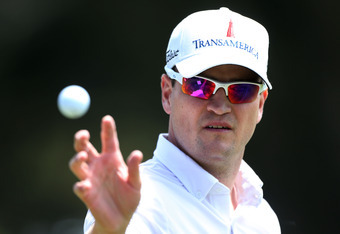 Andrew Redington/Getty Images
It is entirely possible that Zach Johnson is the least flashy player on the entire tour, but that certainly isn't a bad thing. Johnson famously won The Masters by laying up on the 18th hole, so he is clearly a guy who isn't too proud to make the smart play. That should bode well for Johnson as he competes with many inexperienced players this weekend. Johnson had a rough first round, but a five-under par second round has him in contention at three-under par overall.
Johnson is far from the most impressive golfer in the tournament, but he is one of the smartest and one of the best in big spots. Johnson isn't exactly a birdie machine, so I'm not sure he can string together too many more five-under rounds, but if some of the players near the top start to falter, there is no question that he is a guy who will be able to capitalize.
Follow @MikeChiari on Twitter